Headline
— 09 September 2017
— by Micah Goodin
Orange Walk Town, Orange Walk District, Wed. Sept. 6, 2017–The Opposition People's United Party (PUP) today had an impressive turnout after declaring over the weekend that it would march on the town of Orange Walk, home to embattled former UDP Cabinet Minister and Deputy Prime Minister, Margarito Gaspar "Gapi" Vega.
Vega's supporters also staged their own gathering in defense of his "honesty" and "integrity." However, the turnout of about fifty persons could not compare to over a thousand PUP protesters from across the country who poured into the town just before 9 o'clock this morning, creating a blue wave at the San Lorenzo Road near the Northern Regional Hospital.
From there, the crowd marched peacefully, but loudly, on the Philip Goldson Highway, the Otro Benque Road, Hospital Crescent, Main Street, Bakers Street, Queen Victoria Avenue and finally to Central Park, where a short rally was held.
Amandala spoke to Kevin Bernard, the Mayor of Orange Walk Town, who was a part of the protest. He called for Belizeans to take a stand against corruption.
"We have to stand with our people against corruption," he said. "This government has taken us down the wrong path. We have seen the scandal after scandal going on in all these departments and the land scandal that has come out; it stinks to high heaven. And I can tell you that as a resident and as a voter of this country, I am upset."
"If you are serious about standing against corruption this is the time for you to stand up for Belize. Let us stand up for Belize because we cannot continue to allow the United Democratic Party (UDP) to continue to rape this country the way they have been raping our lands, the way they have been selling our patrimony, the way they have been abusing the Ministry of Works," he further remarked.
According to the PUP's Deputy Leader of the South, Rodwell Ferguson, this is the start of a movement.
"This is the beginning of a revolution," Ferguson said. "We have reached a point where enough is enough and the Belizean people want to see some action; they want to see some movement. This is the beginning of a movement."
There will be more protests, he told us. "Next we are going to hit Belmopan and then come to Belize City, where we will have a big demonstration," he said.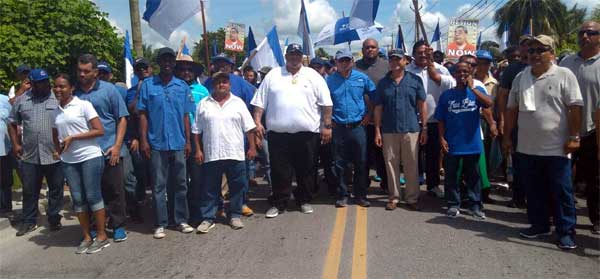 The Deputy PUP Leader of the West, Julius Espat, was also in attendance. According to him, the PUP is simply lending support to the people of Belize.
"The Party Leader requested that we come together to support the north, and I believe it's extremely important that we make a stand for what we believe in," he told Amandala. "I think it's the first step and we have been calling for it for a very long time, and so it's important for us to show solidarity with our brothers from the north."
Espat believes that the country is waiting for the PUP.
"I think in the large context of things, if you look at it from a macro point of view, the Belizean people are fed up and they are waiting for us as the PUP to organize and to lend support to the people," he said. "This, what we are doing, we are lending support to the people of Belize. Gapi is not the ultimate goal; he is a pawn. The ultimate goal is to bring down Dean Barrow and to not allow the UDP to form the next government," said Espat.
The PUP's area representative in Corozal Southeast, Florencio Marin, Jr., told our newspaper that many ministers have benefitted from access to lands in his area, while his people have not.
"I am out here because I represent a division for nine years that has not gotten anything from the UDP," he said. "The government has spent over ten billion dollars over nine years, PetroCaribe funds. You see all the lands they have frozen in my area, the Corozal Southeast people have gotten nothing from this government, and all the fine lands in my area, all the big ministers are getting those," he said.
Jose Abelardo Mai, the PUP's Deputy Leader in the North, told Amandala that corruption is at its worst in Belize and Vega needs to resign.
"Corruption has reached a peak; we cannot get worse than where we are today," Mai said. "And the people understand this. We are tired of corruption.
This is just blatant, exaggerated, overwhelming corruption, and people have come out to show that enough is enough," he lamented.
"The Prime Minister needs to ask him [Vega] to resign, get him out and let us have a bye- election. Dean Barrow needs to get out; he is the Minister of Finance; he knew about this from the onset. This was a scheme designed to steal from the people. Why hasn't he done the investigation at Lands [Department]? Why hasn't an audit been done at Lands? This is only the tip of the iceberg. He has done nothing, he has not acted—the Castro brothers, Gaspar Vega, Rene Montero, all the scandals. What has he done? A spanking on the hand, maybe. He has not acted decisively," Mai went on to say.
According to Mai, today is the start of a sustained campaign to figuratively twist the Prime Minister's arm or force him out of office.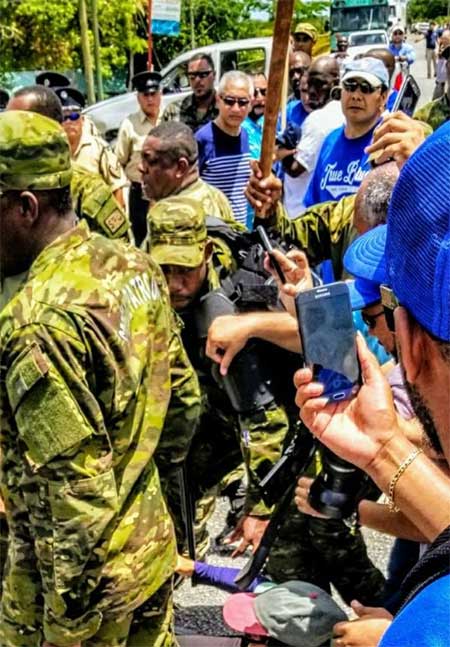 Former PUP Leader, Francis Fonseca, who was also in attendance at today's protest, told the press that we are at a critical juncture in this country, and that PM Barrow must be held accountable.
"All of us in this country have to recognize that we are at a critical point in terms of where we go," Fonseca said. "Do we continue down this road of corruption and nepotism and all the destruction of our institutions that is taking place under this UDP government, or do we once again recognize that we need a new beginning, a fresh start with the PUP?" he questioned.
"He [Barrow)] said 'I will regret the decision to the day I die for allowing Penner to sign nationality certificates,' but that is what he did. He knew Penner's weakness and he put him in a place where Penner could do ill to the people of this country. Mr. Barrow is the one who placed Vega in a position of authority long after recognizing that there were serious problems at the Ministry of Natural Resources. He continued to defend Vega. He kept him there at the Ministry of Natural Resources. He kept him as his Deputy Prime Minister and it was only until his back was against the wall that he took action against Vega," Fonseca said.
The PUP's Deputy Leader, Cordel Hyde, believes that the Lands Department has to be audited and that some persons must face prison sentences for their actions.
"You have a situation where all these Ministers and all their families and all their cronies have gobbled up land after land in every single part of this country. Because land is a finite resource, what it means is that our children and unborn children and unborn grandchildren will not be able to get a piece of the Jewel. And so we have to be prepared to stand up," Hyde said.
"The corruption won't end until someone is hauled to jail, and that's what the Prime Minister has to do. The Prime Minister has to have a full, thorough independent investigation into what has happened at the Lands Department under Mr. Vega. And that cannot be an investigation conducted by the police, and it can't be an investigation when he says it's okay to have an investigation," Hyde further said.
Hyde then noted, "We have signed up with UNCAC [United Nations Convention Against Corruption], so ask the United Nations to send two investigators here so that we can have a proper investigation, because people need to go to jail and the Belizean people need to get back their lands. That's the only thing that will work. If we don't do that, twenty years from now we'll be dealing with the same situation, where some corrupt Minister and some corrupt government are acting like land hogs and taking all the lands that are rightfully for the Belizean people."
PUP Leader, John Briceño, believes the Belizean people have had enough with corruption in the Barrow government and his, Barrow's, protection of Vega.
"Well I do believe that the people are listening to the message now," the PUP leader said. "They are fed up; they are tired of the corruption under this UDP government. Presently Gaspar Vega is the poster child for the UDP and the corrupt practices that have taken place, but there are more of them. We're coming at Montero, we're coming at Castro, and we're coming at all of them. And I want to alert the Prime Minister—he made a promise to this country that he was going to stop, and he was going to end corruption, and here today, we have the most corrupt government we've ever had. The people have had enough," he said.
"The government is protecting Gaspar Vega because Gaspar Vega has the goods on all of them — from people that are very close to the Prime Minister to all the other ministers. He has the goods, that's why they are protecting him. They cannot allow for Gaspar Vega to fall," he claimed.
Briceño revealed that the PUP is currently in discussions with the social partners to determine a way forward.
Today's protest was sparked by revelations made about more crooked land dealings at the Lands Department under Gaspar Vega.
During his tenure as the Minister of Natural Resources, Vega and his family and associates acquired huge acres of prime land, and choice parcels, often at a pittance. When documents had initially surfaced confirming this voracious land grab, Vega said that he was "not a normal person in Belize", and that his family "worked harder" than other people.
Vega's son, Andre, walked away with close to half a million dollars of taxpayers' monies after Government compensated him when it re-acquired lands that his father's ministry had transferred to him even though they were privately owned. So did his UDP colleague, Sharon Pitts. When this became public information, Gaspar Vega tendered his resignation from Cabinet and went into a hiatus.
Documents have now surfaced revealing that during Vega's tenure, his son, Andre, was also gifted a portion of Mosquito Caye, an island situated near to Leonardo Di Caprio's Blackadore Caye. Andre Vega got his "piece of caye" in exchange for private lands he had acquired in Caye Caulker. However, we now know that forgery was alleged in the transfer of the Caye Caulker property to Vega.
Following today's march, the PUP protesters made their way to the toll bridge for a road- blocking demonstration, where all hell broke loose. (See headline story)
Related Articles
Share
About Author
(0) Readers Comments