BELIZE CITY, Tues. Apr. 24, 2018– Greetings from the Belize National Cricket Association (BNCA)!
There was a break in the regular Sir Barry Bowen Harrison Parks Cricket 2018 competition over the April 21 & 22 weekend to allow the BNCA to host the All Star Event.
There were two 20/20 matches played on April 21. The results were as follows:
For the Over-50, both teams (Captain Robert Panting's team and Captain Edison Parks' team) batted 135; so the winner had to be decided by average, since there were medals to be awarded to the winning team. It was determined that Mr. Edison Parks' team was the winner, and Mr. Edison Parks was also the MVP of the winning team, as he top scored with 56 runs and took three wickets.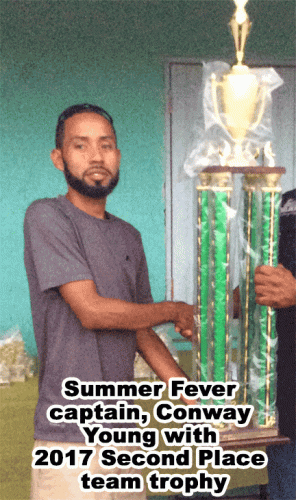 For the All Star, Mr. Gareth Joseph of Sunrise Cricket Team was Captain for Zone 2, and Walton Banner of Police Cricket Team was Captain for Zone 1. Zone 1 won over Zone 2 with a score of 167 to 162, with Herbert Banner of Police Cricket Team named the MVP of the winning team; he top scored with 43 runs and took two wickets.
It's back to the regular competition on April 28 & 29.  The following matches are scheduled:
Saturday, April 28
Zone 1 – Excellent vs Police in Belmopan
Zone 1 – Summer Fever vs Western Eagles in Rancho
Zone 1 – Old Youth vs Rural Mixed in Isabella
Zone 2 – Brilliant vs Suga Boys in Crooked Tree
Sunday, April 29
Zone 1 – Easy Does It vs Big Deal in Burrell Boom
Zone 2 – Wicked 11 vs Berlan in Flowers Bank
The BNCA would like to take the opportunity to express deepest condolences to our umpire, Mr. Isson Charles and his family on the passing of his brother; may he R.I.P.
The BNCA also wants to inform the cricket community that the BNCA will be hosting the Florida Cricket Academy Cricket Team from Miramar, Florida on May 5 & 6. Therefore, 20/20 matches will be held at the Bermudian Landing Cricket Field on May 5 & 6.
2017 Season trophies received
Following the All Star game, trophies for the 2017 cricket season were presented by Mr. Hansel Ciego of Bowen & Bowen Ltd. Captain of Excellence Cricket Club, Mr. Sydney Martinez received their first place trophy for 2017; while the second place trophy for 2017 was received by Mr. Conway Young, captain of Summer Fever.
The BNCA thanks Bowen & Bowen Limited for their yearly sponsorship of the Sir Barry Bowen Harrison Parks Cricket Competition trophies.
An MVP trophy for the 2017 Season was also donated and presented to Sydney Martinez, in honour of Mr. Samuel Sukhnandan from the Sukhnandan family.