BELIZE CITY, Tues. July 17, 2018– Two men, Fenton Reyes, 31, an auto mechanic and fisherman of Mile 2 ½, Western Highway, and Raymond Augustine, 34, a fisherman of 114 Police Street, were charged with possession of 11.4 kilograms of crocodile meat when they appeared today before Magistrate Khadeem Palmer.
They pleaded not guilty to the charge and were released on bail of $1,000 each. Their next court date is September 5.
Police reported that they caught Augustine and Reyes yesterday attempting to sell the meat, which was in a white plastic bucket, at the corner of Central American Boulevard and Neal Pen Road. Apparently, they were seeking a Chinese buyer.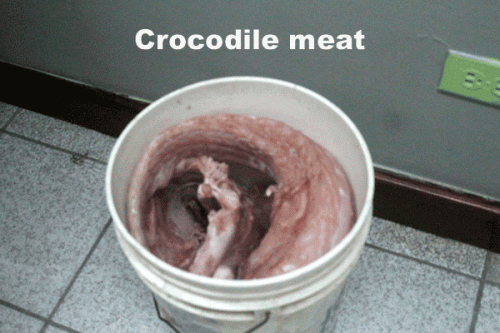 Augustine said he found the meat on the highway. But according to the Wildlife Protection Act, it is an offence to have the endangered crocodile species in one's possession, whether it is alive or dead.
If a person kills a crocodile to save him or herself from being killed, then that person must report it to the Forestry Department, so that the department can retrieve its carcass. A person convicted under the Wildlife Protection Act for possession of wildlife could face a maximum fine of $1,000.
If a person is charged under the Forestry Act and is convicted, that person could be fined up to $20,000, plus 3 times the market value of the meat.
There are two species of crocodile in Belize — the Morelet species, which is the freshwater crocodile, and the American species, which is the saltwater crocodile. The meat that Reyes and Augustine were found with was of the Morelet species, which is more common in Belize. The American species is not as common.