BELIZE CITY, Thurs. Oct. 29, 2015–Today, a gallon of premium gasoline is down to $8.58 in Belize City, a dollar lower than it was the same time last month, giving consumers a substantial ease, as anticipated during this pre-election season. All-in-all though, consumer prices have been on a downward trend nationally, with the first nine months of this year recording an inflation rate of negative 0.9 percent and September recording deflation in all municipalities with the exception of the southernmost municipalities of Dangriga and Punta Gorda, according to the latest report from the Statistical Institute of Belize (SIB).
"The price of all three types of fuel fell considerably in comparison to September 2014, with prices of premium and regular gasoline down by about 16 percent and 24 percent, respectively. Diesel recorded the highest decline of 32 percent, compared to last September. The decline in fuel prices was the major factor contributing to a 7 percent decline in the 'Transport' index," the SIB said.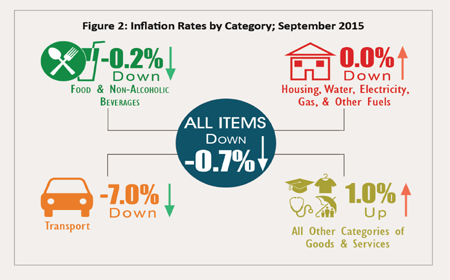 The SIB said that the overall inflation rate for the month of September was -0.7% when compared with September of last year, with Belmopan experiencing the greatest ease with a -1.9% inflation rate, but Dangriga experiencing the greatest overall increase with a 1.8% inflation rate.
"While most municipalities recorded a decrease in consumer prices during the month of September 2015, Dangriga and Punta Gorda had inflation rates of 1.8 and 1.4 percent, respectively," the SIB revealed.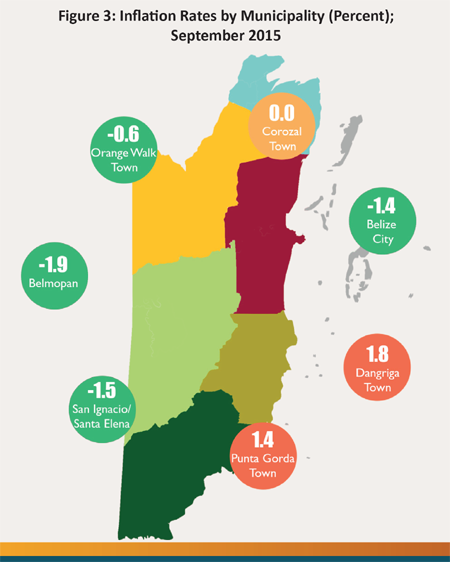 "Home rental prices were the highest in these areas, increasing by 2.7 percent in both municipalities and overshadowing the effects of lower fuel prices to result in an overall increase in consumer prices.
"On the other hand, Belmopan recorded the lowest inflation rate of negative 1.9 percent, while Corozal Town saw no change in prices, on average," the SIB reported.
It added that not much change was reported in the category of "Food and Non-Alcoholic Beverages," which showed a marginal drop of 0.2 percent.
Significant increases in the price of beef, pork and eggs were offset by lower prices for red kidney beans, cooking oil, shortening and some fresh vegetables, the SIB said.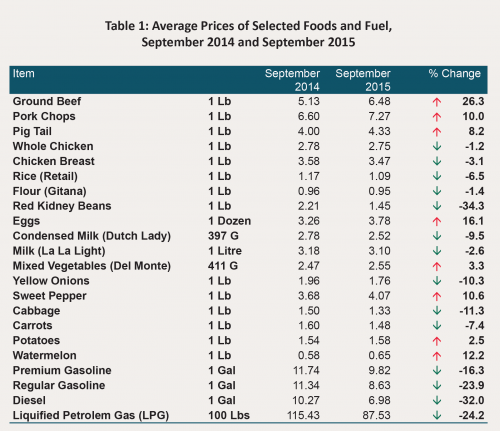 Likewise, there was negligible change in prices for the "Housing, Water, Electricity, Gas and Other Fuels" category.
"Although home rental prices increased by 0.8 percent on average, they were offset by a continued decline in the price of Liquefied Petroleum Gas (LPG). The average price of a 100 pound cylinder of this product fell steeply, from $115 in September 2014 to $98 in September 2015," the SIB said.
Related Articles
Share
About Author
(0) Readers Comments