BELIZE CITY—Ministry of Health officials confirmed to Amandala today that the incidences of dengue hemorrhagic fever – a severe and potentially deadly form of dengue – have increased in Belize City, and particularly on the Southside, although the total number of dengue cases appears to be similar to last year's tally.
Javier Alpuche, Senior Public Health Inspector, told Amandala that there have been a total of 105 dengue cases to date, with a notable spike since July 2014, but thankfully there have been no deaths due to the hemorrhagic cases, which are manifested with nose bleeds and bruise-like spots on the skin.
The mosquito, Aedes aegypti, which transmits dengue also transmits chikungunya, an emerging viral disease spreading across the Caribbean. Alpuche said that two cases were sent abroad for testing, and the first has come back with negative results for chikungunya.
Those most at risk of having the hemorrhagic form of dengue are people who have contracted dengue before and so have antibodies to the dengue virus in their system. Children younger than 12, females and Caucasians are also said to have a higher risk of exhibiting the symptoms of the severe form of dengue.
Director of Health Services, Dr. Michael Pitts, told Amandala that staff of the Vector Control unit are currently engaged in a campaign to control the spread of dengue in 4 of 9 City zones where 5 hot spots have been located.
The largest cluster of cases have occurred in the Collet area, in the vicinity of Elston Kerr Street, Iguana Street and Racoon Street. There is another cluster along the eastern side of Central American Boulevard, in the area spanning Gibnut Street and Neal Pen Road.
Alpuche said that some of the warning signs are fever and pain, intense abdominal pain, bleeding gums, or nose, blood spots on the surface of the skin called petechiae, or bruise spots, which are evidence of bleeding under the skin with possible bleeding of the internal organs.
He said that it is key, particularly in severe cases, for persons to see the doctor immediately. Fluid and blood replacement may be required.
"If they come too late, they may come in a state of shock and they will be much, much more difficult to save," he said.
Alpuche indicated that Belize experienced outbreaks of dengue hemorrhagic fever in 2009 and 2010, and although an increase in cases has been recorded this year, they are putting control measures in place to prevent a full-blown outbreak in the City.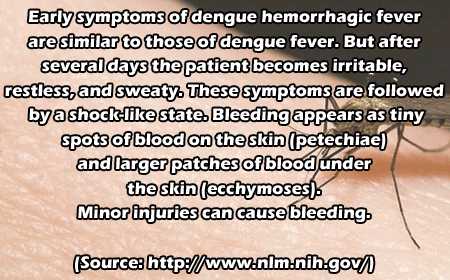 He cautioned, though, that there is still cause for concern, and so interventions have been put in place, including stepped up spraying of ultra-low volume malathion, and the spraying of larvicides in stagnant drains.
The European Union has also funded the purchase of 2 new trucks and ULV machines, as the unit only had one truck for Belize City. According to Alpuche, three more trucks were sent from the Northern Health Region, so that 6 trucks are now being used to fog the City, with targeted spraying in those parts of the City where positive dengue cases have been identified.
Alpuche said that while some people don't want the trucks around, particularly since spraying is done between 6:00 and 8:30 in the evening, houses should be kept open to ensure that the insecticide works more effectively.
"The public needs to work with us, in terms of elimination of breeding sites," said Alpuche, who noted that the public should "[get] rid of all containers that may hold or catch water when it rains."
He also encourages residents of the City to participate when they do clean-up campaigns.
Furthermore, Alpuche said that families with persons suffering from dengue should take extra measures to eliminate mosquitos from their home.
He said that the Public Health officials have been in contact with the Belize City Council, and they are planning to conduct some activities to help reduce the incidences and the spread of dengue.
Of note is that fewer cases of dengue have been reported in other parts of the country. For example, while 4 urban cases of dengue were reported in January, there was only 1 case in rural Belize.


Related Articles
Share
About Author
(0) Readers Comments