BELIZE CITY, Fri. May 6, 2016–Drier than normal conditions could adversely impact the country's agricultural sector over the coming months, as drought conditions are emerging in the southwestern part of the country, across several Maya villages in southern Belize. Weather experts in Belize are also keeping an eye on east-central Belize, in the area spanning Belize City to Dangriga, where drought conditions could emerge over this 12-month period.
Chief Agricultural Officer, Jose Alpuche, told Amandala that in areas where drought is a concern, farmers have delayed planting corn, as the early warning issued by weather experts in Belize was heeded.
Alpuche said that there could be impacts on banana production. The dry conditions will cause irrigation costs in banana fields to spike. He also said that legume crops could mature a bit later this year. The biggest impact, though, could be on corn crops, which not only serves as food supply for households but which is also used for chicken feed. Significant adverse effects could, consequently, drive up the cost of poultry.
However, the dry conditions have been good for the harvesting of sugar, Alpuche said, pointing to a reduction in the mud content of cane deliveries.
Pablo Mis, spokesperson for the Maya Leaders Alliance (MLA), said that farmers from Toledo Maya communities have been predicting that there is going to be a change in the weather pattern this year. Farmers have delayed planting their corn—mostly for subsistence—because the arid conditions on the ground would mean that they aren't likely to germinate, and yields would therefore be very low.
"They base that on the recent extreme rains and cold we got in January and February which is very rare," he said.
Mis said that farmers are already planting root crops – cassava, yams and yampee, to substitute for corn, which does not do well under drought conditions.
"I know that farmers are planting a lot of root crops, which are more resilient to dry weather. My dad and father-in-law are doing the same in Laguna Village," Mis said.
He said that he recently spoke with community leaders, who are saying that they are waiting to see if there is going to be a change in the weather. The ground is hard and dry, and the possibility of germination is minimal if they plant now, Mis explained. Seeds would also be very, very susceptible to pests: rats and birds, by the time rain comes.
Farmers normally plant between mid-April and mid-May, and they have until the end of May to plant, since it is most prudent to plant before the rainy season, which commences in June, Mis explained.
Drought impacts have also impacted the availability of water. Mis said that a creek which his uncle has been using as a water source for his pasture, which usually runs low during the dry season, has completely dried up, and there is no water in the area for grazing cattle.
"It is all connected to climate change for sure," Mis said. "What we see are live springs, which would not dry out, are actually drying out very early," Mis said.
The National Meteorological Service has released its May 2016 drought report, which points to drought conditions possibly emerging in the Cayo District, the extreme southern portion of Orange Walk as well as eastern Toledo, including Punta Gorda Town.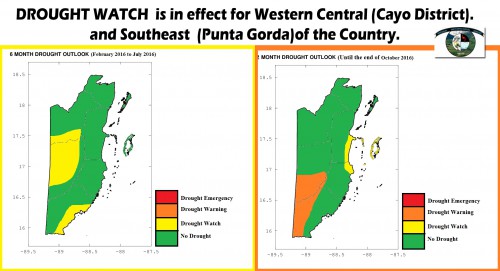 "Because of the way below normal rainfall that occurred over most areas of the country in March of 2016, the drought [projection] shows that drought is possible over the west central Belize and southeast Belize up to July 2016," the Met Office said.
According to the Inter-American Institute for Cooperation on Agriculture (IICA), specialists are warning that the climate phenomenon known as La Niña is highly likely to develop in the second half of this year, triggering adverse impacts on agrifood production in Central America and the Dominican Republic.
Countries such as Costa Rica, Guatemala, Panama, and the Dominican Republic are expected to receive above-average precipitation, and the result could be heavy rainfall, floods, landslides, mudslides, and infrastructure damage.
When we shared the report with Chief Met Officer, Dennis Gonguez, he informed Amandala that predictions of floods, landslides, mudslides and the like for Belize at this time are largely speculative and premature. He told us that for the period May to July, there is an 80% probability of normal to below normal rainfall for in Belize, while the projections call for a 75% chance of normal to above normal rainfall for that period.
In its May update, the Met Office said that a drought warning is in effect for the southwestern portion of Belize, where a drought is evolving, while a drought warning is in effect for west central Belize (the Cayo District, including the expansive Chiquibul Forest, and the extreme southern portion of the Orange Walk District) as well as southeast Belize, including the Punta Gorda area.
A drought warning means that a drought is evolving, and a drought watch means that a drought is possible.
Over the 12-month period, the drought warning is also applicable to the east central coast, covering portions of the Belize and Stann Creek Districts, spanning from Belize City to Dangriga, the report said.
For the rest of Belize there is no drought concern, the Met Office said.