Headline
— 16 December 2017
— by Micah Goodin
SANTA CRUZ, Cayo District, Wed. Dec. 13, 2017– An explosion at a quarry in Santa Cruz (a section of Santa Elena, Cayo) earlier this week has left one man dead, five persons injured, and several homes flattened. The deceased has been officially identified as Canadian national, Ronald Sutherland, 71, who operated Tiger Aggregates Ltd.
According to reports, shortly after 5 o'clock on Tuesday evening, Sutherland blasted the hillside of a white marl quarry while mining for material to be used by the Belize Roadway Construction Limited, which had recently been awarded a $7 million contract for a road rehabilitation project in Santa Elena Town.
Interestingly, the Belize Roadway Construction Limited had their original mining site in Benque Viejo, but abandoned it to get materials from Santa Cruz. This was done presumably because the material from the Benque quarry was inferior and, additionally, to cut cost.
The blast was too powerful, and it cost Sutherland his life. Sutherland was just seventy-five feet away, and was crushed and killed on the spot. A number of houses nearby were also damaged.
Today, during a police press conference, bomb expert and retired lieutenant colonel, James Requeña, speculated about what occurred on the day in question.
He explained, "There was an initial partial blast, which was rectified by Mr. Sutherland and his team, and, subsequently, the secondary blast. However, the secondary blast was much larger, which projected the stone particles at a farther distance than estimated.
"This may occur for two reasons: human error, or as a consequence of the type of explosive or the quantity used. Mr. Ronald Sutherland's unfortunate death was caused by him being in the danger zone. The damage to the houses in the vicinity is a result of the particles being flung.
"In order to rectify that, you'd have to recover those items that were still within the quarry. In doing so, you can either physically remove them, or if there's a possibility that they're active, you can add a subsequent charge to conduct the second blast. What transpired under the supervision of Mr. Sutherland, only he can tell us; we can only speculate that he added a subsequent charge for the secondary blast. In the secondary blast, the bulk of the blast crumbled downwards. There were a few fragments that were flung upwards. Those may have come loose during the initial blast, which was not calculated in the secondary blast, so that is what caused the items to be flung outside the protective area where he was."
According to the Officer in Charge of San Ignacio Police, Richard Rosado, the Commissioner of Police has assembled a team to investigate what transpired. The results of that investigation will be forwarded to the Office of the Director of Public Prosecution to determine if any charges will be brought against anyone.
In the aftermath of the deadly blast, there are now conflicting reports surfacing in respect to who authorized and approved the detonation.
The mayor of San Ignacio/Santa Elena, Earl Trapp Jr., denied any involvement and said persons should be made to account for what transpired.
Minister of Works, Rene Montero, has gone on record to say that Sutherland's company had a two-year license to carry out detonations. According to Montero, police made sure, "all the procedures and safety features were taken into consideration."
Rachel Montejo-Chan, the attorney for Belize Roadway Construction, also indicated that Sutherland had obtained the necessary permits and carried out the explosion by the books.
However, in an exclusive interview with KREM News, the CEO in the Ministry of Natural Resources, Sharon Ramclam, today revealed that the Ministry did not provide any approval for anyone to mine material from the area where the incident unfolded.
While various parties point fingers as to who was to blame for this incident, folks in the area are looking to put their homes and their lives back together. According to Marianne Foreman, the community is enraged that the detonation was conducted in a residential area. However, she told KREM News that Minister Montero has promised that he would help in efforts to rebuild the damaged homes.
While Minister Montero has pledged to assist the folk of Santa Cruz, attorney for Belize Roadway Construction Limited, Rachel Montejo-Chan, says her client is also willing to assist, but does not accept liability for what transpired.
Those affected by the blast can visit Montejo-Chan's office in Unitedville, or can call her office at 671-0085.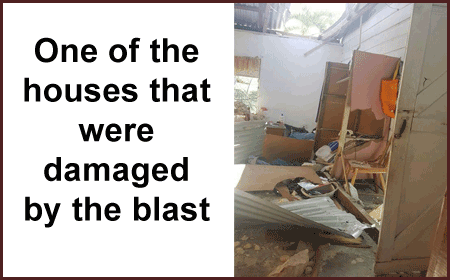 Related Articles
Share
About Author
(0) Readers Comments