BELIZE CITY–The first case of Ebola diagnosed in the United States has ended in the death of a Liberian, Thomas Eric Duncan, who reportedly contracted the virus in his home country before traveling back to the United States. When Duncan first sought medical attention in the US, he was sent home with antibiotics, but he was later admitted for treatment and quarantined in Dallas, Texas, after his situation worsened. There is no indication yet if Duncan had passed on the virus to others with whom he had made contact while he was manifesting symptoms of Ebola Viral Disease (EVD).
The US Center for Disease Control says that there are 8,033 Ebola cases, mostly in Africa: 4,461 laboratory-confirmed cases and 3,865 deaths, with 2,210 of those deaths reported out of Liberia. So far, 20 cases and 8 deaths have been reported out of Nigeria, where localized transmission has occurred.
In light of the new case which has emerged in the US, health authorities here in Belize have decided to fast-track a meeting which had been scheduled for the end of October to pull together a multi-agency response to Ebola. That meeting should include Tourism, Immigration and Customs officials, as well as shipping agents.
Belize is not ready to tackle Ebola, and while that was clear in a press conference hosted by Ministry of Health officials in Belize City on Tuesday, they expressed a resolve to do all they can with the limited resources available to them, to prepare a response strategy.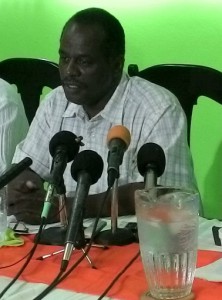 Director of Health Services, Dr. Michael Pitts, told the media, "At this current time, it's low-risk, but we take it seriously, because any one case could lead to fatality."
According to Pitts, there are 5 countries of concern: Liberia, Sierra Leone, Guinea, Senegal and Nigeria. Pitts indicated that they do not have hard facts on people from Nigeria traveling in and out of the country. He said that there have been no new cases reported in Nigeria since September 5.
Pitts advises that the general public needs to know what are the high risk areas where Ebola has been occurring, and it is advisable that non-essential travel to those countries is curbed. Airline declaration forms do ask passengers to declare their country of origin.
"If anybody from Belize travels to any of the mentioned countries and believe that they are at risk, they have a duty to really report to us that travel, that travel itinerary so that we can take the appropriate steps," Pitts said.
Pitts said that Ebola patients can be successfully tested on Day 2 or 3 following the onset of Ebola symptoms, when they can also pass the virus on to others.
Should a person begin to manifest symptoms in Belize, they would have to be directed to a medical center with an isolation unit with a dedicated group of staff to attend to them, Pitts said. He added that a person without symptoms but who might have had contact with an Ebola patient would also have to be quarantined.
Joceyln Gonzalez, director of the Central Medical Lab, said that Belize would have to send samples via commercial flight to either the Centers for Disease Control in Atlanta, USA, or the Public Health Agency in Canada, the two testing centers which the World Health Organization has identified for Ebola testing.
Is treatment available in Belize? Pitts said that a lot of treatment for Ebola is supportive, although there are some experimental antivirals. He said that none of these antiviral treatments, not available here, have been proven to be definitive in their effects, so medical professionals treat the fever, pain, diarrhea and vomiting.
Pitts also indicated that the only fully functioning Intensive Care Unit (ICU) stations at the KHMH could not be used to treat Ebola patients, so some alternative facility would have to be used to quarantine cases, if they were to occur in Belize.
"If you notice, most of the Ebola cases end up in an ICU. We have one ICU in Karl Heusner. We can't jeopardize that, so [we] have to find an alternative setup to bring ICU-type care to those patients," Pitts said.
The suggestion was raised for a type of field hospital to handle Ebola cases, and Pitts said that they would consider options such as setting up an ICU facility on the old nursing school compound, adjacent to the KHMH.
Pitts said that if Ebola were to enter Belize, it would most likely be brought via the Philip Goldson International Airport. They, therefore, expressed the need to include the Belize Airport Authority in talks on how Belize would address Ebola, and to also place health officials at such ports of entry.
The Ministry of Health also has inadequate information to track travelers who may have traveled to countries affected by the Ebola outbreak.
Pitts said that Duncan, who died in the US today, is said to have four young children who were hugging and kissing him, and they would be followed to see if they develop Ebola.
As for Belize's database, Pitts said: "We don't have that hard facts, but we know that we have people from Nigeria travelling in and out of the country, so that is what we need to lean on Immigration to get those figures into our hands."
The Ministry of Health personnel make an appeal for the partner agencies to make senior personnel available for the multi-stakeholder meetings – persons who are in decision-making positions who can help move the process forward more speedily.
Pitts stressed that Ebola has a high fatality rate. He said that it is transmitted by body fluids.
"It is not transmitted by casual contact, but essentially body fluids that include blood, semen, saliva, urine and feces are the principle modes. The pattern that is emerging is that caregivers and healthcare workers seem to be the people most at risk," he said.
DHS Pitts confirmed that the personal protective gear available in Belize is low grade and so it would not properly protect Belizean medical personnel, and so they have a prepared a list of items that the Ministry will need to procure for its medical staff. A suit of protective gear, we were told, could cost as much as US$5,000, but there is a dearth of supply, since as a first priority the 400,000 suits available are being sent to Africa, where the worst outbreak is ongoing.
The Belize Ministry of Health hopes to seek funding to implement Ebola preparation measures.
He indicated that stakeholders from various agencies, including Health, Immigration, Customs and Tourism will meet if not this week, then by next week to solidify their response mechanism.
John Bodden, Principal Public Health Officer, conceded that there is a need to strengthen the surveillance system at the points of entry.
Pitts indicated that Health officials plan to track travelers through four major air and border ports: the Philip Goldson International Airport, and the ports of entry at Corozal, Big Creek (Stann Creek) and Benque.
We asked Pitts how the Ministry would handle surveillance of the cruise sector, which brings hundreds of thousands of tourists to Belize a year, and highly trafficked but unregulated ports such as Jalacte, Toledo. Pitts said that the Ministry will have to prioritize its areas of focus, but the cruise sector should be addressed in their dialogue with Tourism officials.
"I will end by saying that for us, we believe we are at low risk, but things are fluid. Recall that in the US a couple weeks ago they believed that Ebola would stay in the continent of West Africa, but over the last week they had a case," Pitts said.
"This morning, Spain reported one case of Ebola. Over the last three weeks, three member countries of CARICOM had reported that they may have seen suspicious cases. All have proven negative and in fact for all of those cases, it proved to be malaria or dengue from those counties. Those countries are the Bahamas, Barbados and Trinidad," he added.
Health professionals claim that the Ebola outbreak has emerged after the virus was contracted from a contaminated animal, such as a monkey, but others suggest that the virus is the result of biological warfare experiments.
Ebola Virus Symptoms
Early stages: headache, sore throat, fever, fatigue; later stages: chronic abdominal pain, muscle aches, vomiting, diarrhea, skin rashes, bleeding from the eyes; final stages: blood clots and hemorrhaging, organ failure, hemorrhaging fever.
Incubation Period
The EVD has an incubation period of anywhere from 2 days to 3 weeks.
How Ebola is transmitted
While official sources say that the EVD is transmitted by direct, physical contact with the bodily fluids (vomit, feces, urine, blood, semen, etc.) of people who have been infected with or died from Ebola virus disease (EVD), there are also reports on studies that have indicated that the virus could also be transmitted via indirect contact. This was reportedly the case in a study in which one animal in a cage passed the virus to another, presumably via droplets in the air which carried the virus.