Features
— 12 December 2015
— by Adele Ramos
BELIZE CITY, Wed. Dec. 9, 2015–Belize struck its first commercial oil find in Spanish Lookout, Cayo, just over a decade ago, and while there have been offshore exploratory wells drilled since the 50's, a campaign sparked by the catastrophic Deepwater Horizon oil spill of 2010 has fueled an initiative to entirely ban offshore drilling in Belize.
Today, John Burgos, Executive Director of the Belize Tourism Industry Association (BTIA), said that the BTIA stands ready to join stakeholders to ensure that the ban is extended to all offshore areas. He was speaking at a one-day conference on The Energy of Nature vs. The Nature of Energy, convened today by Oceana at the Radisson Fort George Hotel in Belize City.
Last week, Cabinet announced that a legal ban would be instituted to cover select protected areas that have World Heritage Site status: Bacalar Chico Marine Reserve and National Park, the natural monuments at Lighthouse Reef (The great Blue Hole and Half Moon Caye Natural Monuments included), the South Water Caye Marine Reserve, the Laughing Bird Caye National Park, the Glovers Reef Marine Reserve, and the Sapodilla Caye Marine Reserve. Of note is that the Caye Caulker reserve, although listed among the banned sites, is not listed by UNESCO among the protected areas in the Belize World Heritage Sites. Drilling will also be banned within a kilometer of the Belize Barrier Reef system.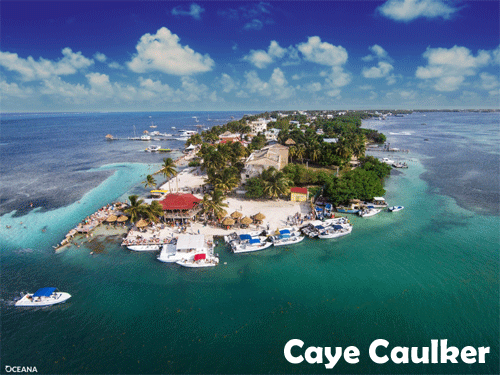 "Cabinet's press release suggested that areas that fall outside the ban may in the future be open to oil exploration, once the existing laws and regulations are adhered to. This is not comforting, because this means that our marine protected areas and barrier reef system would still be vulnerable to oil exploration activities that occur outside of the areas under the ban," Burgos said.
"We should, therefore, continue our efforts to ensure that the ban should be extended to all offshore areas and marine protected areas. Only so will our vulnerable reef system and marine protected areas be fully protected from the impacts of a possible oil spill," he added.
"The struggle must continue," Burgos insisted.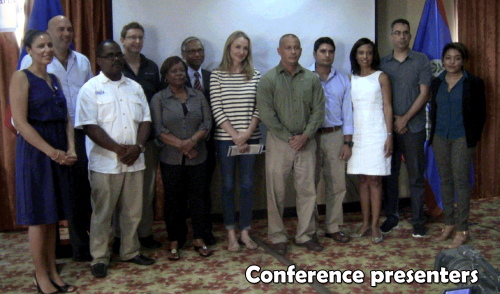 Guest speaker for the opening ceremony was Alexandra Cousteau, granddaughter of Jacques Cousteau, the world famous explorer who popularized his expedition into the Belize Blue Hole, back in 1972, in the days when Belize was not yet considered a prime tourist destination.
Alexandra Cousteau said: "The very first time I came here, I felt at home because Belize has something that belongs to all of us, which is why it is designated as a World Heritage Site. Not many countries in the world have what Belize has, and this is why so many people want to come here and enjoy it, because it is part of our global legacy to our children."
The first conference presenter, Dr. Albert Williams, Associated Professor of Economics at Nova Southeastern University in Florida, said that as a young boy he grew up in the coastal community of Punta Gorda, where agriculture and fishing were flourishing.
"To drill or not to drill," he said, as he switched from a slide that shows an offshore oil platform in its grandeur to a slide showing a disastrous offshore spill.
"That's the problem! That's what we don't want!" he said.
"The decision about offshore drilling is a serious, perhaps the most important decision this country will ever make—not on the land, now; offshore. Do you understand why I said that? One mistake – our country is not big, one mistake and what could happen? You could have some major spill," said Williams.
Nadia Bood, Climate Change Adaptation Advisor for the World Wildlife Fund's Mesoamerican Reef Ecoregion, reported on the annual economic value currently derived from Belize's reef: US$135-176 million dollars from tourism, US$13-US$14 million for fisheries and up to US$180 mil for coastal protection.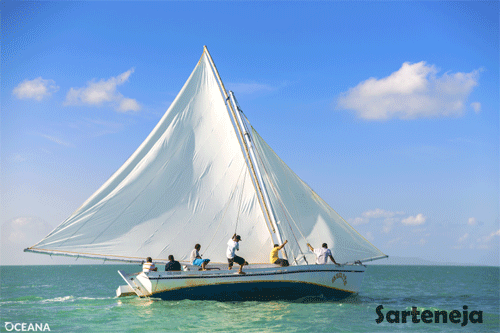 Bood said that reefs contribute 12-40% of shoreline stability in Belize and 70% to the protection of the coastline, as they serve as a bulwark along Belize's coast.
Oceana's Vice President in Belize, Janelle Chanona, said the day's presentations were intended to start a conversation. She pointed to the need to preserve Belize's natural resources, "beautiful yet vulnerable," in a world in which fossil fuels began to be exploited two centuries ago but which is now being adversely impacted by climate change.
"We put gas in the tanks of our cars, the electricity we use… the fact is that helps to drive our economy. But our use of this crude has come at a price. The nature of this extractive energy has meant increases in carbon dioxide emissions, global warming and ocean acidification and the world is changing before our very eyes. 2014 was the hottest year ever recorded," Chanona said.
Related Articles
Share
About Author
(0) Readers Comments