TRIBUTE TO DAD: August 8, 2017–On my Dad's last birthday September 14th he published his second collection of poems entitled Poems to Ponder. Both his collections Lessons in Living and Poems to Ponder provide many wonderful lessons about life, love, faith, and hope. These lessons came from the many memorable experiences he had in his many years working as a teacher, counselor, Chief Education Officer and founding member of the Belize Council for the Visually Impaired.
Dad's poems and reflections focus on the lives of ordinary persons like a caretaker, a curandero, a teenage girl, a riverboat captain, a young widowed mother and persons with disabilities – persons of exemplary qualities of character and commitment who every day faced many challenges in their lives but refused to allow these challenges and obstacles to dictate how they should live their lives. He wrote about the personal challenges of three blind persons like himself who he considered to be family: Teresita Moh, Donovan Reneau, and Hector Hoare, who all faced discrimination, prejudice and marginalization because of their disability. He wrote, "Many times, they came close to losing hope, to giving up, to abandoning the struggle, and surrendering to their setbacks, frustrations and disappointments, but they did not give up the struggle or lose hope. They held firm to their pursuit of a vision of a better and brighter future for themselves. Let us in our dark and difficult moments do the same. The dark clouds hanging overhead will soon drift away and disappear and the sun will come shining through."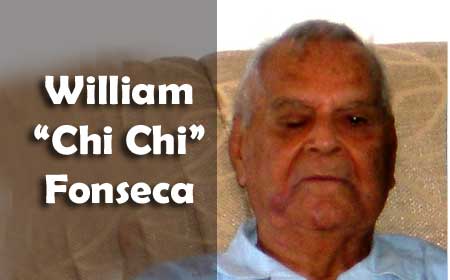 Dad was determined through his work with the Belize Council for the Visually Impaired, to change the view of so many in our society who often view a disability as something that makes us less able, less capable of living a fulfilling life. When he lost his sight at the age of 58, he refused to see this as a disability; instead it became an opportunity for him to play a critical role in guiding and counseling those who entered the doors of BCVI. For him, it was extremely important that they each understood that having a disability should not in any way take away from the hopes, the dreams and the aspirations you have for yourself. He would often say to them, "Do not let your disability in any way diminish the pride and the confidence you have in yourself. Accept your disability, accept the challenges with which it presents you, hold fast to your faith in yourself, and in your faith to the future you can create for yourself."
Yes, Dad was an optimist, a positive thinker. He loved talking and writing about the nurturing power of positive thinking and positive attitudes. In one chapter entitled "One Life to Live" he wrote," We are to a large extent the product of our thoughts and of our own self-image, and the values we cherish and the priorities we set for ourselves. These are the factors to a large extent, which will determine how fully and how fulfilling we live out this one life we each have to live. We cannot live our lives in a cocoon isolated from our fellow human beings. Just as our national tree, the mahogany tree, draws its life-giving nutrients from the air and soil around it, so too must we draw on our relationships with the people around us for self-nourishing nutrients that we all need to grow and mature. Ultimately it is our life, our one and only life, for us to make it what we will as we each travel our chosen path through the journey of our lives."
The path Dad chose to travel was one that started from very humble beginnings. His father died during the revolution in Honduras right before he was born and his mother, fearing for their lives, sought refuge in Belize. Dad and his brother Felo were raised by his mother, who was only able to send them to high school because she was able to negotiate with the Jesuits to provide weekly laundry for the Central American students attending Saint John's College and boarding with them. In Lessons in Living he writes about "the many lessons in faith, humility and gratitude that he learnt from his mother, who made endless sacrifices in order to ensure that he and his brother were able to achieve their goals and dreams. He wrote, "Like many Belizean women, my mother was a great teacher of lessons in living, no more than a primary education, no diplomas, no certificates, but a summa cum laude graduate of countless Survival Courses taken over many long years in the Faculty of Hard Realities of the Open University of Life."
Another great woman in Dad's life was his wife and our mother, Molly, who passed away four years ago. Their relationship was special. When Dad lost his sight in the prime of his life, my mom remained steadfast and supportive, always ensuring that my dad and her children knew that she loved them unconditionally. When Mom passed away a piece of Dad went with her: he missed her each and every day but never questioned her untimely death; instead he focused on the wonderful years they had shared. In his poem "Missing You" he wrote, "Even as I grieve for you, even as I long for you, deep within me, I also know so much to be thankful for so much to find comfort and smile about the many years we had together, the joys and sorrows we shared, our faith that each day nourished us a source of strength and peace for us, our warm heart, your tender feelings, each day grateful for God's blessings. For deep in my heart I know there will come a day, as it has today, that you and me will be together again. This time, no more to part. This time together forever, forever, you and me."
There are many whose lives were touched by my dad, but none as much as myself, my brother Francis, and Dad's grandchildren and great grandchildren. My dad played an instrumental role in shaping me into the person I am today. His love for reading, writing and creativity and his love for life, for humanity, for all that is good in the world and in people has influenced both my brother and I significantly. My brother Francis's political career is greatly influenced by how we grew up as a family. His genuine concern to serve our people, our country came from what he observed in our home as our parents welcomed the homeless, the poor, the forgotten, those who felt hopeless and lost. And there are my sons, Ryan and Joshua, who stayed with my parents on both occasions when I went to pursue my studies outside of Belize. My sons are so much a reflection of my parents. The lessons of love, humility, kindness, faith, hope and gratitude are embedded in them because of the many lessons in living that they experienced while staying with my parents. So too have these lessons been passed on to Francis's children who for the past four years have had their grandfather living with them, instilling in them lessons for life that will forever guide their choices in life.
Yes, we were all blessed to have Dad touch our lives in such unique and special ways as was the case for Gina who cared for him, Daphne who faithfully administered communion to him each Sunday, my Mom's brothers: Evan, Barney, Henry and Roy, and her sister Daphne and daughter Pat, who are all here with us today.
My Dad's message to each of you here today is quite simple: as you leave here today think of the many blessings you have, as well as the many opportunities you have to make a difference in the lives of those around you. Open your mind, your heart, your eyes, your ears so that you can live your life to its fullest. Live, love, have faith and never lose hope. We miss you and love you Dad.