General
— 13 June 2018
— by Rowland A. Parks
BELIZE CITY, Fri. June 8, 2018– This evening, many people heading home on Princes Margaret Drive to begin their weekend were surprised to see a large crocodile lying on the surface of the narrow canal that lies in the middle of the street between Pallotti High School and Cleopatra White polyclinic.
Drivers slowed their vehicles to get a peep and several persons were overheard saying that they had never seen a crocodile up close like that before, as cell phones snapped pictures incessantly and a lone policeman controlled the flow of traffic.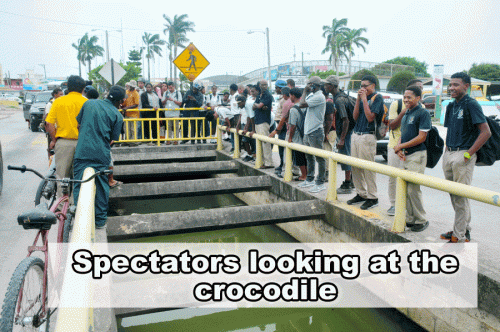 The estimated length of the crocodile, which appeared to have been just showing off, was between 7 and 9 feet. The crocodile just lied there, unperturbed by the noise that was coming from the crowd, and it only decided to move to the safety of the canal when some children began throwing stones at it.
The crocodile dived under the water, made an about-turn, and then disappeared under the concrete covering of the canal.
A truck carrying some crocodile hunters stopped, and the men came out carrying ropes with which they had intended to capture this "bragging crocodile" that had resumed its pose at a different part of the canal.
Carefully, one of the crocodile hunters lowered a rope that had a knot and a loop that could be tossed around a part of the crocodile, with the hope of getting the loop over the mouth of the crocodile, as onlookers were shouting to him to anchor the rope properly.
However, it was too late, because when the man pulled on the rope, it missed the crocodile, which made a narrow turn in the canal and disappeared again.
Even with all the noise that was being made and the long PVC pipes that the men used to try to drive the crocodile out from under where it had disappeared, it was no use. It never resurfaced, and eventually, darkness enveloped the area.
Related Articles
Share
About Author
(0) Readers Comments