BELIZE CITY, Mon. Sept. 25, 2017–Police report that members of the Gang Suppression Unit (GSU), acting on information about a marijuana plantation at Lucky Strike in the Belize District, travelled to the area shortly before midday on Sunday.
On arriving there they allegedly found Cameron Kelvin Usher, 41, a chef who resides on Sibun Street in Belize City, standing in the middle of a marijuana plantation, which contained an estimated 150 plants measuring an average of 4 feet.
The GSU destroyed all the plants and the equipment on the farm, and they arrested Usher, who was taken to the Queen Street Police Station and charged for "cultivation of cannabis plant."
Today, Monday, Usher pleaded not guilty when he appeared before Chief Magistrate Sharon Fraser. He was offered and met bail of $10,000 plus one surety of the same amount. He is to return to court on December 29.
Amandala could not reach Usher for comment, but we spoke to his ex-common-law wife, Karima Williams, who told us that he and her son, Kelvin Usher, 17, were invited by friends to the farm in Lucky Strike. Karima said she has information that the GSU fired several shots in the air when they arrived at the farm and this caused those who had gathered there to scatter.
Cameron Usher was the only one to be detained. Kelvin Usher, who fled along with others when the police arrived, has not been seen since. According to his mother, she fears the worst because he should have been home by now, but she is still hopeful that he will return home safely.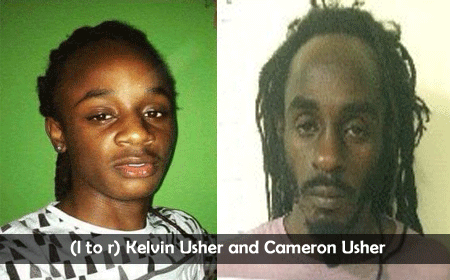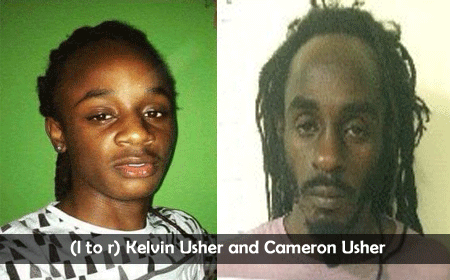 A search party went to the farm last night to search for Kelvin, but only his hat was discovered. According to Williams, the search party returned 8 a.m. today, and they will go back tomorrow to search for him again.
She further revealed that an official missing person report has not yet been made because when she attempted to make the report in Belize City, she was told that she had to do so in Ladyville.
When she visited Ladyville police, however, she was informed that the missing person report had to be made by the last person to see her son. So, as we go to press tonight, Monday, there is no official missing person report for Kelvin Usher, who has been missing since Sunday around noon.
Kelvin, a sixth form student majoring in economics at St. John's Junior College, is 5 feet 3 inches tall and weighs 110 pounds. He is of dark complexion and has long black dreadlocks.
He was last seen wearing a ¾ Khaki pants, black tennis shoes and a white t-shirt.