BELIZE CITY, Thurs. July 5, 2018– The Football Federation of Belize (FFB) National Over-40 football tournament is nearing the end of its double round-robin regular season. The tournament is divided into two groups of 6 teams each, with the top 2 teams from each group qualifying to the semifinal playoffs.
We don't have the scoring details, but here are the results of games played since we last reported the standings on Sunday, June 24:
In a back match played on Tuesday, June 26 at the MCC, Belize City Plaza dropped BDF Veterans, 3-1.
On Saturday, June 30, Kulture Yabra Veterans bombed Belmopan Bandits, 8-1, at Isidoro Beaton Stadium.
On Sunday, July 1, it was Mango Creek Veterans, 4-0, over San Ignacio Santels at Norman Broaster Stadium; Benque Veterans, 2-0, over Esperanza Warriors at Esperanza Field; and Belize City Plaza, 2-0, over BDF Veterans at the MCC.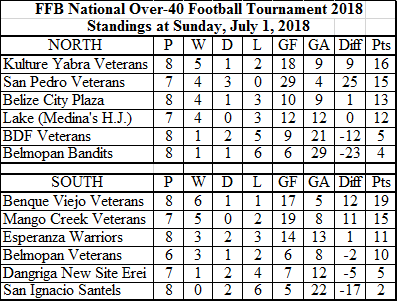 Upcoming schedule:
Saturday, July 7
5:00 p.m. – Lake Medina's H.J. vs BDF Veterans  –  MCC Grounds
8:00 p.m. – Belize City Plaza vs Belmopan Bandits  –  MCC Grounds
Sunday, July 8
4:00 p.m. – Kulture Yabra Veterans vs San Pedro Veterans  –  MCC Grounds
4:00 p.m. – Dangriga New Site Erei vs Benque Viejo Veterans  –  Carl Ramos Stadium
4:00 p.m. – Esperanza Warriors vs San Ignacio Santels  –  Esperanza Field
5:00 p.m. – Mango Creek Veterans vs Belmopan Veterans  –  M.A. Stadium
(Information courtesy Peter Alvarez, Chairman, Nat'l Over-40)