BELIZE CITY–The 5th Battle of St. George's Caye Regatta was staged over the weekend of August 30-31 on the historic waters off St. George's Caye. The event was hosted by Belize City Sailing Club (BzCSC).
At the race brief on Saturday morning, BzCSC commodore Tony Ricardez welcomed 47 Optimist sailors of clubs from Belize City, Caye Caulker, Corozal Bay, Placencia and San Pedro Ambergris Caye.
The 47 boats sailed in two fleets – the Open Fleet category for more experienced sailors up to age 15, and the Green Fleet for the beginners. With excellent weather on Saturday, the Open Fleet completed 5 races, and Green Fleet, 4.
On Sunday morning, an approaching tropical wave prompted the canceling of any further races and a hasty withdrawal from St. Georges Caye.
The scores were computed with one discard (of the worst score).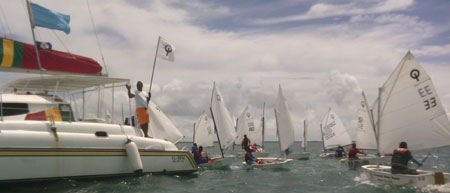 Open Fleet Prizes: Gold for first place was Jerdon Anderson, 15 years, of San Pedro Junior Sailing Club. Silver for second was Antonio Ricardez, 14 years, of Belize City Sailing Club.
Bronze for third place went to Kevin Velasquez, 12 years, of the San Pedro Racers.
Green Fleet participants all received medals, the youngest being Malic Jones of Caye Caulker Sailing Club and Christian Ferrel of Placencia Sailing Club, both 9. Gabbi Knox from San Pedro Junior Sailing Club, at 9 years, was the youngest girl.
Main sponsors for the event were National Institute for Culture and History, Teichroeb & Sons, and Kubuli. Acknowledgements to: Print Belize; sailboat "Ragga Empress" on the start line, and Belize Coast Guard vessel "CG11" on the finish line; Joe Fuzy and the St. George's Caye Village Council.
– press release –