General
— 08 August 2018
— by Courtney Menzies
BELIZE CITY, Thurs. Aug. 2, 2018– Yesterday, Ezbert Ramclam, 36, and his family were at their home at #18 Fern Street, during a normal summer afternoon, when they smelled smoke.  Ramclam and his girlfriend, Arideine Hoare, 35, then made checks around the house and they saw a sofa set that was under their elevated wooden house that was engulfed in flames.
This led Ramclam and Hoare to go into an instant panic. They broke pipes around their home to keep water flowing throughout the house. They even tried spreading a large sheet over the sofa in order to extinguish the fire, which proved futile.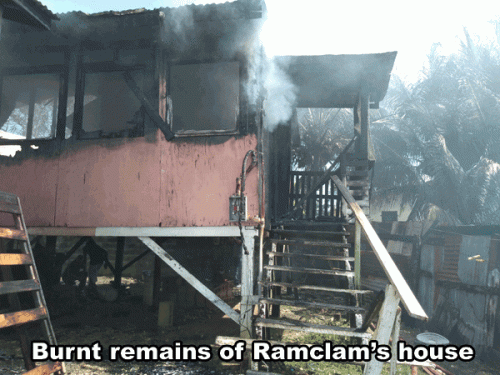 Ramclam said that he tried to save some of his possessions, but before he knew it, the fire had spread to at least half of the house, and the smoke was unbearable.
Firefighters, as well as neighbors, managed to quell the fire, but not before it gutted the house. Ramclam said that he, his girlfriend, and his 3 children, ages 6, 10, and 14, lost everything, including their passports, all their clothes, and newly bought school books and uniforms.
Ramclam's children and other children from the neighborhood were in the yard at the time of the fire, but luckily, no one was hurt. Ramclam also expressed relief that the fire did not significantly impact his mother's cement house, which is situated directly in front of his own. His brother and his brother's girlfriend also live in his mother's house.
Although Ramclam's house still stands on its posts, all that remains is blackened plywood and leaking pipes. Orin Smith, Station Manager of the National Fire Department, said that it seems that someone who was in the yard, maybe one of the children, may have been playing with matches or a lighter and accidentally lit the sofa on fire.
Smith said that the Fire Department does not suspect any foul play because the house is at the back of the yard and is only accessible through the front gate. The fence is also high, so it is unlikely that someone came into the yard unseen and purposely lit the sofa on fire.
Smith warns parents that especially during the summer, when children are out of school, they should be supervised at all times, and should be warned against playing with items as dangerous as matches and lighters.
Ramclam is asking the public for assistance in any form to help him and his family get back on their feet. His contact number is 624-3554.
Related Articles
Share
About Author
(0) Readers Comments