Headline
— 04 August 2015
— by Adele Ramos
BELIZE CITY, Mon. Aug. 3, 2015–Exactly two weeks ago, we reported to you about concerns raised by close to 50 staff members of CIBC FirstCaribbean International Bank, represented by the Christian Workers Union (CWU), amidst talks of a buyout of FirstCaribbean's assets by Heritage Bank—and the flat-out denial by the bank (CIBC FirstCaribbean) that a sale was actually afoot.
Well, today, CIBC FirstCaribbean confirmed that they have entered into an agreement with Heritage Bank for the sale of its assets here in Belize.
This will mean that scores of Belizean workers from FirstCaribbean branches in Belize City, Belmopan, Dangriga and Orange Walk, will soon be out of a job, since the sale does not include an agreement to take on FirstCaribbean's staff, who we understand total roughly 75, including 44 represented by the CWU and 16 other non-management workers.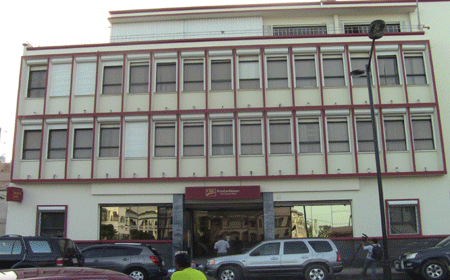 As some of these workers—appearing a bit camera shy and nervous to see the press at their doorsteps—exited their office this evening on Albert Street, where CIBC FirstCaribbean's main Belize office is located, onlookers wondered whether the decision by FirstCaribbean to exit Belize had anything to do with last Friday's BZ$50,000 bank heist at its San Cas Plaza branch, the second time the bank has been held up.
However, it turns out that the Canadian-owned bank, Canadian Imperial Bank of Commerce (CIBC), has been having colossal financial troubles with its Caribbean investment, periodically posting major multi-million-dollar losses since it became majority shareholder in 2006.
More recently, CIBC FirstCaribbean reported US$150 million in losses at the end of its last financial year, October 2014, with a rebound being reported regionally for the subsequent 6 months, ending April 2015.
In the case of Belize, FirstCaribbean has consistently been losing BZ$2 million to BZ$3 million a quarter, with things looking brighter in December 2014, when it posted a profit for that quarter at roughly BZ$2.4 million.
However, the last published financial report dated March 2015 shows that the bank was right back in the red, with a loss of BZ$680,000—this while all other banks (apart from the fledgling National Bank of Belize, which, we understand, was also suggested as a possible buyer of the First Caribbean assets) posted a profit.
Of note is that CIBC FirstCaribbean—with assets of $300 million and liabilities of just over $280 million—has decided to sell its assets to a smaller bank, Heritage Bank—with assets of $233 million and liabilities of about $216 million as of March 2015.
News reports published elsewhere in the Caribbean over the recent months have been suggesting that CIBC may be looking for buyers to sell off its entire regional investment as "distressed assets" at something near to the book value, since the Canadians have largely not been profiting from their investment in the region, as anticipated.
Of course, none of this was discussed in the press release issued by CIBC FirstCaribbean today. CEO of CIBC FirstCaribbean's Regional Operations, Rik Parkhill, was quoted as saying: "We conducted a strategic review of our business across the region and given the growth path we have identified, we have made the difficult decision to sell our Belize operations."
In the bank's 2014 annual report, Belize is the listed jurisdiction with the smallest asset base, while the bank's biggest Caribbean operations are located in Barbados, The Bahamas and Cayman.
Parkhill added that, "This decision [to sell off the Belize investment] was made easier because of the credible and respected partner we have been able to identify for this transaction – Heritage Bank."
"We are excited about the opportunities that this addition will provide and the ability to further cement our place in the Belize market. In addition, we are happy to be part of the first-of-its-kind bank consolidation to take place in Belize," said Stephen Duncan, managing director of Heritage Bank, in the official release.
When we ran our news report two weeks ago, our request for comment from Duncan at the Heritage Bank went unanswered.
Meanwhile, FirstCaribbean's country manager, Glen Smith, refused comment to our newspaper, saying that he has not been in talks with anybody about a buy-out of the bank and is focused on building the bank's brand.
"The bank does not comment on rumors and speculation, which can take on a life of their own," the manager had said.
As for staff concerns on the buyout, Smith told us that the bank does not handle concerns over industrial relations in the arena of the press.
The CWU had gotten wind of the possible sale back in 2014 and it had been trying for weeks to get the bank to discuss the impending sale with them, because of formal staff queries—to no avail. However, the CWU issued a press release late this evening, saying that the bank has now finally confirmed the sale.
For its part, the CWU has expressed disappointment with CIBC for not being forthcoming when the question was directly put to them via a letter dated July 3, 2015, as we noted in our article published two weeks ago.
Today, the bank was closed for business since the lunch hour, and we now understand that the closure was necessary because of the meetings held today to discuss the road ahead with concerned staff members.
"The bottom-line is that CIBC is leaving Belize and once all the statutory and regulatory obligations to effect the sale are finalized, all employees will become redundant," the CWU said.
"As Rik Parkhill, Chief Executive Officer of FirstCaribbean International Bank explained, all current employees will be terminated as this is an asset sale only," it added, noting that Heritage Bank may elect to hire CIBC employees on a needs basis.
However, the CWU adds that, "All employees are expected to remain fully employed until the sale is final, which may take another three – four months."
The other concern is that this development has transpired in the midst of collective bargaining negotiations between the union and the bank's management.
The union says, though, that, "Starting this Thursday, CWU will enter into negotiations with CIBC to work on a long-overdue Collective Bargaining Agreement (CBA) to replace the one which expired December 31, 2013. All benefits negotiated under this new CBA will be retroactive to January 1, 2014."
It added that, "Thereafter, CWU will further negotiate the redundancy package for the employees and has asked CIBC to present their offer as soon as possible so its members can be consulted."
Meanwhile, the CWU urges staff to continue offering their best service to the Bank and its customers and to assist the Bank with its transition.
"We cannot stop the bank from selling its operation in Belize, but we can work to ensure our members obtain benefits that will assist them to be re-absorbed into the work force, re-trained for other types of employment or become entrepreneurs so they remain part of the productive population of our country," CWU president Audrey Matura-Shepherd said.
CIBC FirstCaribbean says that although the asset sale agreement has been made with Heritage Bank, the transaction is subject to regulatory approval by both the Central Bank of Belize and the Central Bank of Barbados, and the transaction, it said, is expected to be finalized in the coming months.
CIBC FirstCaribbean says that it is very keen on minimizing the impact on its employees and its customers in Belize and it intends to work diligently with Heritage Bank to ensure as seamless a transition as possible.
"We have met with our staff in Belize to apprise them of our decision to sell our operations in Belize, and have shared information about potential opportunities for them with Heritage Bank moving forward," Parkhill asserted. "We are satisfied that we are turning over our Belize operations to a financial institution that understands our customers and their financial needs," he said.
Heritage Bank is a domestic bank which emerged in 2010 as successor to the Alliance Bank, a small bank which became incorporated in Belize in 2001.
CIBC FirstCaribbean describes itself as the largest, regionally-listed bank in the English and Dutch- speaking Caribbean with over 2,800 staff, 69 branches, 22 banking centres, and seven offices in 17 regional markets.
On October 14, 2002, Barclays Bank PLC, based in London, United Kingdom (which came to Belize in 1949) and Canadian Imperial Bank of Commerce (CIBC) based in Toronto, Canada merged their retail, corporate and offshore Caribbean banking operations and launched FirstCaribbean International Bank.
When FirstCaribbean was launched in Belize in 2002, then Prime Minister Said Musa hailed the development as "an indication of the 'indigenization' of banking in our region," amid a move to establish the Caribbean Single Market and Economy.
However, in December 2006, the Canadians assumed control of FirstCaribbean's banking operations in the region.
Related Articles
Share
About Author
(0) Readers Comments