BELIZE CITY, Wed. Jan. 6, 2016–The Belize Fisheries Department is planning a series of consultations to be held next week in southern Belize for commercial fishermen in the South, and particularly those who use the South Water Caye Marine Reserve and Turneffe Atoll Marine Reserve.
James Azueta, Ecosystems Management Unit Coordinator at the Belize Fisheries Department, said that they hope that through the upcoming consultations, they will get valuable feedback on possible realignments within the two protected fishing zones.
According to an official release from the Department, the purpose of the consultations is "…to discuss the readjustment, the possible expansion and creation of zones within the two targeted protected areas."
The specific objectives of the consultations are to get feedback on the existing boundaries of the protected areas, and to realign those boundaries and create new zones if necessary to address the livelihoods of the stakeholders and at the same time protect the existing habitats and ecosystems. They also aim to gather data to develop spatial maps reflecting the outcome of the consultations.
The upcoming meetings are part of a community consultation series which the Fisheries Department has organized under a 5-year project funded to the tune of US$6 million by the Global Environment Fund, said Azueta.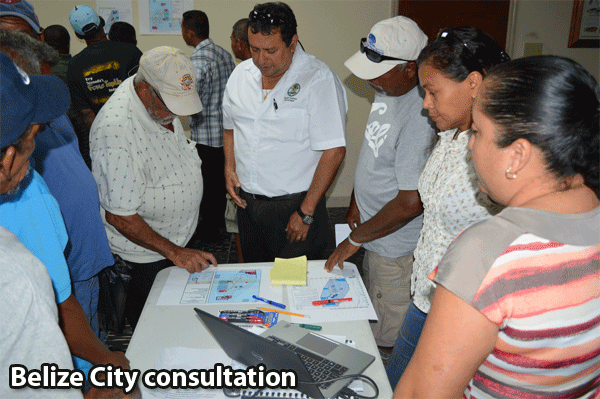 That project is the Marine Conservation and Climate Adaptation Project (MCCAP), which calls for the implementation ecosystem-based marine conservation and climate adaptation measures to strengthen the climate resilience of the Belize Barrier Reef System and its productive marine resources.
Azueta, who is also a facilitator for the meetings, said that they have been working with fishers for a long time. The upcoming consultations hope to especially engage fishers who use the South Water Key Marine Reserve area, who are major users of the sites.
He said that they have been focusing their efforts on stakeholders in Belize City, Sarteneja, Cooper Bank, Chunox and Corozal Town, with emphasis on three sites, the two previously mentioned as well as the Corozal Bay Wildlife Sanctuary.
The dates are as follows: Dangriga – 9:00 a.m. on January 12 at the Helpage Centre; Hopkins – 6:00 p.m. on January 13 at Sandy Beach Resort; Placencia – 6:00 p.m. on January 14 at the Placencia Community Centre; and Seine Bight/ Riversdale – 9:00 a.m. on January 15 at the Seine Bight Multi-Purpose Centre.
(Photos courtesy the Fisheries Department)