BELIZE CITY, Wed. May 20, 2015–Drivers were able to breathe a major sigh of relief this January when the prices of premium and regular gasoline dipped to under $8.00 a gallon; however, the most recent price adjustments implemented last night have put the price of premium gas in Belize City at just above $10 a gallon, an increase of 65 cents on the gallon, and the price of regular gas at $9.39 a gallon—the second highest price levels since the year began. Pump prices, which are calculated and set by the Ministry of Finance, vary in each district.
When we visited the gas station earlier this week, both regular and premium gasoline were tagged at $9.36 a gallon, after a new shipment of regular gas caused a price change of 16 cents on the gallon, from $9.20 to $9.36. The price edged up another 3 cents 4 days later.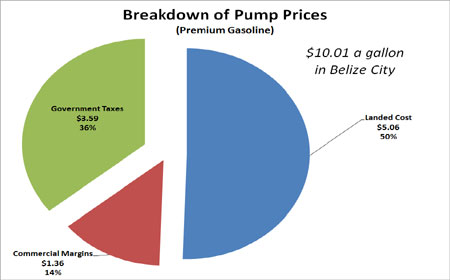 Half of what is paid at the pumps covers the cost of the fuel and getting it here to Belize. Another 14% goes to the private sector which distributes and sells the fuel to the public and 36% of what is paid at the pumps goes to the Government in the form of taxes—which remain relatively stable between $3 and $4 for gasoline regardless of the landed cost of the fuel.
Related Articles
Share
About Author
(0) Readers Comments