General
— 05 January 2016
— by Adele Ramos
BELIZE CITY, Wed. Dec. 30, 2015–Following an unusual tax hike at the pumps at the start of this week, the Government of Belize has introduced new controlled prices for regular gasoline and kerosene, as a new shipment was expected to arrive from Venezuela this week.
On Monday, December 28, the price for a gallon of regular gasoline in Belize City shot up by almost a dollar, from $7.55 to $8.52, but the most recent adjustment, which came into effect at midnight on Tuesday, resulted in a decrease of 20 cents at the pumps.
Without the tax hike, consumer prices would have fallen, as they did in neighboring Mexico; however, the Government has said that the price increase is a fiscal measure to make up for shortfalls in revenue caused by plummeting prices for crude oil on the world market and reduced PetroCaribe flows, which mean millions less in revenues for the Government.
Export earnings from crude oil fell by almost $60 million for the first 11 months of 2015, according to the Statistical Institute of Belize, while imports of fuel products have fallen by about $70 million.
In our sister nation of Trinidad, the Government there announced spending cuts and announced tax reform to make up for lost oil revenues.
In Belize's case, its economic pillars are agriculture, tourism and fisheries, with strong performance in sugar partly compensating for depressed financial flows from crude oil.
The Government's press release, announcing the latest price adjustment, indicates that the current level of taxes at the pumps will hold.
Although it committed to passing through future savings on oil imports, the Government said that it also intends to maintain the current level of duties and taxes without change on these products.
In related news, the price of kerosene dropped this week by 10 cents on the gallon, from $4.94 to $4.48, with no significant change in taxes.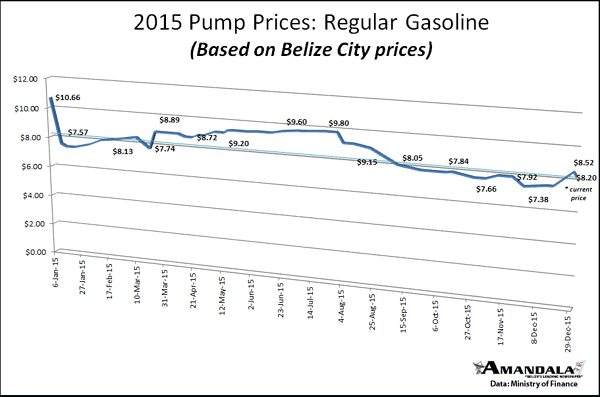 Related Articles
Share
About Author
(0) Readers Comments