General
— 24 January 2018
— by Albert J. Ciego
GUINEA GRASS, Orange Walk District, Fri. Jan. 19, 2018– Guadalupe Reymundo Flores, 29, a laborer of Guinea Grass, Orange Walk District, is in police custody pending arraignment on charges of drug trafficking and possession of contraband goods after he was busted with 3 pounds of cannabis and a quantity of un-Customed goods at about 9:00 this morning in his house in the village.
Reports to us are that while conducting anti-drug operations in the village, police went to Flores' home and conducted a search.
Flores was at home, and police said that along with the marijuana, they found  (27) cases of Superior beer, (12) cases of Sol beer, (4) cases of Tecate light beer, (4) cases of Modelo Especial beer, (13) cases of Barilito beer, (5) cases of Pepsi, (7) cases of Big Cola, (3) individual containers of Big Cola, (9) bottles of Mirinda soft drink, (8) Manzanita soft drinks, (10) small sacks of flour, (8) large sacks of flour, (4) packs of Maseca, (1) sack of onions, and (1) box of tomatoes.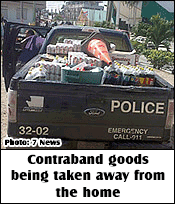 Orange Walk Customs personnel were alerted, and the contraband goods were handed over to them.
Flores was taken to the Orange Walk Police Station, where he was detained. If found guilty of the drug trafficking charge, he can expect a fine of $10,000 or a jail sentence of 3 years, or both.
Flores must also deal with the matter of the contraband goods. Customs officials said that he will be invited to settle the matter out of court by paying a fine. If he refuses, or they can't come to an agreement on the fine, the matter will go to court.
A person found guilty of the possession of un-Customed goods can expect a fine of no less than $20,000.
Related Articles
Share
About Author
(0) Readers Comments