SUCCOTZ, Cayo, Mon. May 9, 2016–Guatemalan gold seekers ("oreros" in Spanish), who seek out the pricey and highly sought-after ore, are wreaking havoc inside the highlands of the Chiquibul, as far as 9 kilometers (or 5.6 miles) inside Belizean territory, where they have gone from panning for gold at streams in the Ceibo Chico area, to now digging out wide trenches in search of volcanic bedrock to tap into the source of the Chiquibul's gold wealth.
The environmental impact is colossal, as these illegal miners leave behind a defaced habitat and an array of unsightly contaminants: garbage, pans, plastics and their feces, which pollute nearby streams that feed the Chiquibul's headwaters.
Ironically, these tainted waters meander their way to the Guatemalan village of Nueva Armenia, but there is also cause for Belizeans to be concerned, since these waters eventually return to the Mopan River, which stretches across from Guatemala into Belize.
According to a report just released to us by Rafael Manzanero, Executive Director of Friends for Conservation andDevelopment (FCD), there about 100,000 Guatemalans who depend directly on that water resource.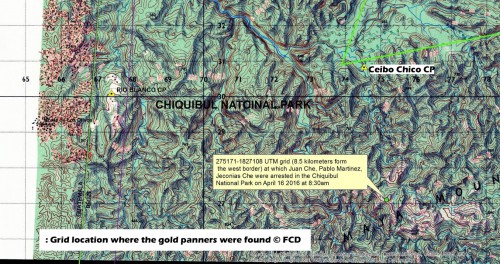 Manzanero said that the search for gold in the Chiquibul continues with unimaginable impacts: "Areas nearby the stream are cleared of vegetation, trees and palms; trenches are then opened; rocks are extracted, out and then are crushed. It is estimated that there are over 25 men operating at camps hidden under the tiger ferns and mostly under the cover of darkness operate in the Chiquibul. Contamination from garbage which includes plastic, cans and even fecal contaminants is severe," Manzanero added.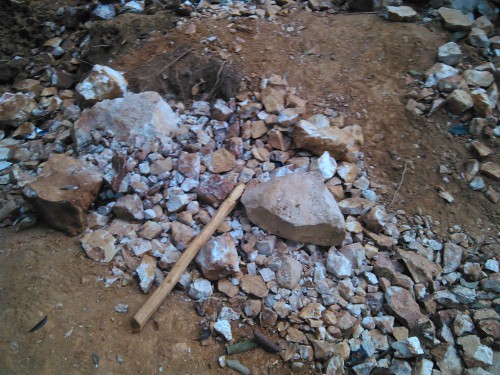 The oreros pillage the Chiquibul in search of gold they reportedly sell for 250 quetzales or about BZ$74 a gram. The main sales point is the village of Monte Los Olivos, on the Guatemalan side of the border. FCD notes, though, that gold panners come from various other villages of Southern Petén and from other departments, such as Morales, Izabal.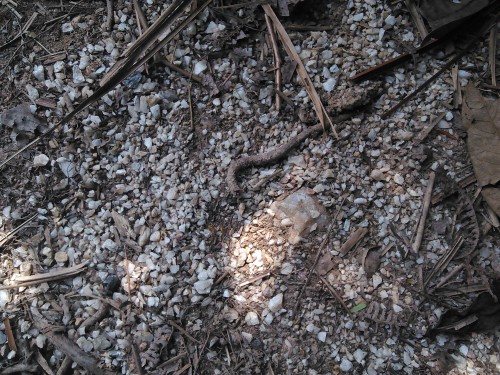 Belizean authorities established the Ceibo Chico Conservation Post in 2012 to halt illegal activities in the area, Manzanero said. The number of Guatemalans illegally panning for gold was estimated at about 200 in 2011-2012, he added.
The fact that they continue to come to Belize, means that they are coming for something: "They are actually getting gold, no doubt about it!" Manzanero said.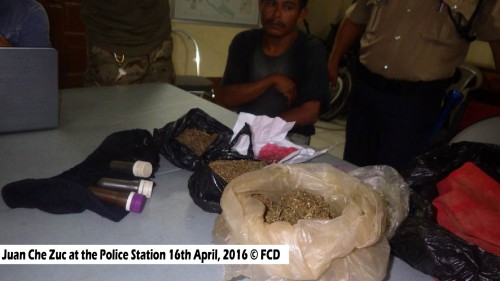 Manzanero told Amandala that the Guatemalans have changed the way they search for gold inside Belize's Chiquibul. Although gold panning activities could normally be seen in aerial reconnaissance operations, because the streams where panners work would appear dirty, gold seekers are now shifting to digging out the bedrock for gold—and furthermore operating at nights rather than during the daytime, thereby making themselves less visible.
He said that Boiton Minerals, a company operating in Belize, has a license to mine for gold in the Ceibo Chico area. They operate during the day, but the Guatemalans, who come illegally, pillage the resource at night.
"We don't know how many camps there are," Manzanero told us, suggesting that there are more than 25 Guatemalans operating there.
Arrests are notably rare. The last arrest was made on April 16, 2016, when the Joint Forces Unit, located at the Ceibo Chico Conservation Post, nabbed three Guatemalans—Juan Che Zuc, 36, of El Naranjon; Pablo Martinez, 33, of Las Brisas de Chiquibul; and Jeconias Che Xol, 21, of El Naranjon—who had come to Belize in search of gold. The Joint Forces personnel found several plastic bags with 390 grams of marijuana and three empty vials, which are normally used to hold gold nuggets.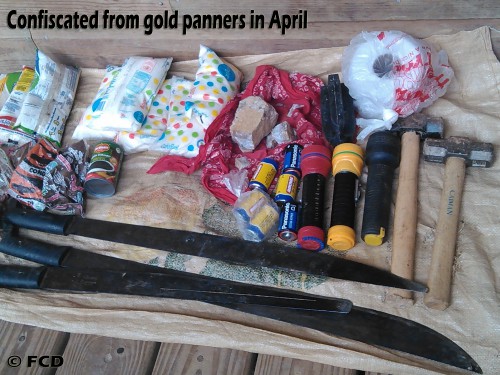 It was Zuc who reported that Guatemalans were taking away the stones found inside the Chiquibul and crushing them away from the streamside in the nearby camps or back at their villages. Jeconias had said that on their way to Chiquibul, they saw a group of some 10-15 gold panners coming out from the area.
"These three individuals were in the area seeking gold. The three admitted knowing that they were inside Belizean territory," FCD had said.