SAN JOSE SUCCOTZ, Cayo District, Thurs. May 21, 2015–The Chiquibul Forest—which spans over 400,000 acres in western Belize, abutting the Belize-Guatemala border—continues to be the target of illegal pillaging by Guatemalans; and this year, there is reportedly a spike in illegal encroachments by Guatemalans who continue to clear vast acreages for farming, and some of whom extend their cattle ranches from the Guatemala side of the border to the Belize side of the border.
Last December, Belize and Guatemala signed a set of 13 agreements (which you can read about here: http://amandala.com.bz/news/13-agreements/). These include an agreement for the Protection of the Environment and Sustainable Use of Resources, which stipulates that Belize and Guatemala "will design a framework for cooperation and strategic collaboration with the aim of improving the protection and conservation of the environment and of protected areas through joint efforts." That agreement notwithstanding, things have reportedly gotten worse on the ground.
Rafael Manzanero, executive director of Friends for Conservation and Development (FCD), said that 92 areas within Belize have been illegally cleared for planting this year, more than likely for milpa farming, and this represents a peak in those activities over previous years.
The last time there was a steady escalation in encroachments was for the period 2006 to 2011, he added.
This year's escalation, said Manzanero, is "astounding," and quite a bit of it is now concentrated in the area of Caracol and the Cebada Zone, since the illegal farmers have now moved away from the Valentin zone, where a new conservation post, manned by Belizean military, was recently established.
In 2014, these incursions turned confrontational and on one occasion became deadly, claiming the life of a Belize security officer.
When the Valentin post was being established last October, an armed mob of about 40 Guatemalans threatened to burn down the new conservation post the Belizeans were erecting to stem the unrelenting tide of illegal incursions and encroachments by Guatemalans.
Incidentally, this armed attack happened about a week after the brutal murder of Belize special constable Danny Conorquie at the main Caracol temple—an attack which occurred after Belize security officers had confiscated some horses which Guatemalans were using to carry out illegal harvesting in the Chiquibul.
Even amid this stepped-up presence near the Belize-Guatemala border, the encroachments continue. Manzanero said that the Guatemalans are now concentrating their activities elsewhere in the Chiquibul, and in order for Belize to stem the tide of these activities, even more conservation posts must be established.
Today, Manzanero informed us of the current extent of the encroachments inside the Chiquibul. In the May 20, 2015 report titled, Agricultural Expansion in the Chiquibul Forest: Situation Report, FCD explained that, "Illegal activities include poaching, looting of Mayan ruins, illegal logging, xaté extraction, gold panning and agricultural encroachments."
It notes that, "Within the Chiquibul Forest (CF), there are no recognized human settlements, but an estimated 65 Guatemalan communities are found in a 45 km stretch along the adjacent Belize-Guatemala border; of which 11 immediately buffer the Chiquibul Forest."
La Rejoya and Monte de los Olivos are two of the adjacent Guatemalan communities from which persons detained for illegal activities inside the Chiquibul have originated. As we reported a few weeks ago, a xatéro, David Cheche, of La Rejoya, was arrested over 8 miles inside Belize.
For years, FCD has been sounding the warning that the situation would worsen without "aggressive interventions…"
Information provided by FCD indicates that the extent of agricultural encroachments by Guatemalans—which started to appear after 1980 and increased slowly up to 2000—has been escalating exponentially, growing from about 5 square miles in 2004 to 14 square miles in 2010, a growth of about 175%. The pillaged area is reportedly twice the size of Belize City.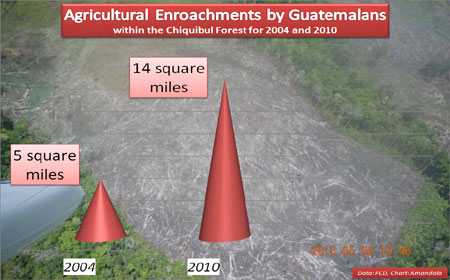 Each year, Guatemalans from neighboring communities venture into Belize to illegally clear land for planting, using the slash and burn system. Modern satellite surveillance provides a means for Belizean authorities to monitor these burnings as soon as they occur – yet these illegal encroachments remain unchecked.
This year, the FCD has been able to document several new patches of illegal clearings within the Chiquibul Forest using flyovers done over a span of three months.
"During the first [flyover] conducted on the 23rd of February, FCD registered two milpa clearings inside the [Chiquibul National] Park. At this time, the situation was described as 'not alarming.' However, on the 17th of March, FCD registered approximately 23 areas where the forest had been slashed and prepared for burning. Sixteen of these were new clearings, while 7 were reused wamils being prepared for farming," FCD documents.
The clearings represent an increase in agricultural encroachments over last year's, and most of the clearings have been observed in the Cebada area.
According to FCD, when they conducted their third flight on May 8, "…92 fields were counted, 34 of these are more than one kilometer inside from the border."
Of note is that there are clearings for cattle ranching which also straddle the Belize-Guatemala border. FCD notes that, "…further north along the border, there are some new large clearings that start in Guatemala and extend into the Vaca Forest Reserve. These fields are pastures for cattle ranching and belong to Guatemalans."
FCD notes that there were also clearings observed in the area of the Caracol Archaeological Reserve, with 30 clearings detected in the area of Caracol and 48 clearings in the Sapote and Cebada region, with the furthest clearing located up 5 kilometers (or about 3 miles) from the west border inside the Chiquibul National Park. Ten clearings were found in the north Rio Blanco area.
"Currently, the fields are newly burnt, some rain has fallen already and planting will take place very soon," FCD warns. (The acreage of the fields for 2015 has not yet been estimated.)
The current trend indicates that where conservation posts are located there are less agricultural encroachments. It appears that Guatemalans have moved and are concentrated in the area of Cebada and South Cebada, where less governance occurs in the form of patrols.
FCD therefore recommends that "…the conservation post in the South Cebada be constructed urgently to deter effectively this activity. In the immediate term, it is critical that aggressive patrols be conducted in the region to avoid people from burning."
FCD also notes that, "The South Cebada and Cebada is considered a hotspot where people carry offensive weapons and have fired at joint BDF, Police and park ranger patrols. This area is where most of the marijuana fields have been documented during the past three years."
Manzanero said that conservation posts would seem to be a really important intervention. That is why Cebada was being flagged as one of the areas to put a conservation post. He said that the FCD and the BDF have tried on at least 3 or 4 occasions to find a location to put a new conservation post at Cebada. They last went looking a few days ago, but have still not found an ideal location with a good water source. The search for a good location in Cebada will continue, Manzanero indicated.
Related Articles
Share
About Author
(0) Readers Comments