Features
— 18 July 2014
— by Adele Ramos
Littering public places is prohibited by law
Poor garbage management can create a health crisis. Belize City residents, who suffered respiratory ailments in 2009 due to the hellish burning of the now redesigned dumpsite just outside the Old Commercial Capital, know that reality all too well.
However, not many people are aware of the fact that poor garbage disposal can also heighten health risks due to pest problems, including the proliferation of rats, which has sparked growing concerns over incidences of leptospirosis – a potentially deadly disease.
Lumen Cayetano, Senior Solid Waste Technician for the Belize Solid Waste Management Authority (BSWaMA), announced to the media today that the Authority is this month launching a series of fairs, marketplace events and training sessions, in its move to fully effect the 2012 Social Communications Strategy with an emphasis on sparking a revolution in the attitudes and behavior of Belizeans needed to create a litter-free Belize.
When Michael Lewis succumbed to leptospirosis this January after eating a meal contaminated by rat urine, Director of Health Services Michael Pitts advised the public to maintain a sanitary environment and to properly dispose of refuse to keep the rat population down.
Today, Tyrone Chimilio, the social communications officer for BSWaMA, emphasized the importance of properly bagging and storing garbage to reduce rat and roach infestation. This is among the specific behavior changes which BSWaMA is trying to urge Belizeans to adopt.
Starting this Saturday, July 19, the Authority will interface with the target communities. It will host a marketplace in Santa Elena/San Ignacio, and on Sunday, it will set up a booth at the Benque Fiesta. Next Sunday afternoon, July 27, it will host a marketplace event at the BTL Park. They want to talk with area residents about problems and solutions for achieving sustainable solid waste management.
With US$15 million in funding from the Inter-American Development Bank and the OPEC Fund for International Development (IFID), the Authority has been focusing on setting up a new garbage collection and disposal system for the western corridor, which includes the San Ignacio/Santa Elena municipalities in the Cayo District; and Belize City, San Pedro and Caye Caulker in the Belize District. The refuse dumps from those locations are being converted to transfer stations, and the ones in the cayes will be the final ones to be brought online by February 2015.
Garbage taken to these transfer stations in Belize City and San Ignacio/Santa Elena is then transported to a state-of-the-art sanitary landfill facility spanning 350 acres at Mile 24 on the George Price Highway, where 5 acres is now being used for the sanitary landfill (See aerial photo). Operations are handled by PASA Belize Limited, which won the design-build-and-operate (DBO) bid for the project and which was awarded an 8-year contract valued at US$8 million.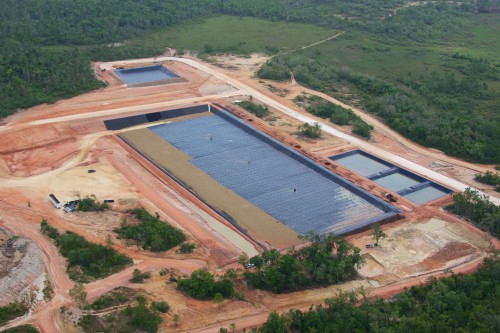 Garbage disposal is also a problem in other municipalities. We've reported, for example, on complaints coming out of Punta Gorda over inadequate garbage facilities there. Cayetano, who hails from Punta Gorda, agreed that this is a problem — one that is evidenced by multiple hot spots marring the beauty of her hometown.
She indicated that although they are currently focusing on the western corridor, the southern corridor will be next. The Authority will do the necessary groundwork and feasibility study, to get that initiative off the ground.
Related Articles
Share
About Author
(0) Readers Comments