BELIZE CITY, Wed. Apr. 27, 2016–For the first time in at least 4 years, HIV-related deaths in Belize have hit a triple-digit high, with 110 such deaths reported for 2015, according to a report recently released by the Ministry of Health. By comparison, 119 lives were claimed in Belize due to murder that same year, and just as murder strikes at the heart of Belize's productive male population, so too does HIV. Health authorities hope, though, that more men could be engaged in early testing and treatment to reduce the incidences of death from the virus.
Director of Health Services, Dr. Marvin Manzanero, told Amandala that the ministry hopes to be able to engage more men in prevention and treatment initiatives and find more creative ways of reaching them after traditional work hours, perhaps meeting them at recreation spots.
Manzanero also underscored the need for early detection. He said that people are showing up with the virus in later stages of infection, which makes it hard to battle.
Manzanero confirmed that Belize continues to have the highest HIV prevalence rate in Central America, at around 1.4% of the adult population living with HIV, with Panama behind. The other Central American countries report an HIV prevalence rate of less than 1%.
According to the new HIV report, while there were 239 new HIV infections reported in 2015, almost 79 persons already had an established HIV infection. The majority of persons who tested positive were put on anti-retroviral treatment, but some of those persons have also died.
"The ultimate goal of the HIV program is to have the entire population of HIV-infected persons on anti-retroviral therapy and virally suppressed as a means of reducing morbidity and mortality, as well as a secondary prevention strategy," the report said.
The gender gap in testing and treatment is evident in the statistics. Although women got tested twice as many times as men did, most of the HIV cases were showing up in the male population and twice as many men died from HIV-related causes as the women who did.
The prevalence of HIV among men who have sex with men has been found to be substantially higher than the national average, cited at 13.85% in a 2014 report. Some of those men also transmit the virus to their female partners. There was no data in the current report on the current status of HIV among men who have sex with men.
Among those who tested positive for HIV in 2015 were 125 males and 114 females, with the most cases arising in the Belize District—134 cases or 56%. Thirty-eight new HIV cases were reported in Cayo and twenty-nine in Stann Creek, the two districts where HIV prevalence were the next highest. Toledo reported the least cases—7 or as few as 3%.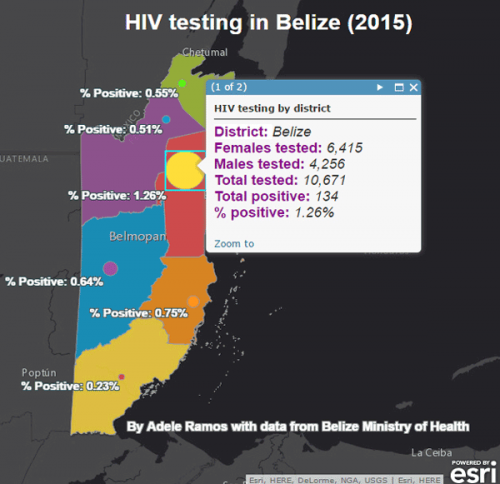 CLICK HERE FOR INTERACTIVE MAP ON HIV TESTING AND RESULTS
CLICK HERE FOR INTERACTIVE MAP ON HIV DEATHS
The year 2014 saw 226 new HIV cases; with 2015 recording a 4% increase, but what was most notable in the report was a significant spike in HIV deaths, representing a 39% increase over 2014.
We asked Manzanero to explain it, and he told us that people are not accessing treatment regularly and men are still not being tested in the volumes that the ministry would want to see.
Of the 110 persons with HIV who died last year, 23 of them had just learned during the course of the year that they were HIV positive.
The increase in deaths has been particularly pronounced in the male population. In 2015, 74 males died from HIV-related causes, a whopping increase of 45% over the previous year, which saw a total of only 79 HIV-related deaths overall.
The tally has generally remained lower than 100, except for a spike that began in 2009, when 101 HIV-related deaths were reported. A decade earlier, in 2005, the figure stood at 76.
Consistently, a high percentage of HIV-related deaths are reported among men, who show up far less for testing than women do. According to the official data, tests were done on 20,105 women—double the amount of tests done on men, which totaled 11,241. That means that of the 30,000 HIV tests done in Belize in 2015, 64% of them were done on women, many of whom are tested while pregnant to reduce the chance of mother-to-child transmission of the virus.
During 2015, 57 babies were delivered to 54 mothers who had tested positive for HIV during their pregnancy and only 4 of them were born with the virus due to treatment interventions. However, three women who knew they had HIV didn't get treatment.
Of note is that forty of those women who tested positive for the virus already knew they had HIV and in fact, one of the mothers was delivering her second child while she was HIV positive. Fourteen pregnant mothers, seven of them ages 15 to 24, learned while pregnant that they had the virus.
"The majority of HIV-positive young females are reached through the prenatal clinics, which is an indicator of unsafe sex resulting in pregnancy and HIV infection. This continues to reflect the need to capture the younger population with prevention strategies before they engage in risky behaviors," the report said.
Related Articles
Share
About Author
(0) Readers Comments