1966 Stann Creek Methodist comes to Belize City to face "the Big E"
An Amandala interview with Charles Hogan, visiting from Los Angeles, California, on Monday, October 2, 2017, on 3304 Partridge Street.
BELIZE CITY, Thurs. Oct. 26, 2017–Charles Hogan (H): Yes, 2-nil. And we finished that 4-game series. And then… it was Ebenezer time!!
Amandala (A): What! They're bringing you guys to town?
H: Yes, they're bringing us to the City!!
Part 5
A: I didn't hear about that game at the time; but that must have been a monster game!… So, you guys coming to town…
H: Right here at Rogers Stadium… and there were a lot of old 'ballers there… from Landivar… BEC… some of them spoke to me long after… and they remembered the game…
A: So, at that time then, Ebenezer Primary (also a Methodist school) would have been the Belize City champion… because they had a City competition too…
H: Yaa… because on the radio we were listening to their games every day… beating Holy Redeemer… they were beating St. Mary's… St. Ignatius… and we heard about this… this dominating team from the City…
A: Eben! Eben! (laughs)
H: The "Big E"… with a big "E" on their back… a big, green "E"… and some big, talented players… Most of those guys I think (later) went national…. or they went to New York and caught the Bel-Way team… or to Chicago..
A: A lot of players at that time… as soon as they got a break, they were gone north (to the States)…
H: Yaa, they left right after that era…
A: So, it was a Thursday the game was played in town?
H: No, we came to Belize City on a Friday… and the game was played on Saturday morning around 11:30 or
12 o'clock at Rogers Stadium on Cemetery Road… That's the first time they saw us… and that's the first time we saw them… We had heard about them… and they had heard about us too… And… I mean… the first five minutes…
A: You don't remember any of the guys on their team…
H: Yes… I know some of those guys… I know them personally…
A: Like who so?
H: I know the main… the star from Ebenezer was "Pinny Wally"… so we had to know him… because we'd been hearing about him… and about "Lee Mole"…
A: Lee Mole?… he was with them?
H: Yes, Lee Mole… and "Lee Weeno," Harry Shaw's brother… Bill Clarke…
A: I knew about Frankie Clarke, but I never heard about Bill Clarke…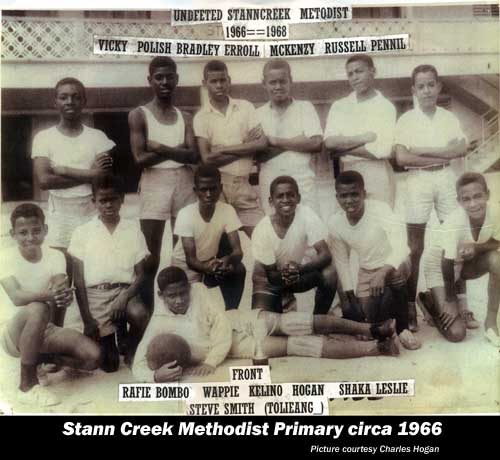 (N.B. A check of our Amandala files indicates that this "Lee Mole" could not have been the renowned Raymond "Lee Mole" Alvarez, who, according to Tony Wright, had won the 1963-64 Belize City junior competition with Willy Wiley, and then "went up to senior with Independence." But we know of at least one other "Mole," Leonard Nunez, who, as a veteran, briefly played senior ball with Milpros in the 1984-85 City season.)
H: And, like I said, the goalkeeper was one of Belize's best… I don't know why he didn't go national… the guy Buckley… Buckley was awesome in the goal, mein… the drummer… he became a drummer afterwards for a lot of the bands here in Belize… Some of the guys, I know them by face only, after… you know, after when you meet a good rival team… you will get to know them…
A: You even become friends later… after war…
H: Yaa, you become friends after (laughs)… because even after that, I still war with Pinny Wally in the States… in New York vs L.A.…
A: What was Pinny Wally's name?
H: Vaughn… something Vaughn…
A: So, how did that game go?…
H: Alright… like I said… after ten minutes, Belize realized that they had a war on their hands… and we realized we had a good team to play too… so it was back and forth… back and forth… You know, I mean, like… the guys who didn't know me said I was "Baby D-Line"… because everybody knew Down-D (the great Daniel Lino) back then…
A: Yaa, Down-D was already a legend…
H: And then… little Bombo… they called him "Baby Tubuk" (after legendary Ivan "Tubuk" Martinez)… so it was the same one-two punch that came to the City that they saw… the same way, they had a one-two punch too… that my defence took care of… but they did things to us… and we did things to them… and the crowd said, "Well, yow mein… this is a game!!"… Well, we finally won, 1 to zero…. I think the guy "Polish," Bredda David's nephew… he is the one who scored the only drop from the center…. awesome goal, mein!…
A: What was his name?
H: Ashley Robinson… he is right there in the back (on the picture)… Ashley "Polish" Robinson.. so it was a 1-nil game…
A: So, you dropped the great Eben!
H: Yea, we dropped the greatest! (laughs)
A: (laughs) Bwai!!
H: So, what would that make us, now?…
A: (laughs) Yaa, national (primary school) champions…
H: (laughs) Wouldn't that make us one of the greatest primary school teams of all time… ?
A: Yaa… of that time… That was about ten years after the legendary… same Ebenezer..
H: The same Ebenezer with all those national guys…
A: So, for your era… unu da mi di boss (you guys were the best)!
H: (laughs)
A: So… after that, now… you are a national hero in your own way… with the (Stann Creek) Methodist primary school champions … and some of those players later on became senior players…. What was your route?… What did you do after that?
(To be continued in the next issue of the Amandala)
(In Part 6, Hogan disappears from the Belize football scene; and, years later, resurfaces on the senior football stage in L.A.)