BELIZE CITY, Mon. Aug. 15, 2016–A vehicle assigned to the Deputy Prime Minister, Patrick Faber, careened off the Marine Parade Boulevard after being driven contrary to the flow of traffic, and plunged into the Caribbean Sea at around 8 p.m. on Sunday, creating a commotion as passersby flocked to the scene.
However, when police arrived on the scene to haul the white SUV from the sea, Faber was neither inside, nor was he in the area.
According to the Deputy Prime Minister, sometime close to 6 p.m. he had parked his vehicle inside the tightly secured home of a friend situated at about Mile 3 ½ on the George Price Highway, and thereafter, went with some colleagues in another vehicle to the Old Belize dockyard. He said that no one was authorized to move or to drive his vehicle.
His friend, an unnamed female with whom he had left his keys, had gone into his vehicle to retrieve a parcel and apparently forgot the keys inside, and did not hear when the alleged thief made off with the SUV.
It was ACP Edward Broaster, among others, who told Faber that his vehicle was "parked in the sea."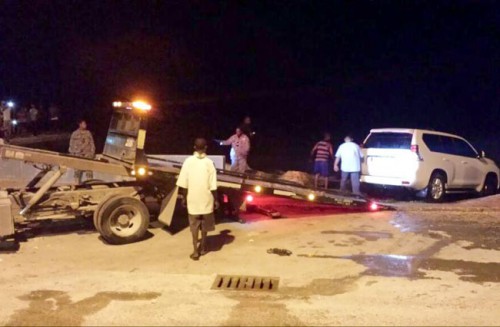 According to Faber, the damage to the $90,000 2013 Toyota Land Cruiser Prado has not only resulted in a loss to the Government, but also a loss to him, who had paid $40,000 towards the purchase of the vehicle.
Amandala could not clarify this statement, because it is not standard Government practice for anyone to contribute towards the cost of a "Government-issued" vehicle, because the question of ownership would then become an issue.
The SUV, pulled from the sea after its highly publicized bath, was reportedly without license plates, which is highly unusual for Government-issued vehicles. When Amandala pressed Faber for answers, he conceded that he was at fault for driving without his licenses, and said that they were inside the vehicle.
At this time, his SUV has been sent to the makers of the Toyota Land Cruiser Prado to see if in fact it could be salvaged, because the damages are out of the scope of Faber's insurance coverage.
While Faber's second vehicle was plunged into the sea, coincidentally, the vehicle he originally owned, which he had given to his CEO, Dr. Carol Babb, caught fire almost an hour later that same night.
ACP Chester Williams told Amandala that around 9 p.m. on Sunday, the vehicle caught fire while it was being driven on Apple Star Avenue in Belmopan. Faber confirmed that report today during his press conference.
Though he has been driving without his license plates for some time and a second set of his keys had long gone missing, Faber said, "I try my best, for instance, not to incur any costs for our Government that we need not incur, so I certainly would not have done it myself, or would I encourage the purposeful damage of property belonging to Government."
Pictures from the accident, gone viral on Facebook, apparently showed an unidentified man, believed to have been the driver, in the water near the submerged vehicle with what appears to be a beer bottle in his hand.
According to ACP Chester Williams, no one has since been detained and police are now investigating the matter. The Creole-descent man who is believed to have been driving the vehicle when it plunged into the water, managed to escape.