General
— 04 June 2016
— by Adele Ramos
BELIZE CITY, Wed. June 1, 2016–The hurricane season starts on Wednesday, June 1, and while experts are forecasting a near normal season this year, the latest information published by the National Hurricane Center in Miami indicates that this year could see anywhere between 10 and 16 named storms. The National Oceanic and Atmospheric Administration (NOAA) predicts a 70% chance that this many cyclones, with wind speeds of at least 39 mph, will form in the Atlantic Basin this year.
Of those, 4 to 8 could become hurricanes (with winds of 74 mph or higher), but anywhere from 1 to 4 could be major hurricanes (packing a strength of category 3, 4 or 5, with winds of 111 mph or higher).
"This is a more challenging hurricane season outlook than most because it's difficult to determine whether there will be reinforcing or competing climate influences on tropical storm development," said Gerry Bell, Ph.D., lead seasonal hurricane forecaster with NOAA's Climate Prediction Center. "However, a near-normal prediction for this season suggests we could see more hurricane activity than we've seen in the last three years, which were below normal," he said.
The outlook said that while a near-normal season is most likely, with a 45% chance of such a season, there is also a 30% chance of an above-normal season and a 25% chance of a below-normal season.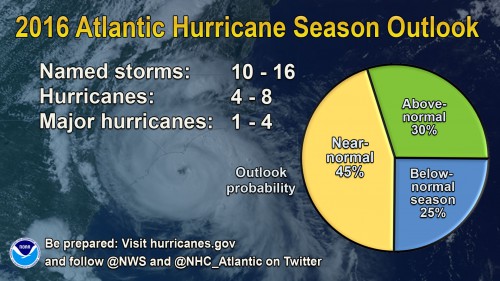 "We always say that the numbers as presented by the agencies do not tell the full story. We should prepare the same for every season, regardless of what the prediction is," Chief Meteorologist, Dennis Gonguez, of the National Meteorological Service of Belize, told Amandala on Tuesday, in advance of the start of the season.
"The forecasts do not say where the cyclones will make landfall, and they don't say what the probability is of one of those ten hitting you," he added.
"We have to be ready and prepared for any eventuality," Gonguez warned.
Gonguez told Amandala that the El Nino phenomenon which had been suppressing hurricane activities in the recent past will be "all but gone by July or August."
While this could increase cyclone activity, the good news is that the north Atlantic is quite colder than it normally is, which tends to mitigate cyclone formation, Gonguez explained.
Although the season is forecast to be about average, two storms have already formed since the start of 2016. We asked Gonguez whether this has every happened in advance of the season, and he said that he does not recall that ever happening. Those two storms were Alex, which emerged in January, and Bonnie, which formed last week.
June 1 also marks the start of the rainy season. According to Gonguez, his deputy, Catherine Cumberbatch, who usually does the season outlook, is in Dominica preparing the outlook for the upcoming season. The Met Office plans to have a national climate outlook forum next week, June 7, at the George Price Center, where that outlook is to be presented.
Dr. Gerry Bell discusses the 2016 Hurricane Season. (NOAA)
Related Articles
Share
About Author
(0) Readers Comments