Features
— 05 August 2017
— by -contributed -
I first met Andy Palacio back in the mid-1990s. He was personable and obviously talented with a quick smile. After many performances, recordings and general hard work, his final musical contribution along with the Garifuna Collective, "Watina", was the pinnacle of arguably Belize's greatest artist. I listen to it repeatedly unwilling to accept that he is gone, way too early at age 48.
Having decided that it is important to visit Barranco, the last coastal settlement of Belize, and Andy's home village, I talked a friend into driving. I was undeterred by the distance, the rain and the poor quality of the road once off the Southern Highway.
After a 45-minute drive on rough terrain, the sleepy village on the Caribbean Sea came into view. It showed very little economic activity, with only a few people moving around. There was even an absence of "patlikas". Nevertheless, the view from the coast was breathtaking. I walked to the end of the pier and took pictures of the village and the view across the sea to Guatemala. I could faintly hear what sounded like drumming but could not identify the source. It might have been my imagination.
Finding Andy's resting place proved harder than expected. The first couple of people we asked gave vague directions. We ended up at the primary school. The next person, provided more accurate information. With no signs to indicate its location, we stumbled down a short, muddy lane to the village cemetery. This is where my disappointment and sadness set in. First, a car could not have reached the cemetery using that lane. Second, the cemetery is badly overgrown and generally unkempt. Third, while Andy's headstone was well done, the grave is untiled and blackened by the weather. The scene is undignified for anyone, let alone a Belizean icon.
Without pointing fingers (Barranco Village Council, National Garifuna Council of Belize and Ministry of Culture), better can be done. Andy wanted to be laid to rest in Barranco and that was appropriate.
When I expressed my disappointment to another friend, he responded, "Andy P never forgot Barranco … how could they forget him? This is an excellent opportunity for them to promote their village and attract visitors."
Why is the site not more accessible and better tended? Why is there not at least one prominent monument or memorial anywhere else in the country where people can pay their respects?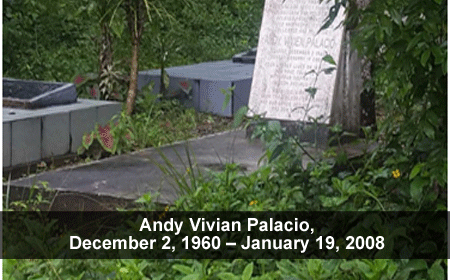 Finally, there are many who have received accolades, monuments, and buildings named after them who have contributed far less. Along with Andy, let us properly memorialize others who have made invaluable contributions to Belize. We can build a pantheon of heroes/heroes beyond those involved directly in politics including Leilah Vernon, Mr. Peters and Paul Nabor, just to name a few. Nevertheless, I leave it to those more qualified to identify these heroes/heroes, never forgetting that the foundation of the future we hope for was laid by their efforts.
Related Articles
Share
About Author
(0) Readers Comments