Headline
— 15 July 2017
— by Micah Goodin
BELMOPAN, Cayo District, Wed. July 12, 2017–For the first time last Wednesday, two sitting Cabinet Ministers made their appearance before the Senate Select Committee.
Cabinet Ministers Anthony "Boots" Martinez and Edmond "Clear the Land" Castro provided the Senate Select Committee with testimonies that were seen by many as full of insolence and arrogance.
Today, two other Cabinet Ministers, Rene Montero and Manuel Heredia Jr., appeared to testify before the Senate Select Committee after they were named in connection with major irregularities in Auditor General Dorothy Bradley's Special Audit of the Immigration Department.
Their presentations were civil, compared to that of their previous colleagues.
The first to testify today was Heredia, who was asked to explain his involvement in the nationality applications of members of the Harmouch family in San Pedro.
As we had previously reported, the audit revealed that several members of that family had been issued nationality certificates for which they were not qualified.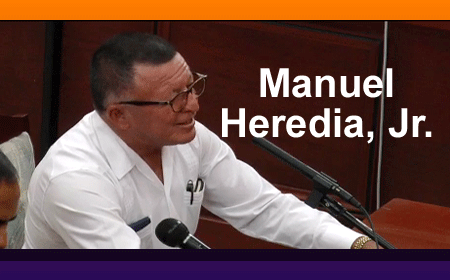 Here is how the Chairman of the Senate Select Committee, Aldo Salazar, quizzed the Minister on this matter:
Salazar: "There is a particular issue here with the surname Harmouch, which I'm sure you're familiar with in your constituency. There are several instances which the Auditor General highlights with that name, Harmouch. And according to her, there were certain irregularities in the granting of nationalities for some of them. I'll start with the first one that's here, Samir Harmouch. Are you familiar with that person?"
Heredia: "The first names may not be that familiar, but the last name, Harmouch, yes. I know there is the family of almost 100, or over 100 Harmouches that live on the island."
Salazar: "But you are not familiar with, particularly, Samir Harmouch?"
Heredia: "For the first names, even the ones I appoint regularly, the first names, it's difficult to remember those ones, but the last name, yes."
Salazar: "Gertrude Armstrong notes that you requested the file for Samir Harmouch sometime after 9th December, 2011."
Heredia: "I would never request a file. What I usually do and have been doing for, like I said, from the time I have been mayor of the island until now, is that people, if they give me a copy of their receipt, I will go and find out if what, if anything, is missing … and I will advise the person accordingly.
"In many cases, I have been the recommender of applications, probably hundreds of them because I like to service my constituency and give as much help, and I believe that as an area representative, as the mayor of the island, my job is to provide service, and that is what I have done. But at no time will I instruct, I can almost guarantee that, that I have never instructed any officer to please provide me with that file, or whatever …"
Salazar: "The Auditor General said that you requested the file for Samir Harmouch sometime after 9th December 2011. Then she is saying by the 10th January 2012, nationality certificate in respect to Samir Harmouch was entered in the numbers book. [The] Nationality certificate indicated was signed by Minister Carlos Perdomo on the 12th of January 2012.
"According to the Auditor General, she is saying that in support of the application there were two native passports, meaning two Lebanese passports. In one passport, the wet stamp shows date 22nd September 2006 at entry at Belize Northern Border Station, and then the other native passport shows entry 4th October 2010; she is saying that we could not ascertain if he had qualified for Belizean nationality on 17th January 2012.
"We were unable to confirm that his visitor's permit, stamp dated 22nd September 2006, which was obtained, was backdated. He may have entered Belize on 4th October 2010, with his native Lebanese passport. Her deduction is that he would not have qualified for nationality."
Heredia: "My job is to recommend. If there are irregularities in the application, that is not my job to check; it is the job of the officers in charge to check. [If] something was wrong, then they should have not qualified this person. I have never instructed, or will not ever instruct anyone, to say, 'look, he does not qualify, [but] we'll go ahead and grant'; I will never do with that."
Though the other Senators continued to hammer Heredia for answers, he stuck to his story. He maintained that he never influenced the issuance of nationality certificates to the Harmouch family who had received their certificates under both PUP and UDP administrations.
Related Articles
Share
About Author
(0) Readers Comments