BELIZE CITY, Wed. Apr. 15, 2015–Next Monday, April 20, will mark 5 years since the Deepwater Horizon disaster—described as the biggest maritime oil spill in history, which pumped 4 million barrels of oil into the Gulf of Mexico over a span of three months, and University of Florida researchers say that affected communities are still being plagued by its impacts.
Since that catastrophe, Belizeans have become very aware of the potential devastation that oil spills can cause, and even more so of the reality that Belize is nowhere near prepared to effectively implement a quick response to a large-scale spill. This has heightened calls from the environmental community for a ban against offshore drilling.
The reality is, though, that with about a million barrels of petroleum products being shipped into Belize each year and hundreds of thousands of barrels of crude being exported from our southern shores on an annual basis, the risk of an oil spill that could devastate Belize's coast already exists. According to Commander Paul Lattanzi of the US Coast Guard, who is also assigned as a consultant to the International Maritime Organization (IMO), a spill is admittedly inevitable.
"There is a very real risk that we need to be prepared for," he stressed, before outlining some of the things which Belize needs to do to get prepared to tackle the inevitable.
Lattanzi is one of three facilitators who spoke today at an oil spill training in Belize, hosted in collaboration with the Department of the Environment for media practitioners and non-governmental organizations.
He underscored the fact that the greatest priority in dealing with any oil spill disaster is the safety of human life, which does not only include safety from immediate harm but also public health.

Lattanzi stressed the need for Belize to identify what are its most sensitive resources, such as coral reefs and mangrove ecosystems, which are both vital to the fisheries and tourism sectors. He noted that coral reefs also mitigate the devastation that can be caused by hurricanes.
While there may be compensation available to mitigate some of the economic impacts associated with oil spills, there are some things that are irreplaceable, Lattanzi added.
Dr. Elliott Taylor, an oceanographer and principal of Polaris Applied Sciences, USA, pointed to the need for a spill management system which clearly identifies the persons responsible for steering the response to an oil spill. That response needs to be a managed, coordinated response and it needs to be timely, he said.
Taylor said that the first responders need to know what their priorities are, but he also cautioned that responders need to know when to withdraw clean-up efforts, because overly aggressive clean-up strategies in sensitive areas such as mangroves can actually cause more harm and slow down the recovery of the affected habitat.
Dr. Miguel Patel, technical advisor for the International Tanker Owners Pollution Federation Limited of the UK, said that although the incidences of tanker spills around the world have dropped substantially over the past four decades, since the 1970s, due to greater environmental awareness and advances in technology, oil spills are inevitable despite best practices.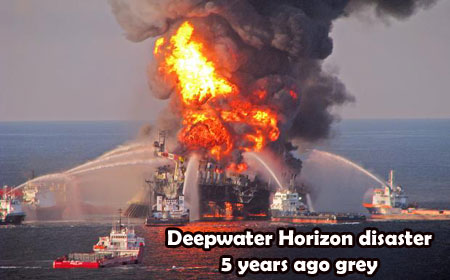 He noted that he had only recently participated in a response to a spill event in the Caribbean. The information gleaned from that experience would help to improve their ability to prepare for future events. Patel told us that some of the techniques used to handle spills can be very low-tech. In the recent case, they used pumps to flush the spilled oil. He said that in scenarios in which thick oil amasses, excavators can also be used to skim oil away from a spill site. Patel said that knowing what the techniques are that could be applied is vital.
In Belize, the current risks of an oil spill do not only exist on sea but also on land. We noted, in speaking with Taylor, that there is a lot of overland transportation of both crude oil and imported gasoline products in Belize. While most of the discussion during the workshop centered on marine scenarios, we questioned whether there were special considerations for instances where rivers, the primary source of the country's water supply for households, would become contaminated.
Taylor said that one of the big concerns is typically that fresh water systems are used a lot by local inhabitants, so that's always a big priority. He explained that there is the need to look at where the potential risks are, such as areas where there is the highest volume of traffic and where the largest loads are located. If we are able to identify the potential sources of an on-land oil spill, then we can develop very specific response strategies for those river systems. Belize needs to identify the high-risk areas and craft an adequate response plan, he explained.
We note that the Department of the Environment is working towards the development of a comprehensive national oil spill response plan, and it hopes that the NGO community which participated in today's sensitization training could assist with its development.
In a statement issued today, the Belize Coalition to Save Our Natural Heritage, one of the participants in the training, noted that, "the current incomplete draft of the National Oil Spill Contingency Plan has been in its draft form for the last 8 years and the current exercise to revise and complete the Plan appears bogged down due to lack of financial resources and political will."
The Coalition added that it "recognizes the importance of the National Oil Spill Contingency Plan to address existing threats such as from tankers, fuel installation and storage sites, onshore (outside of sensitive areas) oil exploration, etc. It is clear however, that presently Belize does not have the capacity and resources to adequately address an oil spill."
In his presentation on communication and media, Lattanzi said that when an oil spill happens, the public has the right to know, firstly, whether they are safe, what happened to cause the spill, will it happen again, and what preventative measures can be put in place to avert future disasters.
He also noted that early estimates of the size of an oil spill are usually wrong, and sometimes it can take several weeks for the true scale of the spill to be determined.
Lattanzi also highlighted the need for priority to be placed on safety of the public, crew and responders to the disaster. The media has an important role to play is making sure that vital information is transmitted to the public, such as the need for evacuations in the event of a noxious spill or the dissemination of advisories alerting the public on health risks that may emerge.
Related Articles
Share
About Author
(0) Readers Comments