Headline
— 12 May 2015
— by Rowland A. Parks
LADYVILLE, Mon. May 11, 2015–All around Ladyville, the loaded mango trees appear to be bowing under the weight of their fruit, but to take any of these mangos without permission could be a dangerous undertaking, as one man found out early Saturday morning when he paid with his life for trespassing on a mango tree in a fenced yard on Perez Road.
Daniel Alexander Trapp, 60, aka "Iron Man," was shot with a .22 air rifle that Ladyville police reportedly recovered from the owner of the property. A doctor pronounced Trapp dead on arrival at the Karl Heusner Memorial Hospital.
The man who allegedly shot him, Hilberto Perez, a businessman, appeared in the Belize City Magistrate's Court late this afternoon before Chief Magistrate Ann Marie Smith, who arraigned him on a charge of manslaughter.
Perez did not have to enter a plea, because the charge is indictable and will be heard in the Supreme Court after a preliminary inquiry in the Magistrate's Court.
Perez was remanded to the Belize Central Prison until his next court appearance on July 22.
Manslaughter, unlike murder, is a bailable offense, but bail must be applied for at the Supreme Court through a bail application prepared by an attorney. Under the new bail rules, however, bail can be applied for immediately if the applicant can prove to the court that he or she is of good character.
Sometime around 9:20 a.m., Trapp, who is also widely known as "Iron Man" because he earns his living picking up scraps of old iron, walked out of Hilberto Rolando Perez's yard clutching three mangoes in his hand.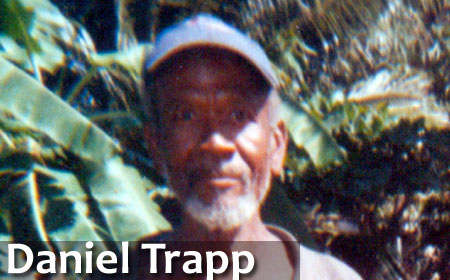 Trapp walked across the road, called Perez Road, and collapsed in some bushes almost opposite where he had been shot, but not before talking to one of Perez's neighbors.
Another neighbor who spoke on condition of anonymity told Amandala this afternoon that she was just coming out of her house, when she heard about five or six popping sounds and saw Trapp coming out of Perez's gate, which is right across the street from where she lives.
She told Amandala that Trapp exclaimed to her, "The m—— f—— shot me for three mangoes!"
Another man who also declined to give his name told Amandala that after Trapp fell down in the bushes, his daughter called the police.
People had begun to gather around Trapp, who is well-known in the village to be addicted to crack cocaine.
The man whose daughter called police told Amandala that Trapp had a hole in his chest.
Trapp, however, was still conscious and told the people who had gathered around him that he was going to die.
Ladyville police reported that when they arrived on the scene, they found Trapp about 15 feet from the junction of Dawn Road and Perez Road. Trapp, police reported, was lying on his back with a gunshot wound in his chest.
Trapp was transported to the Belize Defence Force hospital, but no doctor was available to attend to him, so he was transported to the Karl Heusner Memorial Hospital.
Joshua Trapp, Daniel Trapp's nephew, told Amandala that his uncle, although he was addicted to crack, was a hardworking man who was also very educated. Trapp said his uncle lived alone on Egbert Quilter Avenue.
Alicia Trapp, 59, one of Trapp's sisters, said she learned that her brother had been shot when one of her cousins went to her house and told her that her brother had just been shot.
"I asked her what condition my brother was in, and she said that he was breathing well," his sister said. Trapp, however, had told his cousin, "I wan dead. I no wan mek it," she mentioned.
Alicia said she is at a loss as to why her brother was shot for three mangoes by someone who knows them very well. "My brother grew up in Ladyville. We moved from Carmelita, Orange Walk, and he has been living in Ladyville since 1968," she said.
"I feel that he [the shooter] disrespected my family when he shot my brother. Those same people who shot my brother, my aunt used to go to their house and read the Bible for their mother, before she learned to read English. We have known the family all of our lives, so I still cannot understand why my brother was shot for a few mangoes," said Alicia.
Alicia said that her brother had lived for many years in the United States until he was deported sometime in the 1980s for illegal entry.
Related Articles
Share
About Author
(0) Readers Comments