Belize's basketball future appears brighter than it has ever been since the glory days of Milton Palacio, Alex Carcamo, Orlin Simplis, Kent Bennett, Clinton Fuller's and Kenroy Smith. It truly is an exciting time for Belize's National Basketball Program as we look toward competing both regionally and internationally in the near future.
You may ask, why the optimism? And my answer would be "it's all in the numbers". The numbers being the quantity and the quality of "homegrown" Belizean basketball talent that are currently either in structured basketball programs internationally, or whom have completed such programs and now are developing and toning their individual skill sets, while gaining invaluable experience competing and learning abroad in the United States, Europe and Asia.
Two such individuals that this article will focus on are graduates, Jarrell Velasquez of Galen University and Devin Daly of Lake Superior State University in Michigan.
From showcasing their skills on the hardwood in the earlier part of this year, to marching down the aisle to the pomp and circumstance this past summer, these top two elite recruits were once again on the move in late August; one heading to China, the other to Denmark.
Jarrell 24, is the son of Julia Lewis and popular Belizean artist Berne Velasquez. Jarrell grew up in the Tiger Town and Site 7 area of Belmopan. Currently standing 6-foot-3 inches, Jarrell could be described as a late bloomer. He actually started playing basketball at the age of 15, but as a result of his exceptional skills, quickly became a standout on the concrete basketball courts of Belize's Capital City, Belmopan. Ordinarily, this would be challenging for most small town kids; balancing his new-found popularity, while maintaining his discipline to the sport of basketball. However, Jarrell is no ordinary kid, as the values instilled in him at an early age continue to nurture his demeanor, out of which has produced a sense of humility and love for the game.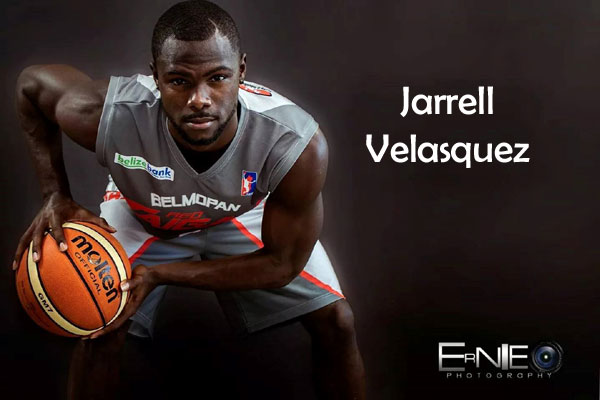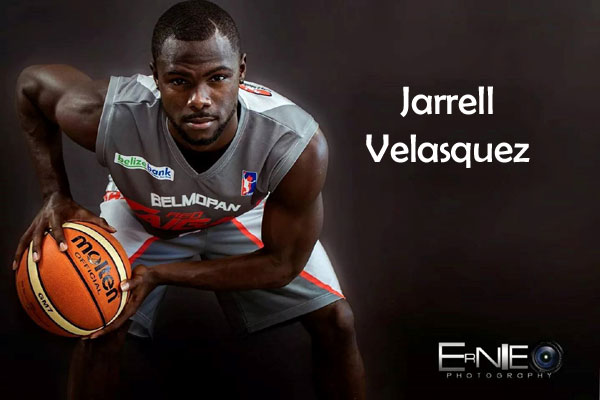 "My mother has been the greatest influence in my life. She raised four kids. We didn't grow up rich, however my mother always gave me and my other siblings everything that she could, and I appreciate her for that. She is my rock, my motivation", said Jarrell.
While Jarrell's dad was not around as much as his mom, Jarrell still considered his dad an instrumental part in the shaping of his values.
"He taught me to be a man. He taught me to work hard, how to outwork everyone". Jarrell recalled an incident, "I remember trying to impress him and woke up at 6 a.m. to go workout, and when I started getting ready, thinking he was going to be impressed, he said "good morning late bird" He was up from 4 a.m. burning CD's. That day showed me that I wasn't grinding as hard as he was. He is my motivation, my mentor."
These experiences and the values instilled undoubtedly has played a huge role in Jarrell's early successes in life, where he is now on a one-year contract as a professional skills trainer with a basketball company out of China named Five-Star Sports. The company, according to Jarrell, worked with thousands of kids from ages four to sixteen, and we teach them the game of basketball, while developing their skill sets. According to Jarrell, Five-Star Sports is a huge conglomerate and has partnered with some of the best NBA players.
"Kobe Bryant and Kevin Durant recently did basketball camps in China whereby our coaches were there helping along, working out, and learning the game from these guys. LeBron is coming next month, so it will be another great opportunity to learn and have some fun. I'm truly blessed", said Jarrell.
Jarrell played competitively at the high school level for Belmopan Comprehensive School; at the University of Belize under Coach Kevin Siroki, and after graduating played for Galen University. He won four straight ATLIB championships, 3 ATLIB MVP's, as well as a number of junior and semi-pro championships.
He is blessed with tremendous ball-handling skills, and is by nature a point guard trapped in the body of a small forward. Most of his skills were fine-tuned at the University of Belize under the tutelage of his former coach, Kevin Siroki, who helped developed him into a fundamentally sound ball player with all facets of his game above average.
"Coach Siroki instilled in me the desire to be great at every aspect of the game. He taught me the game of basketball, he gave me an opportunity to be a scholarship athlete, he challenged me to tears, sleepless nights, he made it very hard for me, and he said I can be good but I will need to be more than good if I am to succeed in this game. He made me the player I am today," said Jarrell.
There is no surprise then, that he has been the biggest "stock-riser" over the past four years on the local basketball scene.
Jarrell is a proven cerebral leader on the floor, has demonstrated consistency and has shown that he has the ability to execute plays in the half-court game, while being able to deliver an unmatched scoring punch both off the dribble and in transition.
With his continued growth and internationalization, Jarrell undoubtedly will pay huge dividends for Belize's National Senior Men's Basketball Team in the very near future. He said, "I was a member of the Men's Senior National Team in 2013. If the Belize basketball Association would offer me the opportunity to play, I would do it in a heartbeat. To represent my country and play for a medal is a dream of mine, I would love an opportunity to do so. Hopefully I can see that happen".
Comparable to Jarrell in skill and likewise exposure is the much admired and talented graduate of Lake Superior State University (LSSU) in Michigan, Devin Daly, 21. I stumbled upon Daly in late August at the Philip Goldson International Airport (PGIA) as he was preparing to board a flight to Miami, with final destination Denmark. This 6-4 kid, is the real deal, the complete package, so to speak, having led his LSSU team to two championships in NCAA Division II basketball, whilst averaging 21.8 PPG 8.5 RPG 1.8 APG and shooting almost 60% from the field, 85% from the charity stripe and 43% from behind the arc.
It is evident that with the evolution of the game of basketball particularly in the area of the spread offense and the heavy reliance on three-point shooting employed by most teams, it is conceivable to conclude that Daly, given his three-point accuracy as well as his ability to play under the rim, has made him an attractive option. All accounts are that during his four years at LSSU, Daly was able to out-perform his competition, bringing a consistent offensive and defensive presence to the court. He was effective on the glass, while demonstrating defensive versatility at most positions, obviously contributing and being an integral component to his team's success.
Devin, similarly like Jarrell, came from humble beginnings. While from two different demographic backgrounds, Belize City and Belmopan, their childhood paths nevertheless assumed a distinct familiarity; they both grew up in homes without their biological father.
"I never grew up with my dad (Henry Daly), but my mother (Jacqueline Graham) encouraged me to maintain a good relationship with him. I would visit him on weekends" said Daly. "My step-dad, Steve Guild was instrumental to me in my early years and served as my mentor," he said.
Daly grew up in one of the toughest neighborhoods in Belize City, on the south-side of the city, on Iguana Street. He played both football and basketball, however quickly recognized that his basketball skills far out-weighed his football skills, and he would go much further playing basketball. This was made easier with the successes of his uncles Lindberg "Prince" Graham and Linsworth Graham who were playing basketball locally in the senior and semi-pro leagues.
Under the tutelage of High School Coach Tremett Perriott, Daly was considered "a can't-miss talent" following his senior year at St. John's College. His stock soared and he was selected to Belize's 2011 U-17 National team playing for Coach, Matthew Smiling. The team was a huge success, winning silver in the COCABA championship, however placed sixth in the Centrobasket tournament. In that tournament Daly placed 2nd in scoring average, 2nd in rebounds, and 6th in blocked shots.
On Coach Brads Neal, Daly said, "He was always an outstanding coach because he showed a lot of patience with many of us youths and would always think outside Belize".
Daly continued his exploits in 2012 attending the King James Classic Amateur Athletic Union (AAU) Tournament hosted by Lebron James in Ohio, USA. He along with fourteen other kids were given the opportunity to showcase their basketball talent at the one-week camp, and at the same time secure a college scholarship. Daly was extremely impressive, and as a result was offered a scholarship at Lake Superior State University in Michigan, which he completed earlier this year, graduating with a major in conservation biology.
He is now in Denmark, playing in that country's top pro basketball league, "The Ligaen", for team Fog Naestved. The team according to Daly has been ranked third over the past four years and its future appears bright.
"The biggest thing in Belize I often disliked about my upbringing in the basketball sense is the amount of coaches I went through and contrasting ideas and ideals that were subjected to each coach. It really confused us youths. I always thought coaching should be a fraternity, where the coaches collectively come together for the real betterment of the youths instead of he say, he say, back and forth," Daly said.
That sort of candid assessment by Daly may be a bit off-putting to some of the Belizean coaches, who for him were a long list, which included Tremett Perriott, Matthew Smiling, Bernie Tarr, Roscoe Rhys, Darwin Leslie, Brads Neal and many others. However while Daly's perspective is critical it does offer an opportunity for our coaches to reflect, while ushering-in a more sophisticated and systematic approach in teaching our kids the game of basketball, anything less could chew up the unaware.
When asked about playing for Belize Senior National Men's team, Daly said: "In the future I for sure see myself playing for Belize National Team. Nothing would make me more proud than to play for my country on local and international grounds along with fellow Belizean Athletes."
Other notable Belizean ballers currently overseas are Vince Young, Jr. who is attending Lehman College; there is Nicholas Phillips, a senior at Miami Valley Christian Academy, Cincinatti, Ohio; Jordan Usher, a freshman at LaGuardia Community College and NYC; Andrew Vasquez, a junior at St. Louis University.
And you ask why I am optimistic!!