Features
— 17 April 2015
— by Adele Ramos
BELIZE CITY, Thurs. Apr. 16, 2015–US national, John Mills—the mortgage holder for the island property on which the proposed multi-million-dollar Puerto Azul project, promoted as the world's first eight-star resort, is to be built—has joined leading voices in the environmental community to say, on the record, that the original design of the project just will not work, because it won't be either environmentally or economically sustainable.
Mills pointed, for example, to the proposal to set up a golf course on Lighthouse Reef, located over 40 miles from Belize City – a concept which he says is totally incompatible with the atoll's status as a World Heritage Site, because of the chemical treatments that would be required to maintain it. This is nowhere near as controversial as the proposed airport on the reef, a proposal strongly opposed by Belize's environmental community.
The latest online promotion of Puerto Azul, a proposed 960-acre development, through its wording and tone suggests that the resort will be operational within the coming months and inaugurated by year-end, featuring suites with underwater bedrooms, for example, which the company claims are already being offered on a time-share basis to as many as 300 clients.
Mills said that he was surprised by news reports that the property has been sold to Puerto Azul, because it has not! He said that Puerto Azul's claims that the project is in an advanced stage and that it has sold 60 time shares already is "interesting since they don't hold the island right now…"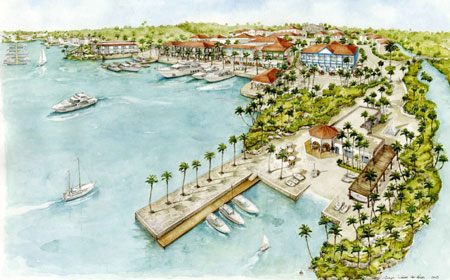 In fact, Mills said that until he is paid for his interest in the property, in excess of US$3 million, no deal can be concluded with Puerto Azul, since he holds a lien on the property after having taken over the mortgage from Scotiabank back in 2006.
Court of Appeal records which our newspaper has been able to access indicate that a prior attempt to sell certain properties at Lighthouse Reef, comprised of the Northern Two Cays and Sandbore Caye islands, a US$10 million transaction, fell through right before Mills entered into the arrangement with the current owners: Northern Two Cayes Company Limited and Lighthouse Reef Resort Limited.
We asked Mills about these companies and he told us that Northern Two Cayes Company Limited is actually owned by 27 Americans, while the other is owned by Jack Black, Jr., who formerly controlled both companies. However, there has been some fallout, and the owners, according to Mills, are wrapped up in litigation in California.
Mills said that at one point, he and Black were friends and he invested his money to help preserve the operations on the island. However, 5 years ago, Lighthouse Reef Resort closed operations and he is still out of pocket.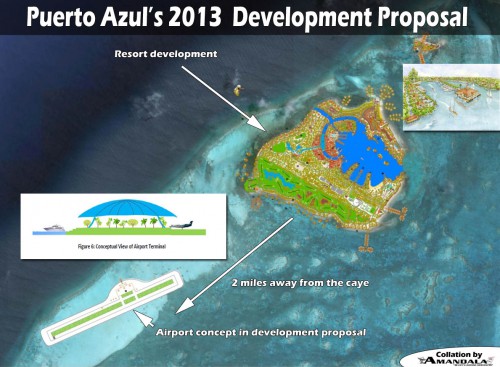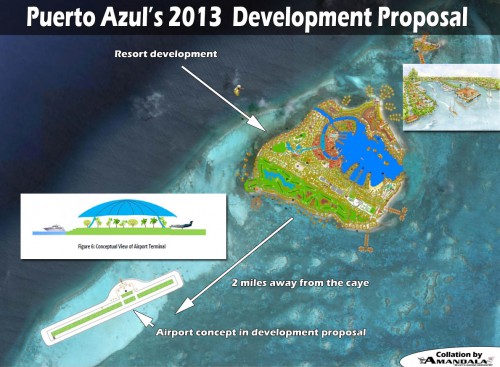 Mills said that since only caretakers are on the island, illegal shark finning by foreigners (said to be Guatemalans, Hondurans and Jamaicans) has become a problem.
Mills, who first visited the atoll 10 years ago on learning of Belize, said that he encourages development on the island, and he would fully support Puerto Azul's development on the condition that the scale and scope of the project would enable it to be done sustainably.
A press release issued by Puerto Azul today does not dispute that Mills has not been paid for his interest in the property. The release says, though, that all encumbrances on the property are scheduled to be paid from closing proceeds by escrow agent, Barrow and Williams – the law firm of Prime Minister Dean Barrow and his law partner Rodwell Williams, SC.
However, in speaking with the press today, Mills said that the agreement with the property owners stipulated that the debts to him should have been settled with two payments scheduled for March 2014 and March 2015 – both of which he said have not been issued to him.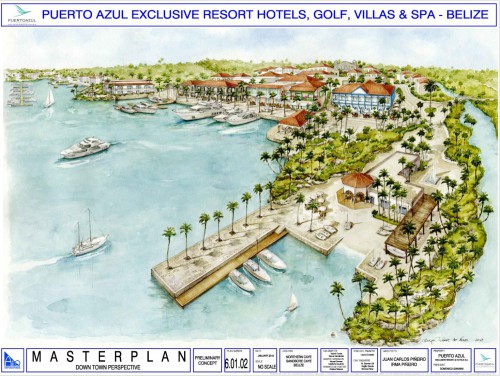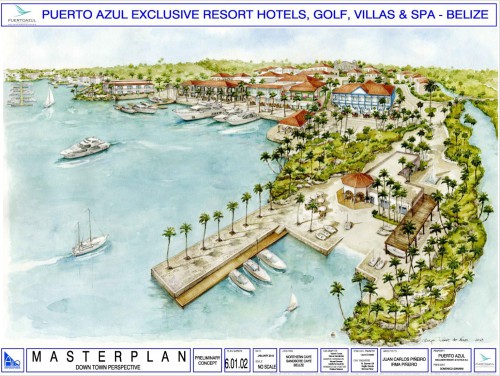 He said that his lawyer, of the Musa & Balderamos law firm, will continue to be in negotiations with Barrow and Williams to try and settle the matter over the coming weeks.
Mills said today that there has been no progress with the Environmental Impact Assessment for the project, and Tetra Tech is just being hired to prepare the report which Puerto Azul plans to conclude by this July.
Mills told the press that he spoke yesterday with Puerto Azul director, Fabio La Rosa, who has indicated that the company is still trying to establish what the full scope of the project will be. The Puerto Azul press release says that environmental studies are now being conducted to determine what development would be appropriate for the site.
Puerto Azul concurs that Lighthouse Reef is a key part of all of Belize's abundant natural resources and national heritage, and it pledges to take proactive measures to protect the atoll and its ecosystems.
Mills told the press that Puerto Azul has a true belief that they can do a sustainable project out there, but he was alarmed by "the disconnect" between what is environmentally and economically feasible versus what they talk about doing. He stressed the need for the development to be "conservation-minded."
Mills said that since the site is really a national treasure, all Belizean stakeholders should have an input.
Related Articles
Share
About Author
(0) Readers Comments