BELIZE CITY, Thurs. Apr. 5, 2018– Born in the USA to Belizean parents, 28-year-old Justin Williams has been visiting his ancestral homeland, the Jewel from his teenage years and participating in our local races, including a few Cross Country's. He was the last Belizean Cross Country champion, in 2015, after which Guatemala's Alejandro Padilla captured the garland back-to-back in 2016 and 2017.  (Padilla did not come to defend his crown.) So, after a hectic few hours of blistering pace and many early breaks in the 90th Holy Saturday Cross Country Classic on March 31, there slowly developed a feeling of hope and guarded optimism across the land, as reports indicated that the lone Belizean rider that had successfully broken away from the lead group around Mile 35 on the return journey, had actually sustained and even opened his lead to two and a half minutes going into Hattieville. Would the garland come back home?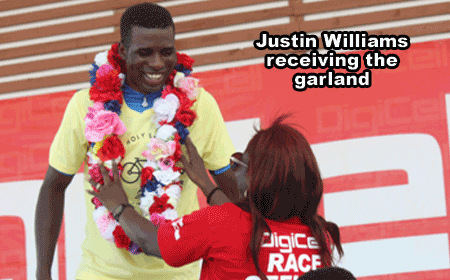 113 riders, including 8 Mexicans and 4 Americans, but no Guatemalans, reportedly started the historic 140-mile race from Belize City to San Ignacio and back, which took off at 6:00 a.m. with a burst of high speed in the first few miles, with American Chris Harkey and then Belizean Phillip Leslie making short breaks, that were soon caught by the main peloton.
There was a spill at Mile 6 involving 21 cyclists, a few of whom had to leave the race, but reportedly with no broken bones or serious injuries.
After successfully separating themselves from the main peloton, a trio led by Joslyn Chavarria and including Peter Choto and American Rich Harper rolled into San Ignacio a few minutes ahead of the main peloton; but on the way back, that lead group had ballooned up to eleven when, somewhere around Mile 35, with the main peloton closing the gap, Justin Williams made his bold move, and was promptly left to travel alone in what some others viewed as a possibly suicidal effort. But they had underestimated the time-trial pacing skills of the acknowledged top sprinter; rather than being quickly reeled in, Justin was increasing the lead with some powerful pedaling, to the point where he could receive needed servicing. At Rockville (Mile 22), he was a minute and forty-five seconds ahead of the chase group, and by Hattieville he had opened it to two and a half minutes. Could he actually hold on to this lead all the way to the finish?
With the chase group at different times involving strong Mexican riders Rudy Rincon, Jose Reyes and Carlos Lopez (a past Cross Country champion), and dangerous American riders Patrick Raines, Rich Harper, David Flynn and Chris Harkey (2-time Cross Country champion), indications are that either tired legs and/or a measure of Belizean patriotism at this stage influenced the output of our local riders, who were not as enthusiastic as the foreigners in their pursuit of the lonesome Justin Williams, who had established a commanding four-minute plus lead by the time he rode onto Central American Boulevard in Belize City. With an occasional wave of appreciation to cheering fans along the highway and on the sidelines of the Boulevard and Princess Margaret Drive, Justin maintained pace and completed his gallant ride with both arms raised in victory at the BTL Park finish line, where hundreds of Belizean fans greeted and celebrated the triumphant champion. About five minutes later, the fans were again energized, as  the other riders soon stormed down the BTL stretch, starting with American Patrick Raines in solo fashion, and then others in small groups of two, three or more sprinting to the finish to claim their place in the records of the 90th Country.
Looking back, it is for sure, whether on holiday at the villages or at the cayes, following the race by radio or T.V. at home, livestreaming by internet somewhere overseas, or lining the roadsides on the George Price Highway from San Ignacio to Belize City on Holy Saturday, Belizeans of all walks of life experienced varying measures of relief, satisfaction, happiness or exuberant joy and celebration with the confirmation of the victory by a Belizean rider in the 90th running of our most historic and prized one-day sporting endeavor, the Annual Holy Saturday Cross Country Classic. Thanks for the joy, and big respect to our Belizean brother, now two-time Cross Country Champion – Justin Williams!
It was the third fastest Country ever, ending just five and a half minutes after the 5:40:12 record set by American Ryan Bauman in 2008, and fifty-five seconds behind the 5:45:03 accomplished in 2014 by Mexican champion Juan Pablo Magallanes; which says something about the measure of the effort by this year's champion, going solo for all of 35 miles. In post-race interviews, Justin acknowledged the contributions of other Belizean riders towards his victory. Some 50 cyclists completed the journey, 49 of them within the official half-hour time limit behind the winner, a noteworthy accomplishment.
Official finishing order was: 1st Place – Justin Williams (5:45:58, Linkup Cycling); 2nd USA Patrick Raines (5:51:00, Team Starlight); 3rd MEX Rudy Rincon (5:51:02, Quintana Roo); 4th Robert Liam Stewart (same time -st, unattached); 5th Giovanni Lovell (5:51:20, Digicell Elite); 6th MEX Jose Reyes-Mantilla (st, DYM Tlaxcala); 7th Byron Pope (5:52:07, Benny's Megabytes Elite); 8th Oscar Quiroz, Jr. (st, Smart/C-Ray/Western Spirit); 9th Joel Borland (st, Digicell Elite); 10th Richard Santiago (st, Bel-Cal Cycling); 11th Ernest Bradley (st, Digicell Elite); 12th Joslyn Chavarria, Jr. (st, Digicell Elite); 13th USA David Flynn (st, Team Starlight); 14th MEX Carlos Lopez (st, DYM Tlaxcala); 15th Brandon Cattouse (5:52:56, Smart/C-Ray/Western Spirit); 16th USA Bill Elliston (st, unattached); 17th Brandon Morgan (st, Digicell Elite); 18th Angel Tzib (st, Westrac Alliance); 19th Thereque Leslie (st, unattached); 20th MEX Jonhatan Coache-Reyes (st, Quintana Roo); 21st USA Chris Harkey (st, Team Starlight); 22nd Jose Choto (st, Recinos Imports); 23rd USA Anthony Taylor (5:53:16, unattached); 24th Ron Vasquez (st, Smart/C-Ray/Western Spirit); 25th Edgar Nissan Arana (st, Westrac Alliance); 26th Kenroy "Smokes" Gladden (5:53:22, unattached); 27th Shawn Codd (5:56:03, Furnished Apt. Ltd.); 28th MEX Salvador Jimenez-Martinez (st, Quintana Roo); 29th Kaydine Pinello (5:56:17, AKL/Powerade); 30th Phillip Leslie (5:56:28, Smart/C-Ray/Western Spirit); 31st David Henderson (st, Westrac Alliance); 32nd Fitzgerald "Palas" Joseph (st, unattached); 33rd Gian Lino (st, Westrac Alliance); 34th Tevin Chaplain (st, Marie Sharpe Cycling); 35th Anthony Rosado, Jr. (st, AKL/Powerade); 36th Quinton Hamilton (st, unattached); 37th Keion Robateau (Westrac Alliance); 38th Wilhelm Coye (5:56:58, Surge D&A Construction); 39th Shane Vasquez (st, Smart/C-Ray/Western Spirit); 40th Dwayne Wade (5:57:13, unattached); 41st Henry Moreira (st, Smart/C-Ray/Western Spirit); 42nd MEX Luis Avila-Balam (st, Team Cancun); 43rd Gerson Lovell (6:06:29, Digicell Elite); 44th Stephen Cabral (st, unattached); 45th Erwin Middleton (st, Digicell Elite); 46th MEX Ricardo Castillo-Gallardo (st, Quintana Roo); 47th USA Rich Harper (6:10:31, Team Starlight); 48th Dennis Arnold (6:11:57, AKL/Powerade); and 49th Rasheed Young (6:23:22, Bel-Cal Cycling). Finishing outside the time limit was 50th Richard Gabourel.
Special category prizes were:
Open U-23 Category – 1st Ernesto Bradley; 2nd Thereque Leslie; 3rd Kaydine Pinello.
Open Masters Category +35 – 1st USA Patrick Raines; 2nd Robert Liam Stewart; MEX Carlos Lopez.
Masters Category 35+ – 1st Robert Liam Stewart; 2nd Jose Choto; 3rd Kenroy "Smokes" Gladden.
Elite Category 3 – 1st Joslyn Chavarria, Jr.
Masters 4/5 Category – 1st Fitzgerald "Palas" Joseph; 2nd Dwayne Wade.
Elite 4/5 Category – 1st Brandon Morgan.
First Junior – Shawn Codd.
Youngest Rider – Tevin Chaplain
Related Articles
Share
About Author
(0) Readers Comments