General
— 14 October 2017
— by Micah Goodin
BELIZE CITY, Tues. Oct. 10, 2017–Justin "Etdan" Hyde, 22, one of the reputed bosses of a gang based in the Jane Usher Boulevard area, is the latest homicide victim in Belize City.
Sometime around 9 o'clock on Monday night, he and another man were on separate bicycles en route to Freedom Street when, upon reaching the intersection of Levi Slusher and Curl Thompson Streets, the men reportedly came under fire.
Someone standing in a nearby yard fired five shots, one of which reportedly caught Hyde in his right lower back. His associate escaped unharmed.
Hyde reportedly continued riding his bicycle, not realizing he had been shot until he collapsed on Freedom Street, bleeding profusely.
Persons in the area immediately transported him to the Karl Heusner Memorial Hospital (KHMH), where he succumbed minutes later while in surgery.
A source close to his family today told Amandala that the bullet which entered his back exited through the left side of his chest after rupturing his internal organs.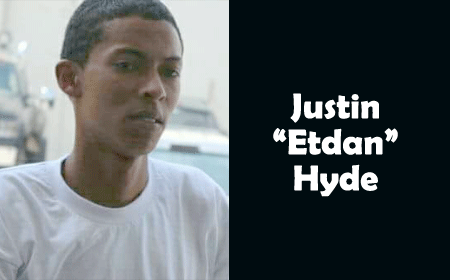 When asked why anyone would want to kill Hyde, our source revealed that he had been targeted ever since his older brother, Troy Hyde, 29, had been arraigned for the January 2015 murder of George Street affiliate Kareem "Robbery" Lopez.
According to our source, the young Hyde had graduated from St. John's College in 2014, but decided to take a break before proceeding to undertake sixth form studies. And so, in the meantime, he sought employment at Brodies Supermarket on the Philip Goldson Highway.
However, Hyde had to resign as he began to receive threats and had repeatedly been followed by unmarked vehicles on his way home.
Our source revealed that this caused him to totally forego the thought of furthering his education and so, instead, he opted to seek employment in the Belize Police Department.
He scored well on examinations and met all requirements but was never called to attend the police training academy.
"He waited for the call but it never came," said our source.
According to our source, if the deceased had become an officer of the law, he would have still been alive.
"I knew he would not have been in the streets if he was given that opportunity," said our source.
The source added, "I believe that sometimes the Police Department and us in society, we cast people out of society based on the actions of other people. We need to give people the opportunity to advance themselves in society, but instead, we throw them out of society. It's like throwing a dog in a den of hungry lions."
"The Police Department, they paint people blacker than they actually are," said the source.
Despite being rejected by the Belize Police Department, the deceased reportedly did not give up hope. He turned to music, where he recorded several songs including, "Police Dem Chancy," and "Nah fight no war," the latter of which later became the theme song for the police's annual Be Loving and Cease Killing (BLACK) march.
However, again he could not shake his brother's shadow.
"Because of the threats on his life, he couldn't continue to pursue that career; he couldn't go to the concerts, because after the events, he knew he would be followed home. So his career was cut short," said our source.
"He was a promising youth that was forced into a lifestyle that was not his. He could have been something in life," our source further claimed.
According to our source, Hyde was no saint, but he, too, had many who loved him.
Hyde leaves behind four children. A post-mortem examination will be conducted on his body on Thursday. Arrangements are being made for his funeral, which is scheduled to take place this weekend.
Related Articles
Share
About Author
(0) Readers Comments