BELIZE CITY, Thurs. July 20, 2017–With still a back-match in hand, undefeated Kulture Yabra Veterans lead the National Over-40 Football standings at the completion of the first round-robin; while their fellow Belize City squad, Pickstock Lake-I, who share the backmatch with Kulture, are still winless at the bottom of the standings. (See standings below.)
8 teams are in the double round-robin competition, and Week 7 games this past weekend completed the first round-robin, with 1 back-match remaining between Kulture Yabra and Pickstock Lake-I. Week 7 consisted of 3 Saturday games and 1 on Sunday.
The first game on Saturday started at 4:00 p.m. at the Amin Hegar Field in Benque Viejo, and saw Mangro Creek Veterans come away with the 3-2 win over home standing Benque Veterans. (Benque normally plays on Sunday, but the game was played on Saturday "for financial support due to Benque Fiesta.") Due to a bit of confusion resulting from the game date change, we so far only have the goal scorers for Mango Creek, who were Melvin Zavala, Noe Velasquez and Kirk Mayen. At 5:00 p.m. on the same day at the MCC Grounds, Belmopan Veterans dealt home squad Pickstock Lake-I their fourth loss, beating them 4-2 with goals from Micky Chavez (11'), Avery Galvez (35') and Gary Wiltshire (38' & 84'); while Pickstock goals were by Jermaine "Bowfoot" Zuniga (39') and Alrick Smith (70'). Also on Saturday, starting at 7:30 p.m. out at the San Pedro Stadium, it was the home team, San Pedro Veterans shutting out BDF Veterans, 4-0, with a goal each from Orlando Pinelo (63'), Jacinto Pinelo (68') and Javier Chavez (76'), along with the help of an own goal by BDF's Marvin Card (87' OG).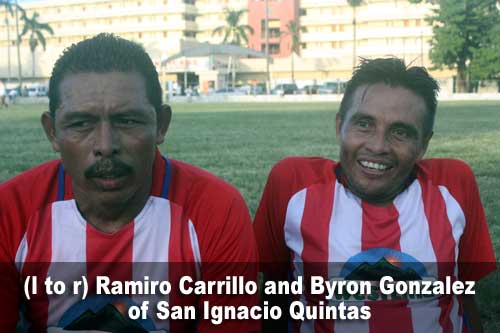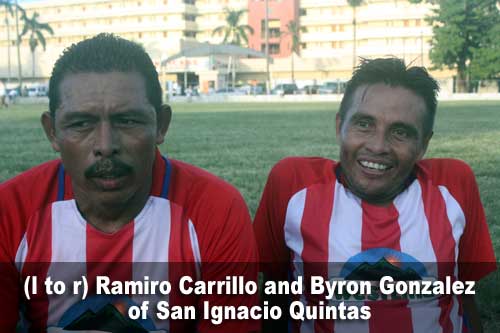 The only game on Sunday was at the MCC Grounds, where visiting San Ignacio Quintas put a scare on Kulture Yabra Veterans, carrying a 2-1 first half lead deep into second half, before Kulture regained the lead to secure the 3-2 victory. San Ignacio striker #8 Ramiro Carillo (10') beat Kulture goalie Anthony "Willie Bo" Bernard with a low right foot shot against the left goal post; Kulture's #9 Kevin Rowland (13') equalized shortly after with a right foot shot from close range; but San Ignacio midfielder #4 Byron Gonzalez surprised Willie Bo with a high glider from 35 yards out that slid under the cross bar at the 21st minute, to give the visitors the 2-1 lead. Veteran star Ismael John Thompson (Trapp) had replaced the injured San Ignacio goalie Humberto Rivera early in second half after his collision with Kulture striker Maurice "Magic" Francis; but it would have made no difference, when Rowland unleashed a left foot blast to tie things up at the 70th minute; and then completed his hat trick at the 73rd minute, for the Kulture Yabra 3-2 win.
Updated Week 8 schedule to begin the second round:
Saturday, July 22
*4:00 p.m. – Belmopan Veterans vs Benque Veterans – Amin Hegar Field
(*Note: This game date was changed from Sunday in our mid-week issue.)
7:30 p.m. – BDF Veterans vs Mango Creek Veterans – M.A. Stadium
7:30 p.m. – San Ignacio Quintas vs San Pedro Veterans – San Pedro Stadium
Sunday, July 23
4:00 p.m. – Kulture Yabra Veterans vs Pickstock Lake-I Veterans – MCC Grounds