BELIZE CITY, Thurs. Mar. 17, 2016–We were thrilled to receive the following correspondence, and we are glad to share:
From: Therese Wright
Date: Wed, Mar 9, 2016 at 11:08 PM
Subject: Marques "QUES" Warrick of Lexington, Kentucky – Grandson of KREM's Radio Tony Wright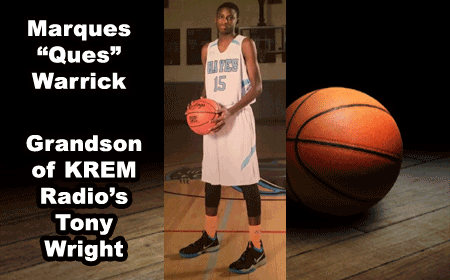 Good evening Sports Editor:
I am Therese Wright, mother of Marques "Ques" Warrick of Lexington, Kentucky, USA.  Ques is the grandson of Tony "Lovable Mr. T" Wright.  I am writing to see if you would feature Ques in the Sports section of the Amandala as a way of encouraging the youth in Belize that they can achieve in the classroom and on the court!
Ques is 14 years old, 6-feet tall, basketball player at EJ Hayes Middle School. He was a team captain of the Panthers basketball team and helped lead the team to the District Championship.  Ques is an Honor Roll Student, a W.E.B. Leader (WHERE EVERYBODY BELONGS mentoring program), a peer tutor and a member of Omega Harvest Ministries.  Ques' desire is to be a part of the basketball community in Belize and also would love to conduct camps for kids.
I have attached the article that has been posted from the Fayette County Public Schools website and also a picture of Ques.  Please let me know if you need any additional information.
Thank you,
Therese
Sincerely,
Therese Wright, Founder/Director
SISTERS ROAD TO FREEDOM, INC.
P.O. Box 1084
Lexington, KY 40588-1084
Tel. No. (859) 536-7677
See story HERE