BELIZE CITY, Fri. Aug. 25, 2017–San Pedro police today transported two brothers to Belize City, where they were charged for the murder of Scott Charles, 25.
Jose Marroquin and Sarbeto Marroquin appeared this afternoon in the Belize City Magistrate's Court before Magistrate Carlon Mendoza.
Magistrate Mendoza read the murder charge to the two brothers, who needed a court interpreter proficient in Spanish to make them understand what was being read to them.
The two brothers are accused of causing the unlawful death of Charles on August 16, in San Pedro Town.
Magistrate Mendoza explained to them that no plea would be taken and also, that they could not be offered bail. After the magistrate established the ground rules as it relates to the murder charge, the Marroquin brothers were remanded to the Belize Central Prison until their next court date on October 25.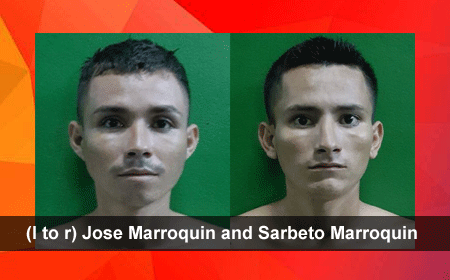 Scott Charles was at his Bayside home on San Pedro on Tuesday, August 15, when he heard a knock on his door and when he opened it, he was shot multiple times.
Charles sustained gunshot injures to his abdomen and upper thigh and had to be airlifted to the Karl
Heusner Memorial Hospital, where he died the following day.
While San Pedro police have not officially stated a motive for the murder, news reports surrounding the shooting have suggested that it is drug-related.