BELIZE CITY, Mon. Mar. 20, 2017–Week 9 is completed in the Premier League of Belize (PLB) 2016-2017 Closing Season, and we are in the back stretch of what looks to be another hectic run to the top-4 playoffs, as FC Belize made a significant move at the last minute yesterday, gaining a desperately needed victory over visiting Wagiya on a last-minute injury-time goal by Mexican striker Hector Martinez.
There are now 6 teams in contention for the 4 playoff spots. Defending champion and league-leading Belmopan Bandits are pretty much in the "driver's seat," which leaves 5 teams – Belize Defence Force FC, Verdes FC, Police United FC, FC Belize and Placencia Assassins FC – to battle for the 3 remaining berths in the playoffs. There is no stopping Opening Season champion Belmopan Bandits from "flying the iron bird" to CONCACAF Champions League First Round this year; but a championship is still a championship, and the home stretch run will likely be flavored with some surprises from fast improving Wagiya and Freedom Fighters, who are building with their sights on next season. (See updated standings right.)
There were no one-sided scores in the PLB's Week 9 this past weekend. Two games each were played on Saturday and Sunday, March 18 & 19, and on each day, there was a 1-1 draw and a 2-1 score.
After a scoreless first half at the Isidoro Beaton Stadium on Saturday night, visiting Police United, playing a man short following the ejection of leading scorer Danny Jimenez, took a 1-nil lead over Belmopan Bandits with a close range strike from Harrison "Cafu" Roches (65') that gave Bandits' goalkeeper Shane Orio no chance; but Denmark Casey re-directed a head pass from defender Ian "Yellow" Gaynair to send his own header from the edge of the six-yard box past Police United goalie Ethon Wagner, to knot things up at the 76th minute. The Bandits were also without the services of top Opening Season striker Jairo Roches, serving a yellow-card game suspension; but they still managed to keep their undefeated record intact with the 1-1 draw. Meanwhile, the visitors at the M.A. Stadium in Independence had things their way, as BDF FC jumped to a 2-nil lead over Placencia Assassins with a goal each from Shane "Chucky" Flores (42') and Brian Martinez (63'), before the Assassins' captain Dalton Eiley (82' PK) converted a penalty to avoid the shutout. The 2-1 victory pushes BDF into second place in the standings, a position they also held in Opening Season, until their loss to the Bandits in the finals.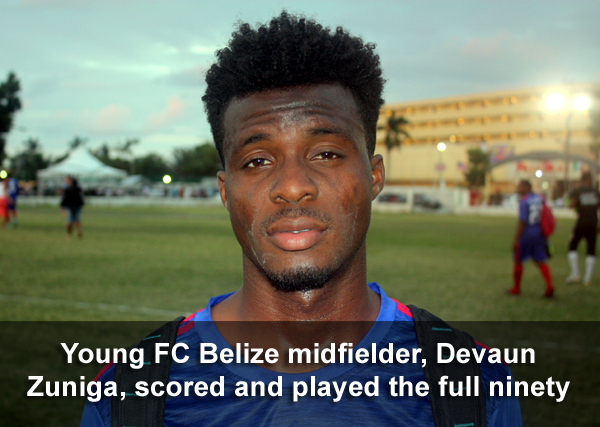 On Sunday at the Norman Broaster Stadium, home standing Verdes FC got a go-ahead goal from Carlos Vasquez (44') to end first half on a high note against visiting Freedom Fighters FC from Punta Gorda; but the Freedom Fighters came back strong early in second half, as Myron Cadle (49') got the equalizer, for the 1-1 final score. Meanwhile, at the MCC Grounds, it was anybody's ball game until the very last minute of injury time. FC Belize took the lead over visiting Wagiya from Dangriga early in first half, after rookie midfielder Devaun Zuniga (16') pounced on a loose ball following a scramble in front of the Wagiya goal; but Wagiya midfielder Alton Carr (56') made good on a free kick just outside the FC Belize eighteen, sending his kick hard and swerving over the wall and down into the left corner past a diving Rodrigo Vasquez in goal for FC Belize. Knotted at 1-1, it was "mano-mano" down the stretch in an evenly contested match. With regulation ended, Wagiya seemed to have the winner in injury time, as a long shot rebounded under the FC Belize cross bar, only to bounce harmlessly out for defenders to clear; but less than a minute later, at the other end, second half entries Ryan Simpson and Jeremy Bermudez created enough space on the left goal line, to send a cross-goal grounder, and alert striker Hector Martinez (90 + 2') beat a defender to the ball just in time to take a one-touch right-footed "splice" kick that sent the ball swerving over and around oncoming Wagiya goalkeeper, Eddie Perez. Goaaall! FC Belize, 2-1, over Wagiya! As referee Irfan Basdemir sounded the long whistle less than thirty seconds later, there was jubilation at one end; heartbreak at the other.
The young Wagiya team played a great game; the addition of veteran captain/sweeper Jason "Pack Bread" Kelly has added stability to their defense and has them believing in themselves. The game could have gone either way; but FC Belize is more than thankful for the "W," as it gives a big boost to their playoff hopes.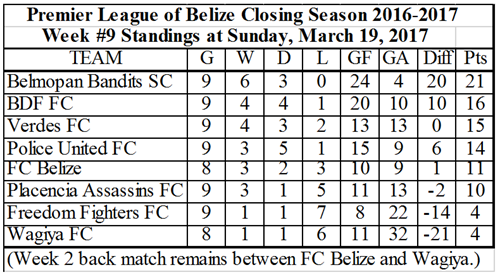 Upcoming Week 10 games:
Sunday, March 26
4:00 p.m. – Police United FC vs Placencia Assassins FC – Norman Broaster Stadium
4:00 p.m. – BDF FC vs Belmopan Bandits SC – MCC Grounds
4:00 p.m. – Wagiya FC vs Verdes FC – Carl Ramos Stadium
4:00 p.m. – Freedom Fighters FC vs FC Belize – Victor Sanchez Union Field
Related Articles
Share
About Author
(0) Readers Comments