Latest
— 05 August 2017
— by Micah Goodin
Belize City, Thurs. Aug. 3, 2017–Darrell Bradley, twice elected mayor of the Belize City Council, has told the press that he will not seek re-election, citing personal reasons.
"I think the biggest concern is personal reasons," he said. "I've made it no secret. I've spoken to many people both in the party and outside of the party, and a person's major priority has to be their family. It has to be personal and professional goals that they make for themselves."
"I want to make it clear that it is not that I am leaving politics," he added. "I aspire to hopefully someday serve in the House of Representatives. That is something that continues to be a wish of mine. I don't know of the step-by-step processes with relation of that because that's several years down the road…I think that when one signs up for a position like serving as mayor, one has to know that their heart will be one hundred percent there; their focus will be one hundred percent there," he remarked.
Bradley, like Prime Minister Dean Barrow, has thrown his support behind four-term councilor Dion Leslie, instead of the other councilor contesting to lead the UDP ticket in the next Belize City Council elections, Philip Willoughby.
"For what it is worth, my support will be behind Councilor Dion Leslie," Bradley said. "I know that he can continue the vision, the strong leadership…he has been right there by my side over the last five and a half years, working on all of the difficult challenges."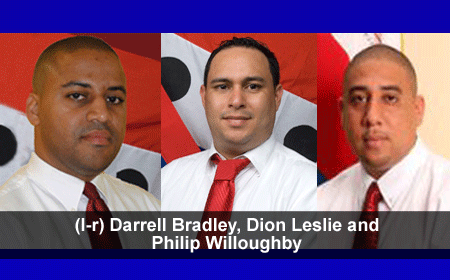 When the press spoke with Leslie, he indicated that he has been on the campaign trail and has met with almost all the UDP representatives at the constituency level.
Interestingly, two weeks ago he posted to his Facebook account that he had secured the support of the Albert constituency area representative, Tracy Taegar Panton.
Many will recall that prior to the 2015 general elections, Willoughby had done extensive political work and was set to challenge incumbent UDP area representative and Minister of Sports in the Albert constituency at the time, Herman Longsworth.
On Wednesday, Amandala spoke to Willoughby, and he indicated that he has meetings set in the Collet and Albert constituencies, although Leslie claims Faber and Panton have both given their blessings to him.
According to Willoughby, however, he is confident that he will be able to secure the support of the people on the ground.
Willoughby told our newspaper that the Mayor's support of Leslie has in no way "fazed" his campaign. He is of the view that his hard work over the years speaks for itself. According to him, although Mayor Bradley has credited Leslie with bringing the sanitation situation under control at City Hall, Willoughby claims he was the man who did it. "There's no questioning my credentials from an educational perspective. There's no question of my administrative skills," Willoughby said.
When asked if he would ever back out of the campaign and support Leslie, Willoughby responded, "You mussi nuts."
For the record, Leslie topped the polls in the last CitCo election, while Willoughby ranked next to last, only securing more votes than Alifa Elrington, daughter of Foreign Affairs Minister, Wilfred "Sedi" Elrington.
The convention is scheduled for August 27.
Related Articles
Share
About Author
(0) Readers Comments