BELIZE CITY, Wed. May 13, 2015–As we reported in the mid-week edition of the Amandala newspaper, Belize and Guatemala are preparing to sign off in a few weeks on an amendment of the 2008 special agreement for the adjudication of the Belize-Guatemala territorial differendum at the International Court of Justice (ICJ). That signing will allow the Guatemalans to proceed with the ICJ referendum in November, when that country expects a second round of polling to elect a new president, but Belize Foreign Affairs Minister Wilfred "Sedi" Elrington has indicated to us that Belize is not ready to go to the polls in November – and it won't likely be ready before our general elections are held.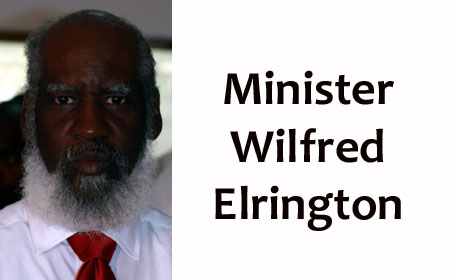 When will Belizeans vote?
"The time is much too short. We are dealing with domestic issues; we don't want to get it confused with the Guatemalan issue. When we finish the national elections that will be out of our head and out of our hair, then we can move forward with our [ICJ] election," said Minister Elrington, speaking with Amandala on Friday, May 8.
We took that to mean that Belize will proceed with its general elections before the scheduled date in 2017, because a roadmap which Belize and Guatemala signed at the Organization of American States in January 2014 had signaled that the referenda would culminate the 12-month program of activities sometime in 2015.
The OAS had said that the roadmap would achieve "the strengthening of the bilateral relationship between the two countries during 2014 in order to make concrete the holding of popular consultations to enable the consideration of the territorial dispute before the International Court of Justice (ICJ)."
The vote which was slated for October 2013 was aborted after Guatemala unilaterally pulled out of the process, claiming that Belize's referendum law, which requires that 60% of the electorate participate to make the vote valid, does not create a level playing field to secure a "yes" vote.
Belize Opposition promoting "no" vote
Now, the Opposition People's United Party is saying that it would call for the Belize referendum to be held at the time of the next general elections, and they would encourage Belizeans to vote "no."
Elrington said that the determination as to when these things happen is really made by Prime Minister Dean Barrow, and his policy is not to try to second guess the Prime Minister.
Whereas Barrow had said back in 2008, when the ICJ agreement was first signed, that the ICJ process would "fall down" on the Guatemalan side yet again, and in 2009, he had said that due to internal difficulties in Guatemala, "this may all prove to be much ado about nothing," Elrington indicated that the current Foreign Minister of Guatemala, Carlos Raúl Morales, who has a Belizean wife, Lizzette Matus Castro, "has been working assiduously to put this thing to bed."
PUP's Assad Shoman "engineered" ICJ decision
However, Elrington told us that it is a former minister from the Opposition camp in Belize—former Foreign Affairs Minister Assad Shoman, who once headed the Belize negotiating team—who takes credit for the decision to have the matter taken to the ICJ—a position, he said, which was long held by the British, who he said had been adamant that they would never negotiate with Guatemala.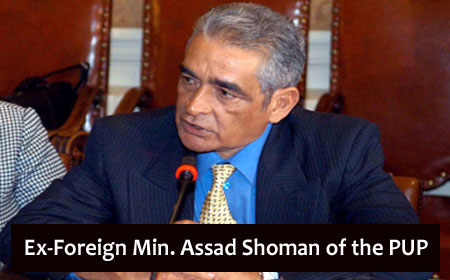 "The decision to go to ICJ was, according to Assad Shoman, engineered by him. At the last negotiations in about 2003/2004, he told me that, so we negotiated that the decision as to where we should go, given the failure of the Ramphal-Reichler proposals, should be made by the Secretary-General of the OAS, and it was with that consent and machination by the then PUP negotiators that the Secretary-General of the OAS advised us that the ICJ is the best place to go," Elrington said.
He added, "When I signed the special agreement in 2008, shortly thereafter Assad came to visit from Cuba… he said to me, if I appreciate if he is the one who negotiated for the matter to go to the ICJ. So he takes ownership of that process."
He said that every time this matter has been discussed publicly while Shoman was present, he has maintained his position that the right thing to do is to go to the ICJ.
Elrington told us that, "In many respects… this issue here mirrors the issue of the Maya Land Rights claim – this land belongs to us: we have always occupied it!"
He said that he has no fear going to the ICJ, to ask the court to make a declaration on the matter.
"If we go to the ICJ, we are saying to the court, 'Tell us what is the legal position… we may be mistaken but you are the specialized institution to determine international rights – you tell us what are our rights and that is the position we have always held.'"
While Elrington says that the PUP has now taken a 180-degree turn on its position from supporting the ICJ to saying no to the ICJ, the PUP says that Belize should not pursue the ICJ option under Elrington's leadership. They don't trust Elrington, in light of public comments about Belize's border with Guatemala being "artificial." Elrington says that the term applies internationally to manmade borders.
Elrington fired back, saying that, "…they have no authority – moral, legal or otherwise – to be speaking on this matter, because they have proven to be disastrous in handling it."
Maritime boundaries uncertain, Elrington claims
However, Elrington recently made comments at a meeting in Toledo which are again the subject of controversy. In a public message, Elrington spoke of the uncertainty of knowing where Belize's territorial waters end, against the backdrop of incessant complaints of illegal fishing in southern Belize.
We asked Elrington whether there is not a level of policing using GPS [global positioning system] technology, and pointed him to rebuttals from members of the public who are adamant that Belize's territorial seas are defined in the Constitution and the Maritime Areas Act. It is not only members of the public who are concerned about Elrington's comments about our maritime borders being uncertain – but also members of the security forces.
"Yesterday, I had a long discussion with Commandant Bennett of the Belize Coast Guard who had heard [my] comments on the radio and had concerns," said Elrington. He said that while under the United Nations Law on the Seas (UNCLOS) a country can define its maritime boundary without reference to any other country if there is no territorial conflict or if there is no overlap; Belize, he says, "suffers from both of those problems…"
Elrington did concede that using our existing legislation, a person can know when they are in Belizean waters, but adds that this is the case "if you have a well-calibrated GPS." Elrington said that Belize's security forces are outfitted with these instruments and they have as a guideline what is in the legislation.
Just in case his comments in Toledo caused any doubt as to whether our security forces should police those waters or not, we asked Elrington, who is also the Attorney General of Belize, to clarify what the position is on fisheries and security forces policing that area.
"They have to continue to police it and they have to continue to police it in accordance with the provisions as contained in our law. That is their right and that is their obligation. So I am not saying that they are not to do that, but I am simply saying that that action on their part can be subject to challenge later on," Elrington told us.
Oil exploration in the southern waters?
The Foreign Minister went on to talk about the petroleum exploration prospects of that area as another reason why Belize should try to settle the matter as quickly as possible.
"If it is ascertained that we have petroleum in those waters—and I have no doubt that we have substantial petroleum down there. I am sure that the Oceana people would not be whistling in the wind if they did not know something we don't know; and you see the intense campaign that they are launching long before any of us even thought of anything out there so they know something we don't know—it is imperative that we have a clear understanding as to where our boundary ends in the maritime boundaries, because lawfully we are only entitled to exercising jurisdiction within our boundaries," Elrington said.
Millions spent to no avail
We asked him, though, whether in settling the issue of maritime boundaries, whether there is an alternate route to the ICJ. He told us that negotiation is also an option, but it is a costly process, especially when involving third parties, which, in our case, would be Honduras.
Belize has already spent millions on the negotiation process, and Elrington said that had Belize followed the advice of the British, that would have saved money. He posited again that the ICJ is the only realistic option available to Belize.
As for the PUP's stance, Elrington said, "They obviously have no interest in bringing the dispute to an end, and the record shows that the efforts that they have made prior to now have all been futile."
The roadmap now leads to a possible ICJ referendum in Guatemala this November. We asked Elrington what happens if the vote is decided in the first round and there is no need for a presidential run-off, but his reply was that he does not want to speculate.
Related Articles
Share
About Author
(0) Readers Comments