BELIZE CITY, Thurs. Jan. 11, 2018– In a press release issued today, the Ministry of Agriculture, Fisheries, Forestry, the Environment, Sustainable Development and Immigration expressed regret and alarm over the killing of a young male jaguar that was found floating in the Belize River.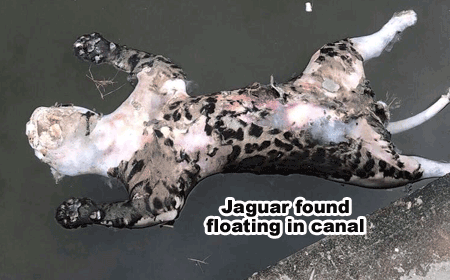 This is the second such incident in recent weeks, in which a dead jaguar was found floating in waterways in or near Belize City.
On Wednesday, the young jaguar was shot, decapitated, and then dumped into the Belize River. Apparently, the jaguar killers were after the animal's teeth, particularly its huge canines. The Ministry says that in a recent enforcement operation in Placencia, authorities confiscated jewelry made from jaguar teeth.
Oceana Vice President in Belize, Janelle Chanona, posted to social media, "It is unbelievable that someone would behead a majestic creature like a jaguar."
According to her, it was Mike Heusner who found the dead jaguar, took pictures of it, and thereafter put it in a garbage bag and in a cooler with ice.
She described the jaguar as being, "a young male jaguar, 24 inches shoulder to rump, girth 23 inches, head missing, and several small holes that appear to be from a shotgun in the left shoulder and left leg."
Chanona further posted photos to her social network page of another jaguar found dead in Belize City.
According to her, the two incidents are not isolated. She said the photos taken on December 26 in the canal near Water Lane in Belize City revealed that the jaguar's teeth seemed to be missing.
It is illegal to hunt, kill, or sell endangered cat species such as jaguars, margays, ocelots, and pumas in Belize. The ministry has announced that a reward of $10,000 is being offered to anyone who provides information that leads "to the arrest and conviction of persons involved in these two recent jaguar killings."
The Forestry Ministry calls on citizens "to report wildlife crimes to the Forest Department" and promises that "such crimes will be investigated and persecuted to the fullest extent of the law."
The press release describes jaguars as a "charismatic species that functions as the top predator in the Belizean ecosystem. They play an extremely valuable role in the healthy functioning of our natural ecosystems, upon which our environmental welfare and tourism industry depend.  Belize has the only dedicated jaguar preserve and is a world leader in jaguar conservation. The country values each jaguar as contributing to the economic potential of our tourism industry."
The press release further went on to state that the penalties for this crime and other wildlife crimes will be increased beyond the current $10,000 or 12 months in prison.
Coincidentally, in the next two months Belize will celebrate World Wildlife Day 3 under the theme "Big Cats," to bring to light the population decrease of jaguars and other big cats due to human activity.