Belize City No Limit looks to avenge Week 5 loss to Western Ballaz
GAME NIGHT MATCH-UP STATS
| | | | |
| --- | --- | --- | --- |
| No Limit | 71.6PPG | 40.6RPG | 16.2APG |
| Western Ballaz | 71.6PPG | 39.0RPG | 10.6APG |
KEY PLAYERS
| | | | | | |
| --- | --- | --- | --- | --- | --- |
| Kenny Brown | No Limit | 14.0PPG | 7.6RPG | 2.0APG | 65.0 F/G% |
| Richard Troyer | Western Ballaz | 11.0PPG | 6.2RPG | 1.5APG | 28.0F/G% |
BELIZE CITY, Fri. Mar. 3, 2017–Belize City No Limit is home tonight at the Belize Elementary Auditorium to take on the visiting Western Ballaz, and will be looking to avenge their Week Five 63-56 road loss, which saw them blow a 9-point 4th quarter lead, eventually succumbing to the Western Ballaz surge.
In the first meeting, No Limit dominated the boards, outrebounding the Ballaz, 54 to 38, as the quartet of Marcus Lewis, Kenny Brown, Kyle and Matthew Young accounted for 37 of those 54 rebounds. No Limit is led by Marcus Lewis, who is leading the team in scoring at 16 ppg, while Kenny Brown leads in rebounds at 7.6 rpg. As a team, they are 5th in scoring at 71.6 ppg, and last in defense, giving up 82.5 ppg.
No Limit has lost 5 of 6 games played so far, with their only win coming at home against the defending champs, Hurricanes. Needless to say, they are essentially the cellar dwellers of the NEBL. As the midway point of the season inches closer, No Limit must begin to play with a greater sense of urgency, or risk not making it to the post season. That alone should give them added motivation, going into this game, and playing at home should be favored, despite losing the first matchup.
Meanwhile, for the Western Ballaz, they come in riding a modest two-game winning streak, following an 81-74 win last week against the Bandits from Belmopan. They are a .500 ball club on the road, and obviously are licking their chops at the opportunity to extend their winning streak to three, while maintaining relevance in post-season ambition. The Ballaz, as a team, are tied for fifth, both offensively and defensively. They are hoping that Richard Troyer's (21 pts 10 rebs) breakout game last week against the Bandits is duplicated, and that it becomes a norm rather than a fickle. Darwin Leslie is the team's leading scorer, averaging 16.8 a game, while James Milton and Brandon Flowers share rebounding lead with 8.2 rpg apiece. The Western Ballaz have been streaky this year, and a season sweep of the No Limit team would be a big boost as they go into the half-way break.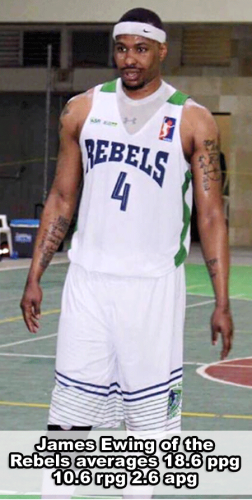 ---
Hurricanes host Rebels in must-win scenario for both clubs
GAME NIGHT MATCH-UP STATS
| | | | |
| --- | --- | --- | --- |
| Hurricanes | 77.0PPG | 35.8RPG | 11.4APG |
| Rebels | 69.5PPG | 27.5RPG | 18.5APG |
KEY PLAYERS
| | | | | | |
| --- | --- | --- | --- | --- | --- |
| Akeem Watters | Hurricanes | 15.4PPG | 6.4RPG | 1.0APG | 41.0 F/G% |
| Roger Reneau | Rebels | 17.7PPG | 5.2RPG | 5.5APG | 50.0F/G% |
Having won only two of their first five games, the defending champs, Hurricanes, come Sunday night at St. Catherine's Academy Auditorium, will not only be battling for City respect, but more for their ultimate existence when they face the visiting Running Rebels from Orange Walk Town. The Hurricanes haven't been wowing anyone exactly, with losses to the Bandits, Tiger Sharks and the lowly No Limit team. Even more worrisome is the fact that, even in their wins, they have not been impressive, winning by a mere margin of 5.5 ppg.
Orange Walk Running Rebels now becomes a must-win for the Hurricanes, as they are currently on the outside looking in, as the first half of the season wanes. However, the thing that is intriguing about this matchup is that both teams cannot afford another loss. This is a game that would kill either team's resume.
With each team having only 6 games or so remaining to play, both obviously would love to secure a win on Sunday night; particularly the Hurricanes, who will be trying to avoid one of the biggest let downs for a defending champion – that is, missing the playoffs.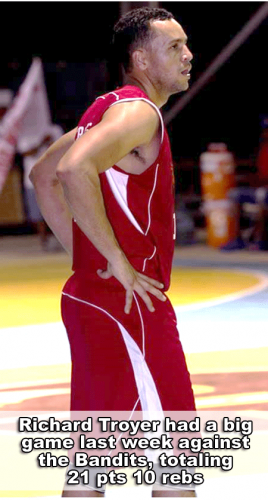 This game should be a down-to-the-wire game. Hurricanes' big-man in the middle, Andrew Ortiz (12.2 ppg 4.4 rpg) will have the toughest matchup of the night in the trenches against Running Rebels' James Ewing (18.6 ppg 10.6 rpg 2.6 apg)http://www.espn.com/mens-college-basketball/player/_/id/3908845/john-collins. Outside of that, another key matchup area will be in the backcourt where Hurricanes' Leroy Louriano and teammate Winston Pratt will have their work cut out for them in trying to contain the offensive onslaught of the Rebels backcourt in Roger Reneau and Randy Usher.
This is one of the most important games of the season for both teams. Without a victory here, either team will enter the second half stretch of games needing to win almost all of them.
Related Articles
Share
About Author
(0) Readers Comments