General
— 02 June 2018
— by Albert J. Ciego
BELIZE CITY, Thurs. May 31, 2018– The life of another man was taken away, leaving another family devastated and four children without their father. At about 8:30 Tuesday night, Orbin Enrique Garrido, 30, a construction worker of SET SITE, in the Gungulung area of Belize City, was at home in his one-flat lumber house, which is elevated about four feet off the ground.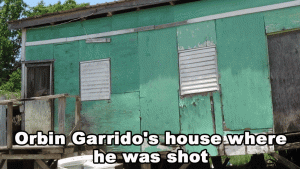 He had left his door open, and a gunman went inside the house and fired a single shot, which hit him in the chest.
Neighbors heard the gunshot and called police, who found Garrido dead on the floor in his bathroom when they went into his house to investigate the shooting. His body, was then taken to the morgue.
Inspector Wilfred Ferufino, Deputy of Crimes Investigation of the Police Department, said that their investigation into Garrido's death led to Anthony Bennett, 37, a resident of Lake Independence, who is known to them. Police have charged Bennett with murder. He was arraigned yesterday, Wednesday, and has been remanded (the remand date was not given, but the period of remand is normally three months).
The case was solved within 20 hours, Ferufino said.
However, the motive for the murder is unknown. Reports to us, however, are that Bennett and Garrido were friends.
In an interview on KREM News, Garrido's sister said that his family does not know why he was killed. He had run-ins with the law, but it was for marijuana possession, because he smoked marijuana habitually, but he had never been arrested for anything else.
Deputy Commissioner of Police, Chester Williams said that according to their investigation, about a week ago, Bennett and Garrido had a dispute, during which Garrido stabbed Bennett, but Bennett did not make a police report.
Related Articles
Share
About Author
(0) Readers Comments