Pirates and Police lose, but San Pedro's goal-difference edge sends them to playoffs along with victorious BDF
BELIZE CITY, Mon. Nov. 13, 2017–Suspense was in the air from the start yesterday morning, as persistent rain caused cancellation of Smart 13 & Under Mundialito games at the Marion Jones Sports Compex, as well as the Leal Football Cup Finals in Sandhill; but the word from the Premier League of Belize (PLB) secretariat was that the pivotal Week 14 games were still on.  By midday the skies began to clear, and with a light drizzle in Belize City at 3:30 p.m., the official kickoff time for all 3 scheduled PLB Week 14 games, it looked like the games would go ahead as planned.
Starting Sunday afternoon two points behind San Pedro Pirates and Police United (20 pts each), BDF quickly jumped to a 2-nil lead at the MCC Grounds over visiting Freedom Fighters from Punta Gorda, and looked like sure winners, to put them at 21 points. But, with only two playoff spots remaining, their fate would still be left to the verdicts in the other two games. (Belmopan Bandits SC and Verdes FC had already clinched the #1 and #2 playoff spots, respectively.)
An early report out of Independence, where Placencia Assassins was hosting Police United, was that the Assassins had failed to field a team as late as 3:25 p.m. With no chance of Placencia making the playoffs, it was a suspenseful moment, as a default would be a disappointing development, considering the impact on the playoff race among BDF, San Pedro and Police, and it would most likely result in stern sanctions from the League. But then, about a half hour later, the word out of Independence was that Placencia Assassins led 1-nil; so the game was on, after all.  Meanwhile, reports from San Pedro were that the Pirates enjoyed a 1-nil lead over Verdes.
Here at the MCC, a very young and spirited Freedom Fighters team gave their all for ninety minutes, but they were dominated by a seasoned and determined BDF squad, whose big striker, Jarren Lambey, a former Freedom Fighter, blasted in 4 goals (22', 56', 64' & 79'), along with 1 apiece from Mark Arzu (16'), Raymond Ramos (76') and Shane Flores (78'), for the 7-0 final score. Despite the heavy track, there would have been more goals, on both sides, except for very good goalkeeping by Anthony Williams for Freedom Fighters and Tevin Gamboa for BDF.
With their playoff hopes on the line, neither San Pedro Pirates or Police United could pull off a victory yesterday; and one of them, Police United, will miss the playoffs, for the first time in a long while. Down south in Independence, Ashton Torres' 17th minute goal held up in regulation to give Placencia Assassins the 1-nil victory over the visiting Police United. Meanwhile, out at Ambergris Caye, Mexican Hector Martinez (19') gave the home team, San Pedro Pirates the early lead; but Verdes' All Belize veteran, Elroy "Bibs" Kuylen secured the equalizer at the 76th minute, and then came back to break the tie in injury time (94'), for the 2-1 Verdes win.
The news was received with jubilation by BDF players and fans at the MCC; and it was no doubt the same with the San Pedro Pirates followers out at Ambergris Caye; meanwhile, there could only be tears and heartbreak for the Police United faithful. (For more reasons than one, this has been a season of regrets for Police United coach, Aaron "Gambis" Gamboa. Better luck next season, Gambis!)
With their losses, both San Pedro Pirates and Police United remain at 20 points, but the Pirates clinched the fourth playoff spot due to a 5-2 advantage in the goal difference column. BDF, at 21 points, claimed the third playoff spot.  (See final regular season standings below.)
The other Week 14 game, on Saturday at the Isidoro Beaton Stadium in Belmopan, had no impact on the playoffs.  However, it secured the goal scoring title for Belmopan Bandits' Georgie Welcome, who had a hat trick (12', 45' & 52'), along with goals from teammates Carlos Gonzalez (43' & 51'), Darwin Bermudez (67') and Elroy Smith (86'), as the Bandits crushed visiting Wagiya from Dangriga, 7-0.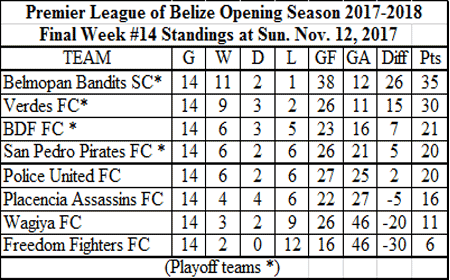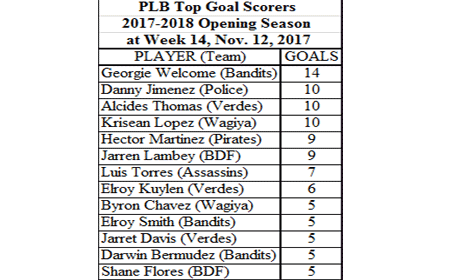 Related Articles
Share
About Author
(0) Readers Comments