General
— 30 June 2018
— by Courtney Menzies
The gunman also tried to kill two children
TRIAL FARM, Orange Walk District, Thurs. June 28, 2018– A mass shooting at Trial Farm left four persons, including a pregnant woman, injured, but thankfully, alive. The incident occurred on San Narciso Street at around 7:48 p.m. on Tuesday, June 26, at the home of one of the victims, Nazario Herrera, 25.
An initial investigation revealed that Herrera, his pregnant common-law-wife, Diana Ack, 26, and his two friends, Victor Ku, 19, and Monico Gomez, 20, were socializing in front of Herrera's house, inside the yard, when a man opened the front gate, entered the yard, and started shooting.
All four persons were shot — Herrera in his buttocks, Ku in the left foot, Gomez in the chest, and Ack in the chest and right arm. They were transported to the Northern Regional Hospital, where Herrera and Ku are in a stable condition, and Gomez and Ack, who were initially in critical condition, are showing signs of recovery.
Herrera told News5 in an interview that their three children, two daughters, ages 3 and 4, and a son who is only 1-year old, witnessed the shooting. Fortunately, Herrera was able to grab his daughters and run into the house with them. He also said that the shooter came into the house and attempted to shoot one of his daughters, but the gun did not fire.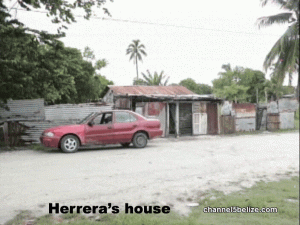 The man then turned to shoot Herrera's son, who was in a hammock, but Herrera charged at him with a machete and the man ran away.
According to Herrera, he knows the vehicle that the man escaped in, and the vehicle is from Trial Farm. He says that he knows this because only one man has that kind of vehicle, so he already knows who sent the man to kill him and he has already told the police.
Apparently, the person who sent the shooter has had "bad blood" towards Herrera for a while. Unconfirmed reports suggest that this "bad blood" is due to a "turf war."
However, at a police press brief, ACP Joseph Myvette was unable to confirm a motive, and said that they did not have anyone detained as yet. They did say, however, that Herrera is known to the police, but declined to give further details.
Related Articles
Share
About Author
(0) Readers Comments