I have a friend, a Hispanic businessman, who visits me every Christmas. This has been going on for the last 35 years or more. This last Christmas, I drove him home after his visit, and spent some time at his home. My friend lives in a residential area southeast of the Municipal Airport. The houses are pretty expensive in this part of town. I think some ambassadors live out there.
My friend has been married to his wife for 40 years or so. She is from Costa Rica, as was Lady Araceli Hunter, the widow of Sir Alexander "Sandy" Hunter. While my friend was visiting me last year, he mentioned that Mrs. Hunter had died and was buried. The news had been kept quiet, he said, no announcements, but even so, he said, St. Joseph Church in Belize City had been packed for her funeral services on December 1, 2014. Sir Hunter and Lady Araceli had been his neighbors to the west.
Of the Hunter children, I only know Lita Hunter Krohn. I felt that I would have liked to give her my condolences. But, like most of Belize, I had known absolutely nothing about Lady Hunter's passing.
This subject came up while I sat with my friend and his wife, and the subject of Lady Hunter, and then her late husband, took over the conversation. My friend's wife was so effusive in her praise and appreciation for the dignity and humility of her departed neighbors that it occurred to me to write of them, especially of Sir Alexander, because his life and mine had intersected on a couple dramatic occasions.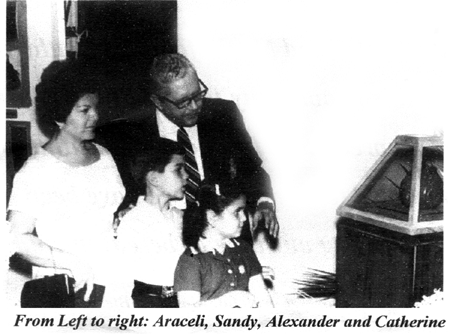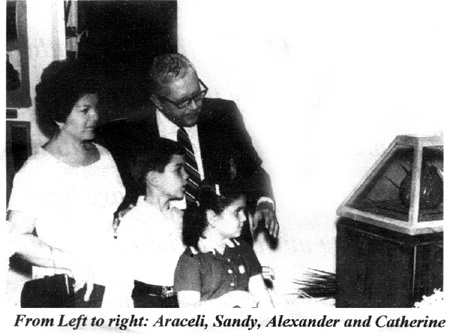 In late 1981 and early 1982 Amandala had been hit by a couple gigantic libel suits, one coming from Prime Minister George Price and the second from Energy and Communications Minister Louis Sylvestre, who was then Chairman of the ruling People's United Party (PUP). When those cases reached the Belize Supreme Court, Mr. Price was represented by the attorneys Derek Courtenay and Glenn Godfrey; Mr. Sylvestre was represented by Glenn Godfrey and Edwin Flowers. In both of the libel cases, this newspaper and myself were defended pro bono by the brother attorneys, Dean and Denys Barrow.
For the purposes of this column, it is important to remember that Mr. Price's case was heard first, in front of Justice John Alcantara from Portugal. For different reasons, I felt that I was railroaded in this case, and we were fined $10,000, which was a lot of money back then. I had taken the stand to testify in Justice Alcantara's court. Mr. Price's reputation, compared to Louis Sylvestre's, was impeccable, but that was not my point when I testified.
When the Sylvestre case came up a few months later in front of Chief Justice George Moe from Barbados, I was bitter and disillusioned. The offending article had been submitted to me by someone whose name I can call, someone I can probably describe as an associate of the Shoman/Musa wing of the PUP. When Sylvestre's attorneys sued, I refused to apologize, because everyone knew his reputation was, to say the least, questionable. In court, Sir Sandy would describe that reputation as "unenviable."
Our defense attorneys, Dean and Denys Barrow, were able to get some impressive witnesses to testify for the defense as to the questions surrounding Mr. Sylvestre's reputation, and the most impressive of these defence witnesses was Sir Alexander Hunter, who had been a Minister of Mr. Price's Cabinet in 1963 when Minister Sylvestre had to be removed from Cabinet by Mr. Price because of corruption. Sir Hunter had the horse's hair in his pocket, as we would say. Sir Hunter had been Minister of Natural Resources in Mr. Price's PUP Cabinet from 1961 to 1974, and after that he had served a stint as Speaker of the House. He had represented the Fort George constituency between 1961 and 1974.
During our conversation, my friend's wife had been explicit and adamant in testifying to Sir Hunter's absolute integrity. I mentioned to her that Sir Alexander had been Minister of Natural Resources when various petroleum negotiations began in Belize, but she swore by him, saying that it was his family shares in the Brodies business which had helped him survive in his late years, and that it was a loan from his sister, Mrs. Nessie Hunter Burns, which had made it possible for him to travel to Merida for an operation during the terminal stage of his illness.
I had not attended any session of the Sylvestre trial in 1983. I mentioned to you how bitter and disillusioned I was after the Price trial. So that, I would not remember if I had ever met Sir Hunter after that trial to thank him. Because of not attending the trial, I could never have appreciated the drama and principle of the moment when he, a former Cabinet Minister, entered the witness dock to testify against a former Cabinet colleague. This had never happened before in Belize, and it probably will never happen again.
The fact of the matter was that I had definitely met Sir Hunter personally, because Odinga Lumumba took me to his home on at least one occasion. That would probably have been on Lumumba's second visit home, after he was deported from Ghana around 1980 or so. As incongruous as it seemed, Sir Hunter, a member of Belize's white elite, was Lumumba's godfather. Lumumba had been christened "Wilhelm Buller," born into a distinguished black family, the Bullers, with whom Sir Sandy must have had business contact.
Wilhelm Buller became a problem child, and was committed to the notorious Listowel reform school, after which his family sent him to London in the earlier part of 1961, ahead of Hurricane Hattie. In England, he married an English lady, fathered a couple children, then became a black power radical, taking on the name "Odinga Lumumba." Returning home in the early months of UBAD in 1969, Lumumba was active with our organization before he returned to England in September that same year. When I saw him again, eleven years later after his deportation, Odinga had become a Muslim and had been quite prominent in the political affairs of Ghana and Mali, where he also fathered several children. In fact, Lumumba was a close, powerful associate of Ghanaian Prime Minister Jerry Rawlings, and Belizeans who visited Ghana in the 1970s attested to that. In the eyes of people like the British and the Americans, however, Odinga Lumumba was a world-class political agitator, a dangerous revolutionary in fact.
And, his godfather was Sir Alexander Hunter, who was a descendant of one of Belize's historic settler families, and who had added a patrician element to the PUP ticket when he ran for the Fort George division in March of 1961, and won easily. Said Musa has often remarked that he was only given a few weeks to campaign when he was recruited by Mr. Price to become the PUP's Fort George candidate for the October 1974 general election. It was Sandy Hunter whom the PUP pushed out in 1974 to replace with Mr. Musa.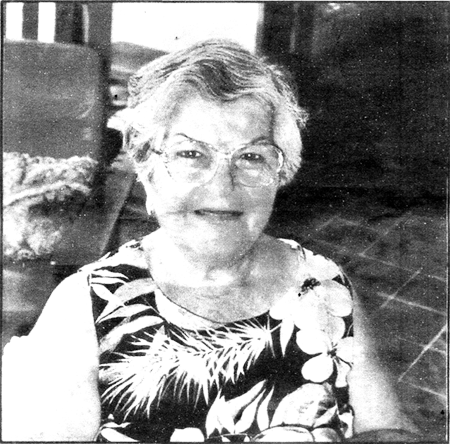 Some time after, Ray Lightburn explained to me that Sir Alexander had been experiencing problems. My friend's wife mentioned that he suffered bouts of depression because of his service in World War II. I'm not sure if this would have been in the Royal or Canadian Air Force.
It took me more than two weeks to contact Lita Hunter Krohn, by phone, to get permission to write of her mom, and dad. She told me she has been writing a book on her father. I would say that Sir Alexander's story is an important one, one that needs to be told. If I am to judge from the discourse of my friend's wife, Sir Sandy had a great lady by his side, a lady who was so humble she chose to have her funeral services kept private and quiet.
There were years, you know, when the mainstream Catholic Church here and I were in major conflict. The Church felt the need to support Ronald Zinkle, S. J. Sir Sandy Hunter happened to have a brother named Charles, a Belizean Jesuit who always wrote with understanding of my situation. Trying to understand Evan X Hyde and his journey was not a popular position at Landivar at the time. In my view, Fr. Charles Hunter was a great man.
Finally, as I've been thinking of this subject the last couple weeks, I remembered the Christmas season of 1963, when I'd worked at Brodies. It was really the Post Office I'd wanted to work, but my father, the Postmaster General, got me a job at Brodies. My dad has been ailing, but I questioned him. Whom had he asked for my Christmas job at Brodies? He said it must have been Sandy Hunter. Well, the Brodies job turned out to be somewhat of a hassle. But, it was my first employment. I was 16 years of age and a recent high school valedictorian, so perhaps it was good for me to experience some humbling at Brodies.
Incidentally, despite Sir Alexander's dynamite testimony, and that of several others, Chief Justice Moe ruled in favor of the plaintiff, Minister Louis Sylvestre, and fined Amandala $6,500. I do not consider that verdict to have been a just one.