I met the man called Eddie Edmondson at the old Belize International Airport in the spring of 1985. That's when the newly elected United Democratic Party (UDP) government arranged with the ownership/management of the Chicago Cubs to take leftfielder Gary Matthews out of spring training and fly him to Belize.
The country of Belize had gone crazy over the Chicago Cubs because, in those first couple years of pirate and cable television in Belize, the Chicago-based WGN television superstation was the signal we could receive most clearly, and WGN broadcast all Cub games. The Cub announcer, the colorful Harry Carey, was pretty exciting. By the seventh inning "stretch," he was usually "wet," or seemed to be.
Listening to the Belize City ladies talk back then, I think the sex symbol for most of them was the Cub first baseman, Leon "The Bull" Durham, who was a well-built brother with "geri-curls." If they had brought "The Bull" to Belize, there would have been pandemonium. Anyway, the UDP government, and it appeared the specific initiative was the work of new Education Minister, Derek Aikman, managed to bring Gary Matthews to visit Belize, and that was an accomplishment, when you consider that the Cubs were in the middle of their spring training in Arizona.
Eddie Edmondson was tall and muscular, like Durham, and wore glasses. He did stammer a bit. But my first impression of this black American whom I'd never seen before was that the guy was some kind of American agent. The vibes around the Gary Matthews visit were all saying American foreign policy/public relations. And with each passing day of the new Manuel Esquivel UDP government, I'd been realizing that this first ever UDP victory had really been a victory for Washington, their State Department, and their Drug Enforcement Administration (DEA).
To cut a long story shorter, Edmondson and I became friendly acquaintances. After some years, however, he became quite hostile to me in print, though I could not figure out the reason. He moved to Punta Gorda, and seemed to me to become high profile in his support for the UDP.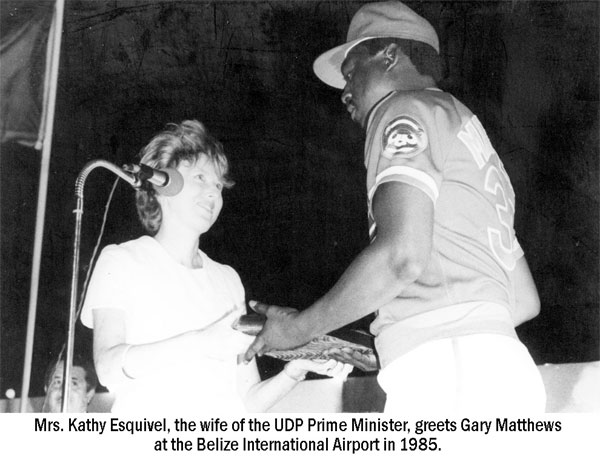 During the time that we were friends, nevertheless, Eddie Edmondson taught me a few things. According to him, he had killed a white man when he was still a teenager in Kansas, and had spent more than twenty years in a federal penitentiary. (When I met him, he was probably in his early or middle forties.) One day during a conversation between us in the Amandala yard on Partridge, he said to me, in his stuttering way, "Ev – ev – Evan, sooner or later, ev – ev – every mother f ——r makes a deal." Eddie was talking about life in prison, and he was saying that no matter how tough any guy was, he'd seen all of them "make a deal."
One of the things about the Right Honorable George Cadle Price was that he knew how to keep his mouth shut. He had entered political life in Belize (British Honduras) in the mid-1940s, at the behest of his employer, Robert Sydney Turton. But before that, Mr. Price had trained to become a Roman Catholic priest in Mississippi in the late 1930s and in Guatemala City in the early 1940s. In Mississippi, a segregated American state in the Deep South, he was considered black, and placed in a black seminary. But in British Honduras, the Price family would have been, like, practically white. So I think his Mississippi experiences may have made Mr. Price more comfortable with black people than the average member of his family would have been back then.
In any case, Mr. Price's boss, Bob Turton, was a businessman who was a gangster. It is for sure that, apart from crossing Belize's northern and western borders in search of mahogany and chicle in Mexico and Guatemala, respectively, he was a bootlegger during the years of Prohibition in the United States, which lasted from 1919 to 1933. Mr. Turton, in other words, did business he would not have wanted to talk about in church on Sunday. He had a couple fingers famously shot off by a Cayo chiclero named Eleuterio Hernandez, because Hernandez felt Mr. Turton was cheating him. I'm just saying. Mr. Price was Mr. Turton's personal secretary beginning in the early 1940s, so he learned to keep his mouth shut. (By the way, just following on the Chicago mention, Bob Turton sold most of his chicle to the Chicago-based Wrigley's chewing company, which actually owned the Chicago Cubs.)
For me, the evidence has accumulated over the years that sometime after his Supreme Court trial for sedition in 1958, Mr. Price and the British made some kind of a deal. The thing is, the evidence is all circumstantial, perhaps the most important bit of evidence being that Sir W. Harrison Courtenay, the leader of the pro-British National Party (NP) in the early 1950s, was the attorney who defended Mr. Price in that sedition case and became the first Speaker of the House of Representatives in 1961. Mr. Price's People's United Party (PUP) controlled all 18 seats in the House after the March '61 general elections, and Mr. Courtenay was his personal choice as Speaker.
Suddenly, it seems like almost everybody from that era is dead. Belize is indeed fortunate we still have Mr. Fred Hunter (Belize Rural North) and Mr. Hector Silva (Cayo North) from Mr. Price's first Ministerial Cabinet of 1961. Messrs. Hunter and Silva are both very lucid and articulate, but it appears these guys are still keeping the Cabinet oath of secrecy they swore back then. Thing is, after forty years most other countries declassify such secrets. Again, Mr. Price never talked much. Even in the authorized biography he agreed to be interviewed for late in his life, Mr. Price really didn't talk that much. Seriously.
I have a friend with whom I compare notes, so to speak, whenever he is in town. Stretch Lightburn is about 9 years older than I, and spent most of his adult years raising a family in Canada. But, during that critical period of Belizean history in the late 1950s/early 1960s, Stretch was close to C. L. B. Rogers, a member of Mr. Price's 1961 Cabinet who became Deputy Premier later in the 1960s. Stretch Lightburn's mother, Lucille Eusey, was a stalwart, outspoken PUP member/supporter, and his younger brother, Ray, was Mr. Price's and Mr. Rogers' highest ranking and most important street general. I learn things from Stretch Lightburn.
On Tuesday evening, Stretch confirmed to me that he personally considered Sir Courtenay to be very British. The historical facts are that the PUP masses were extremely hostile to Mr. Courtenay and his family. At some point before he became House Speaker, the patrician Sir Courtenay made a deal with the supposedly ragamuffin PUP. Ever since then, the Courtenay family has been a PUP family. To paraphrase the words of Hot Horse Herbie, a story goes with this.
Related Articles
Share
About Author
(0) Readers Comments