Now let's look at documents concerning these Baymen. In a letter dated December 12th, 1768, Admiral Parry in Jamaica writes to Secretary Stephen in London, advising that a frigate should always be kept at the Bay of Honduras "to prevent as much as possible murders, frauds, and confusion which are notoriously practiced amongst the Baymen and which cannot be checked by military force." He described the inhabitants as "a most notorious lawless set of miscreants who are artful and cunning and who after having practiced every ill fly from different parts thither to avoid justice where they pursue their licentious conduct with impunity."
Now if the Baymen could be mistreating each other that way, you can imagine the kind of hell niggers were catching.
– pg. 6, KNOCKING OUR OWN TING, Evan X Hyde, The Industrial Press, 1969
I couldn't believe it is four years now since our beloved Brother Nick (Wilfred Nicholas, Sr.) has passed. I remember he was buried from the Mormon Church on Cemetery Road, where I gave the eulogy, and was very proud to do so.
Through all the years in the Seventies when I was isolated and exiled in my own hometown, this was a man who was always there for me, and gave me strength when I was weak, and courage when I was fearful.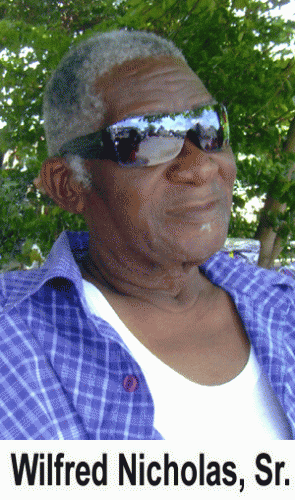 I believe Brother Nick and Dr. Leroy Taegar died within months of each other. I have on many occasions in my writings mentioned how much knowledge and wisdom Leroy gave to me and to our UBAD Educational Foundation (UEF) people over the course of three decades or so. Leroy had studied at universities in Milwaukee, Chicago, Kingston, and Port-of-Spain for 12 to 14 years, and was academically brilliant. Brother Nick definitely did not go to high school: I am not sure he even finished primary school.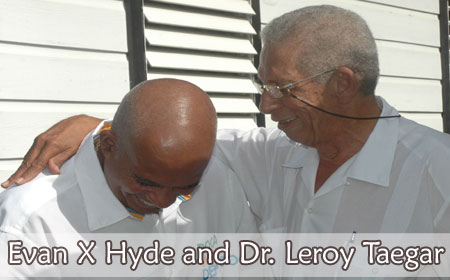 Over the years between 1996, when UEF was founded, and the deaths of Leroy and Brother Nick in 2011, there were many occasions when they clashed in UEF conversations. The principal reason for the clashes was the fact that Brother Nick had become a devout Mormon some time after the dissolution of UBAD in 1974, and Leroy basically did not subscribe to denominational religion. He was especially skeptical of the Mormons, because he believed that their agenda in Belize had to do with The Jewel's oil wealth, besides the fact that the Mormons had a white supremacist past. But his religion gave Brother Nick a source of personal strength. He faced death with a peace that was inspiring. I remember one day in his home he said to me in his unpretentious way, "I ready fu travel, yu know." He meant that he was prepared to die.
Dr. Taegar's older son, Sydney, is an astrophysicist in the United States, but Dr. Taegar's father had been a poor waterfront worker in Belize City. I think one of the reasons Dr. Taegar loved Brother Nick was because Nick was a waterfront worker, and Leroy understood the connection between his (family) past and Brother Nick's present. Leroy understood how brutal and bitter colonialism had been in British Honduras, and how much colonialism had denied roots Belizeans in the area of education and skills training opportunities. Dr. Taegar was a physician, and his wife is a physician. They sometimes moved in high social circles in Belize. But Leroy never forgot where he came from, and he lived with a roots mentality. Leroy was one of the early, sincere members of the People's United Party (PUP) from the middle 1950s when he was a student at St. John's College.
The massive challenge Fidel Castro met and answered was the challenge of educating the Cuban people. The challenge all Belizean politicians have demonstrably failed to answer is the challenge of educating the Belizean people. This failure is something that grieved Leroy deeply, and it is the subject of the paper he wrote for Belize's historical Black Summit in September of 2003. (Leroy's younger son, Sean, read the paper to the Summit, Leroy having had to fly to Jamaica for urgent medical attention at the time.)
As we head into August, I see where our young people are being guided into the celebrations and bacchanalia mood. This is where you can feel the power of the "Baymen's clan." Everything is being structured around the white supremacist history of September 1798, which has been used as a kind of socio-political justification for the economic injustices which continue to characterize Belize. At the climax of the September celebrations/bacchanalia, the independence anniversary of 1981 is featured, but I submit that this year the anniversary of Danny Conorquie's murder by invading Guatemalans should be given relevant recognition. There was never any fallen hero to honor where the Battle of St. George's Caye was concerned, but we have a fallen hero today to honor in the Battle of Belize: his name is Danny Conorquie.
It is not clear to me how I arrived at Danny Conorquie after I began by honoring the memory of Brother Nick and Dr. Leroy. I think what triggered me was the bogus nature of the Baymen's clan and their Centenary. Listen, like all Belizean youth in the colonial era I absolutely enjoyed the Battle of St. George's Caye celebrations. I have fond memories of the Queen of the Bay contest held at Edwards Park (later Rogers Stadium) in 1957. I was only ten years old, and the contest was held at night. But the Unity Club controlled Edwards Park, my dad was a ranking member, and somehow I must have accompanied him there. Gracie Allen defeated Ismay Meighan to win that Queen of the Bay title, and afterwards there was the usual controversy of brown winning over black. (I wonder where these ladies are today. They remain etched in my memory.)
But, jump high, jump low, September 1798 was a Baymen, white supremacist, colonial construct. Get real. Today, how can you take $15 million of Belizeans' tax money and spend it on a colonial museum? This defiles the revolutionary memory of Wilfred Nicholas, Sr. and of Dr. Leroy Taegar. If that doesn't mean anything to you, it means a lot to me. And in the absence of any official initiative to pay big time honor to the anniversary memory of heroic Danny Conorquie, it leaves me with the sad, depressed impression that nothing has changed here. Maybe, as one views the carnage on the Southside, what it is, is really a case of things actually having gotten worse. Damn.
Power to the people. Remember Danny Conorquie. Fight for Belize.