I guess the British Honduras Broadcasting Service (BHBS) must have become Radio Belize by the time British Honduras achieved self-government in 1964. (When I was about 7 years old [1954?] Miss Helen Craig sent me to play piano at the old BHBS, and when I was about 11 [1958?] I represented Holy Redeemer Boys School [HRBS], along with Carlson Gough, the late Neil Garbutt, and Errol Cattouse in the primary schools quiz competition. This was organized by the Education Department and broadcast from BHBS. The BHBS studio was then located in the old Paslow Building.) I think the man Jerry Ybarra (a white American?) played recorded jazz music on BHBS, and for sure Clifton Hall had a jazz show on Radio Belize for many years.
As far as I remember, these guys played serious jazz music in the late nights (9,10) on the government monopoly radio station, and I didn't really pay attention. For many people, jazz is an acquired taste, and acquiring the taste begins with paying attention, and listening. Jazz is not repetitive, simplistic, or mindless. There is jazz music that I don't understand. And then, there is jazz music that is hidden within straight up ballads, such as the organ player's riff in Byron Lee's version of Stranger on the Shore, which would have been 1962, 1963.
Anyway, my friend from Malawi I met at Dartmouth in September of 1965, the late Guy Mhone, convinced me to start listening to the music. The work he used to teach me was the version of My Favorite Things played by the incomparable John Coltrane on soprano sax, with the great McCoy Tyner on piano, Elvin Jones on drums, and Jimmy Garrison on bass.
In its origins, My Favorite Things is just a nice, sweet ballad from the smash movie musical called The Sound of Music. What Coltrane and his group do with the basic melody is absolutely transformative.
Sometime in the first few months I was in New York City, beginning in late August '65, and then for Christmas break that year, I bought a copy of the Lord Rhaburn Combo's Trópico y Ritmo from Henry Young for five dollars American. When I played this Belize music for Mhone on my record player, he enjoyed it immensely. I was happy to know that someone with a taste in music which I considered sophisticated, liked the work of our Belizean musicians so much.
When I was about 16, 17 in Belize, I went to dance parties a few times which were held downstairs in the old Princess Royal Youth Hostel building corner Allenby and Magazine Road/Dolphin Street. (The man Errol Peyrefitte was a big star on the scene those days.) The featured music was always Trópico y Ritmo, which was creating a sensation in Belize. The song I liked the most, from the get go, was Noches de Escuintla, sung by a black Guatemalan named Jorge Hill. Seems that Gerald Rhaburn and his group met this brother when they went to record the album in 1962 in Guatemala City. Every time I meet Gerald, I ask him about Jorge Hill. Anyway, as the years went by I became fascinated by the instrumental music on the album, which starred George "Pete" Matthews and Pablo Clarke on saxophone and Herman Bennett on guitar.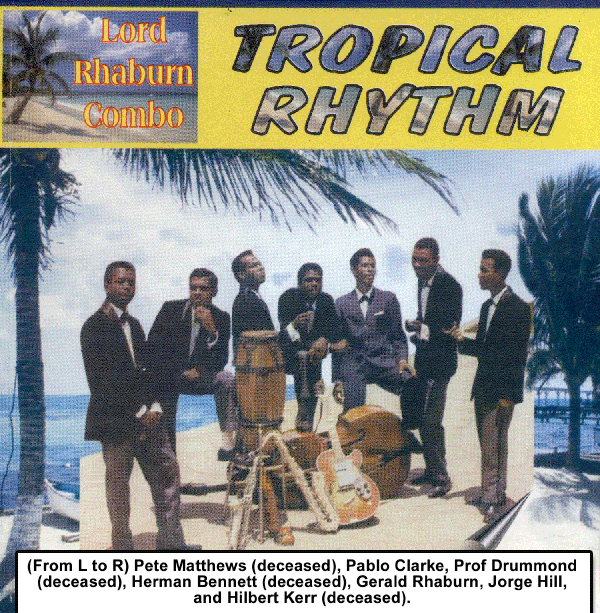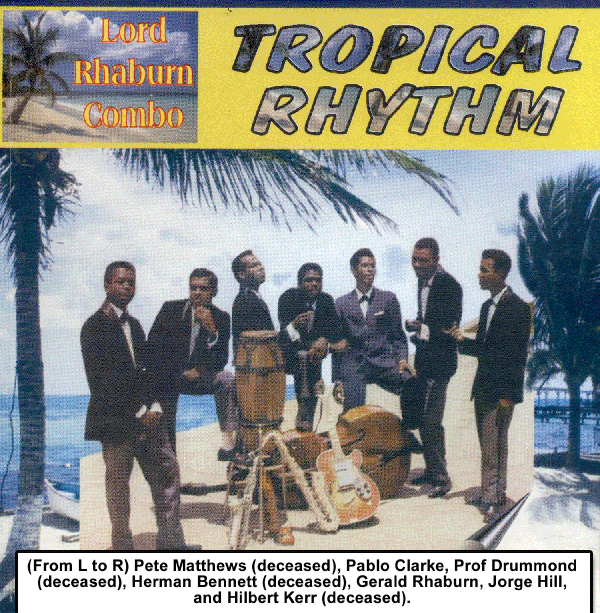 By the way, it was unbelievable that Herman was beaten up in September/October this year by assailants unknown and died weeks later in the Karl Heusner Memorial hospital without any kind of notice from the media houses in Belize City. (I was briefly in class with Herman's younger brother, Delbert, back there at HRBS in the 1950s.)
Some while back, Rhaburn told me that Hilbert Kerr, who had played bass on the album, disappeared in the United States many years ago after winning a lottery or something like that.
I started out this column talking about jazz music, and got sidetracked by Trópico y Ritmo. I think that's because of Pete Matthews, who was one of the founders of the legendary, original Messengers, shortly after I left Belize in 1965 to go to school. (Winty J has said that the "Messengers" name was inspired by the drummer Art Blakey and his Jazz Messengers.) Rhaburn told me that Pete was only 16 years old when he took him to Guatemala City in 1962, and so he had to ask Pete's parents' permission for the youth to travel across the border.
When I brought up Pete's name to Dickie Straughan one time, he said that Pete had "big ears," and that Pete had listened to Stan Getz a lot. Maximum respect, Mr. Straughan. Pete did have that warm Getz sound in his playing, I would say. That's just a personal opinion from me, a very amateur critic.
After my education from Mhone, I always dreamed of a radio station in Belize which would play jazz in the daytime. But, from the very beginning KREM Radio was taken over by the young people. Early in 2007, we were working hard on opening a second radio station, one which would appeal to "mature" audiences, such as jazz fans. But in March of 2007 we were bushwhacked by a lawsuit from the lawyers for Lord Michael Ashcroft. We won that case in Supreme Court, but then the billionaire took us to the Appeals Court, where the Justices ruled 2-1 in his favor. At that point, we ran out of gas.
That lawsuit remains very, very interesting to me. The law firm which prepared the suit was the Prime Minister's law firm, but then the two attorneys who defended us pro bono were two of his closest personal confidants. When the suit was launched, Mr. Barrow was still just Leader of the Opposition, but all the indications were that his United Democratic Party would win the next general election (2008).
As it is, after 26 years KREM Radio still has to try to be all things to all people, a most difficult proposition indeed. We old jazz folk need our own radio sound, all day every day. And with that, I remember my old buddy from St. John's College basketball and the Righteous days, Dennis "Jazz" Henry, and I send him greetings and blessings wherever he is in the mighty U. S. of A.
Power to the people. Remember Danny Conorquie. Fight for Belize.